Robert A. Bristol Field House
Dedicated on October 14, 1989, in a ceremony featuring Richard Schultz, former executive director of the NCAA, the opening of the Robert A. Bristol '31 Field House ushered in a new era for athletes and non-athletes alike. At 83,000-square-feet Bristol Field House is a multi-purpose facility, consisting of an indoor track; a full-size artificial-turf playing field that converts to five tennis, four basketball courts; and adjoins the Elliott Varsity House and the Dr. Frank P. Smith '36 Squash Center.
Groups interested in renting the facility for track meets or practices should call the Field House office at (315) 781-4476 or e-mail recreation@hws.edu.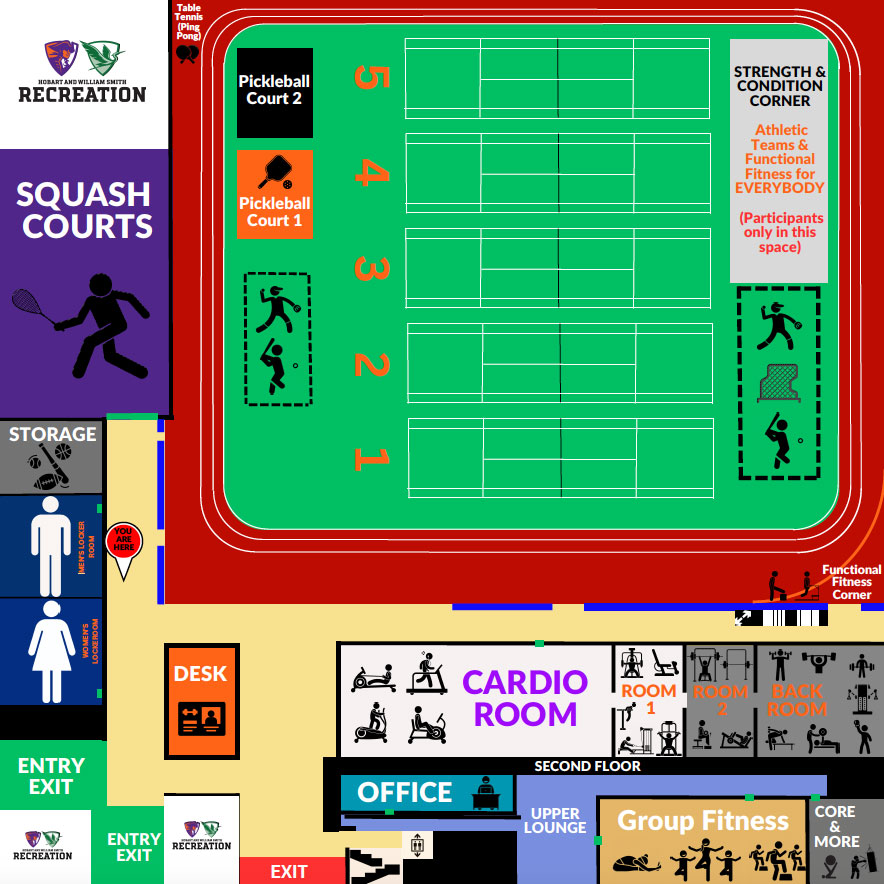 Fitness Center and Weight Room
HWS Recreation's fitness center and weight room features over 50 cardiovascular machines, offers more open space for our updated strength and resistance training equipment, and contains a newly developed functional fitness area.
Multi-Purpose Rooms
The core and more room has several pieces of equipment to work on the core as well as a speed bag and heavy bag. The group fitness room is designed to hold our spin, yoga, HIIT and some other classes and is fully stocked with 13 spin bikes, jump ropes, cardio steps, weights, yoga mats and blocks, and more.
Groups interested in reserving the Group Exercise Room should call the Field House office at (315) 781-4476 or e-mail recreation@hws.edu.
Bristol Pool
A pool is available for use in Bristol Gymnasium. Open swimming is offered routinely, and a scuba class is available. For more information, contact R.C. Weston by phone at 781-3567 or by email at weston@hws.edu.
Waterfront
The Waterfront program at the Colleges is designed to give students the opportunity to participate in activities combining the College's rich natural setting with instructional expertise and administrative support. The Bozzuto Boathouse houses the Colleges' nationally-ranked sailing team and also benefits the Outdoor Recreation Adventure Program.
Waterfront equipment includes a dock and shed for boats and related equipment, which is used for the sailing class taught at the Colleges. Crew members also have access to the calm, enclosed waters of the New York Barge Canal, a remnant of the famous Erie Canal system, which provides six miles of excellent sculling water. For further information contact Scott Iklé by phone at 781-3938 or by e-mail at ikle@hws.edu.