HWS Intramurals
HWS Recreation Intramural Sports Program looks to foster an environment encouraging sportsmanship, teamwork, healthy competition, and staying active!
See our semester league and tournament registration deadlines below.
HOW to register
To register for an intramural sports league or tournament, sign up using IM LEAGUES.
You must be a current student, faculty or staff approved to be on campus.

Download the IM Leagues APP (free) to your mobile device OR access via the IM Leagues website.

Select "Hobart and William Smith Colleges" and create an account using only your hws.edu email and the exact name and ID number on your HWS ID card.

Select the "Intramurals" tab and click on the league or tournament you are looking to participate in.

For team leagues and tournaments one student can create & invite their friends to "join" the roster.

Once an individual or team is signed-up, additional information will be sent to participants via email from the HWS Recreation staff.
How to create an account (video)
How to use as a participant (video)
Spring 2023 Schedule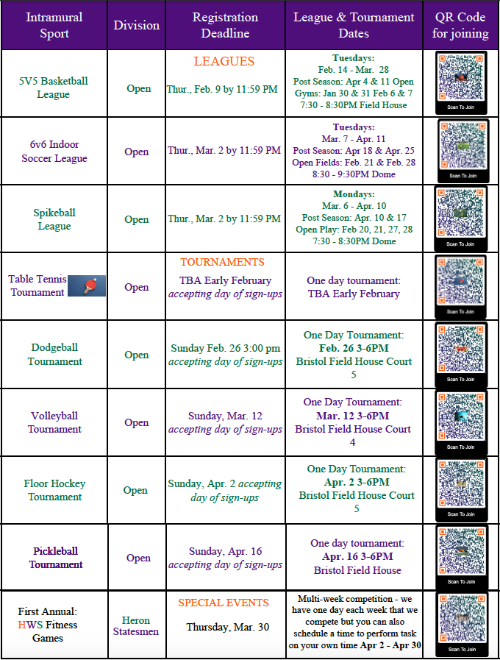 Division Breakdown
OPEN: No restrictions on type of participant (i.e. Herons/Statesmen)
CO-REC: All teams must have at least two Hobart and two William Smith students to participate
Statesmen: Hobart Students only
Herons: William Smith Students only
More Info
Captains Resources
How to Cancel Games via IM Leagues:


Go to the sport in IMLeagues.
Click on your team/access your team's page.
Find the game you wish to forfeit/cancel and click on it.
Find the blue cancel button toward the upper middle part of the page and click on it.
Type in your reason for forfeiting/cancelling the game and click submit. (This is important to fill out accurately as your reasoning will be factored in should your team face elimination from the sport via the forfeit policy.