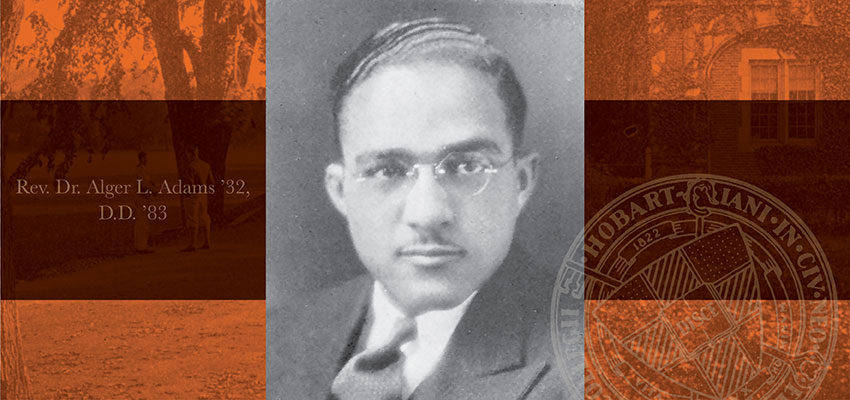 Alger Adams
Biography of Rev. Dr. Alger L. Adams '32, D.D.'83
It was September 1928 when a bright, promising young man from Omaha, Nebraska arrived in Geneva, only to discover that Hobart College, which had granted him a scholarship, would not house him because he was black.
But despite the de facto segregation of the era and the financial plight of the Great Depression, this young man excelled. He triple-majored in Greek, English and psychology, served as an assistant in the psychology department and published his undergraduate research in the American Journal of Psychology -- all while washing dishes in local restaurants, polishing fixtures on campus and working other jobs to support himself. And with the encouragement of the African-American community in Geneva, which welcomed him with open arms, the Rev. Dr. Alger L. Adams '32 became the first black man to receive a degree from Hobart, graduating magna cum laude and named to Phi Beta Kappa.
After graduation, Adams was awarded a Rosenwald Fellowship, joining the ranks of the greatest names in African-American art and literature in the 1930s and - 40s, like Zora Neale Hurston, Langston Hughes, W. E. B. DuBois and Ralph Ellison. Although his academic distinctions won him a scholarship to the Harvard School of Business, Adams ultimately decided to attend the General Theological Seminary in Manhattan -- both because of his commitment to the priesthood as well as his understanding of the scarce opportunities available for an African-American with an MBA in 1934. He graduated from the seminary and between 1947 and 1955 helped build two churches, St. Francis (now St. Francis & St. Martha's) in Greenburgh, N.Y. and St. Augustine's (now Holy Cross) in Yonkers, N.Y.
While studying for the clergy, Adams met his future wife, Jessie Wells, and in 1950 the couple purchased a weekly paper, The Westchester County Press. Their daughter, Patricia Adams, noted that it always bothered her father to accept pay for his work in the church, and eventually he left the active ministry. Though he continued to minister in interim and part-time positions, Adams was drawn to civil rights causes through the development of the newspaper, which he built to give the African-American community a cohesive voice.
As Adams and his wife ran The Westchester County Press, they developed and built The Creative Printery in 1962. Specializing in the publication of high school and college newspapers, The Creative Printery offered a teaching environment for students to learn about printing and production. During this time, Adams earned a master's degree from Teachers College at Columbia University, which led to some colleges accrediting the work students performed at The Creative Printery.
In addition to his many professional accomplishments, Adams wrote two novels, painted 12 oil paintings (10 of which were displayed in Houghton House during Reunion 2002), played the piano and the guitar, and was active in a variety of civil rights, professional and community organizations and initiatives, including as a lifetime member of the National Association For The Advancement of Colored People (NAACP). In 2008, Adams's sermons and other manuscripts were auctioned at Swann Galleries.
In 1983, HWS awarded Adams an honorary Doctorate of Divinity, in recognition of his remarkable career and service to his community. His legacy as the first black graduate of Hobart College resonates today in the Colleges' "commitment" to encourage and to seek diversity in its student body, according to the citation conferred with the degree.
Hobart continues to honor its first black graduate through the annual Alger Adams Excellence Award Dinner, held each February, celebrating those students of color and international students who, like Adams himself, have had to overcome major obstacles to become academically successful.
The Rev. Dr. Adams passed away in 1992 at the age of 82.
Congratulations Alger Adams Scholars
Click to listen to an audio greeting from Patricia Adams, daughter of Alger Adams.

The Reverend Nita C. Johnson Byrd, Dean of Spiritual Engagement and Chaplain

Renee Grant, Deputy Title IX Coordinator and Director of Opportunity Programs

Patricia Adams, daughter of Alger Adams
Student Artists Recognize Alger Adams
After seeing a portrait of Adams and being told his life story, students were asked to create an artistic rendering or expression of him.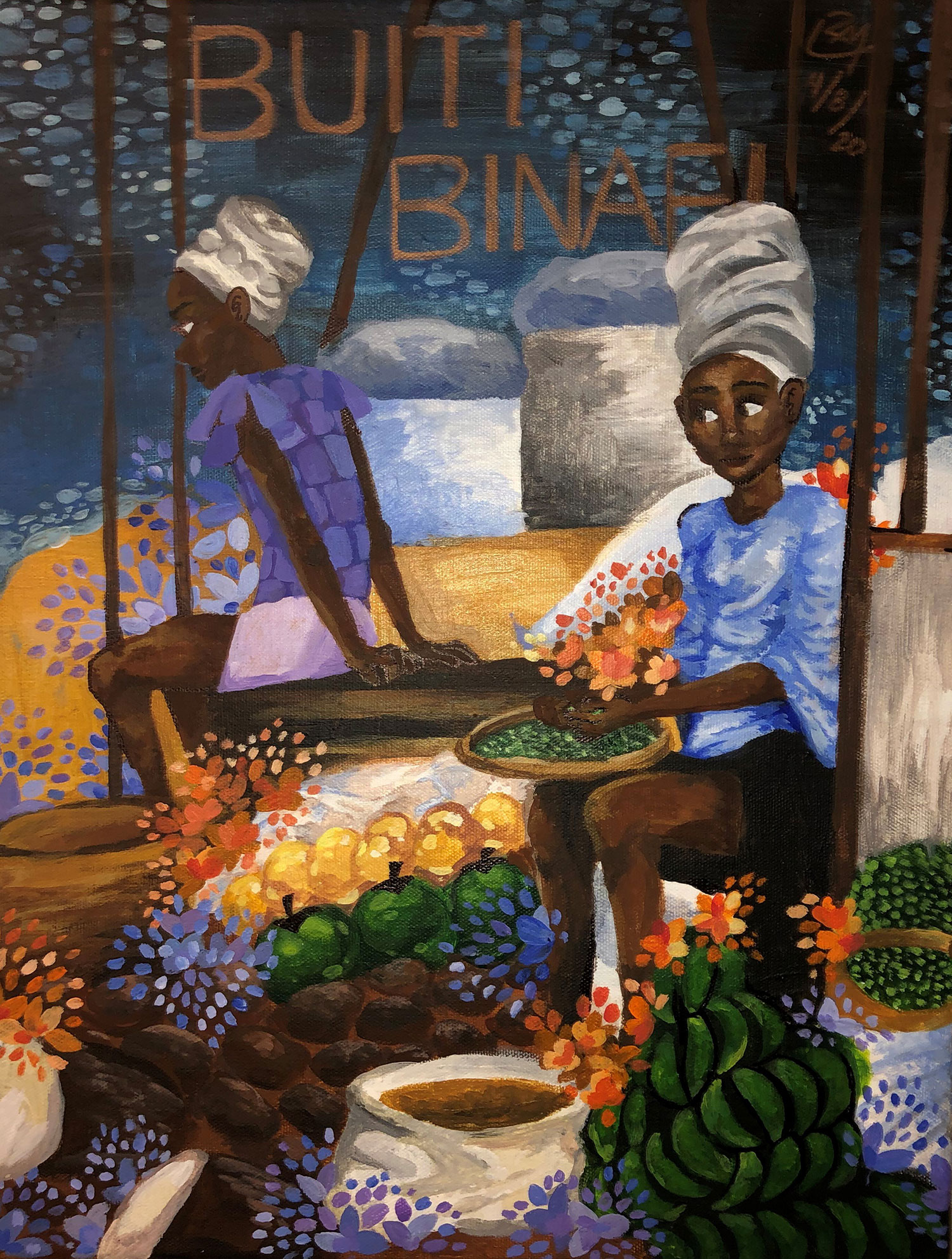 Rosemary Colon-Martinez '21
What medium did you use? This portrait is done in watercolor.
What was your process for creating it? Rosemary Colon-Martinez's piece, titled "Buiti Binafi" celebrates the community and family support that is often at the root of academic excellence.
In Rosemary's words: "I painted my mother and my grandmother--who I've never met. We are forever connected, making it impossible to be alone. Alger Adams had constant reminders of his support in Geneva, which helped him excel. I wanted to give that to my mother through this acrylic painting, pieced together like glass in a mosaic, and holding her like the threads within a shirt."
Rosemary used the same medium that Alger Adams employed for his artistic expression.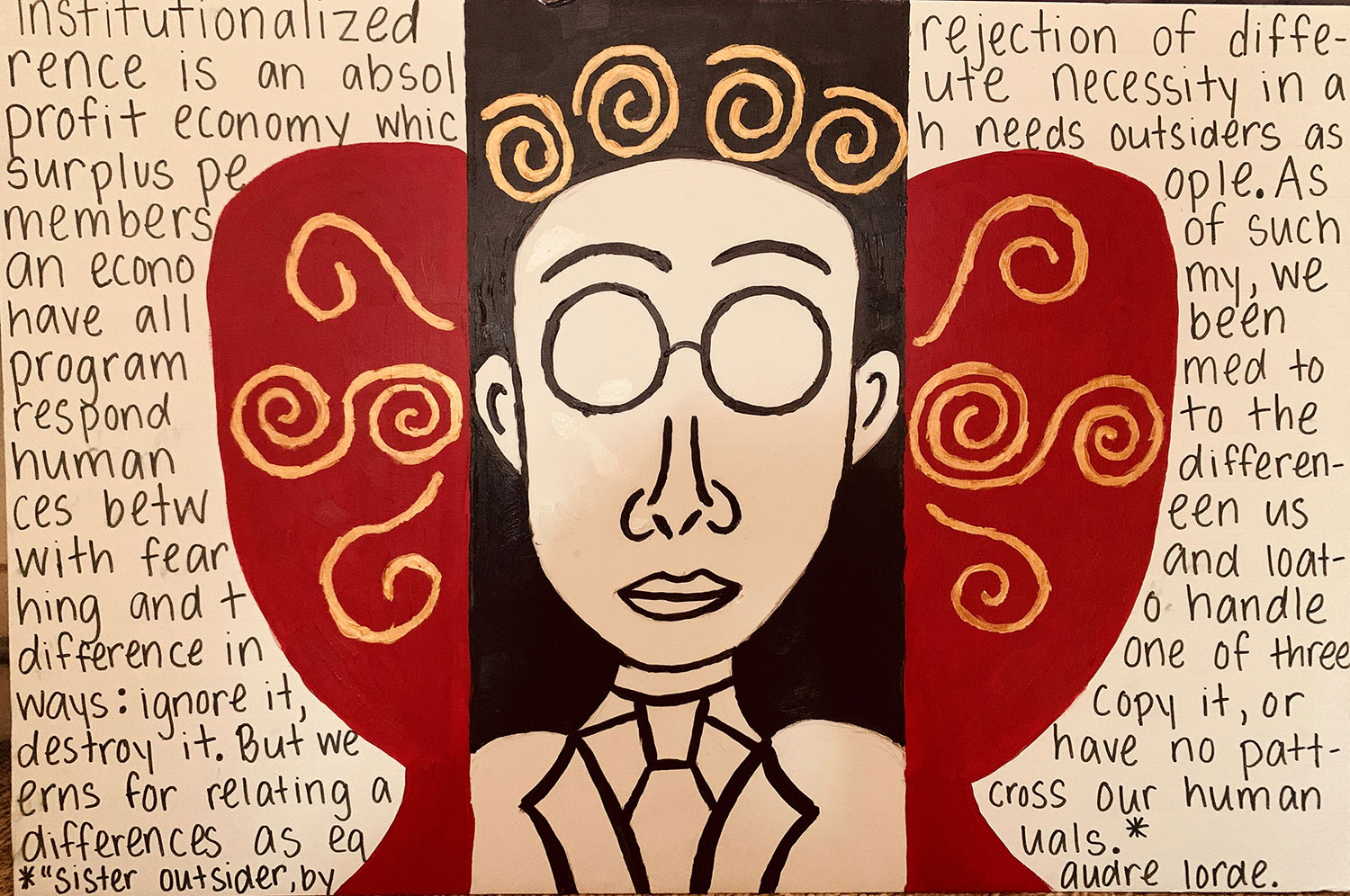 Jess Ramtahal '20
Name: The piece is called sister outsider not only because of the Audre Lorde quote that is included, but because of the role of the Geneva community in Alger Adam's life. That being said, calling one another brother and sister has historically been an act of solidarity. While the entire community played a pivot role in Adam's success, I wanted to use this opportunity as one to shed light on Black women and their roles in community.
Medium: Acrylic paint on foam board
Process: When I initially started this project, it aimed to include glass pebbles, fabrics, and artificial flowers; however, in the process of moving, the original piece was destroyed—all that was left, a blank foam board. So, I decided to go old-school and just stick to two of my favorites, a black sharpie and acrylic paint.
Initial thoughts: Initially, when I heard Dr. Alger Adam's story, what stood out the most to me was the sense of kinship and community that existed between Adams and the Geneva community. This shows the importance of solidarity and uplifting as we infiltrate.
Artistic Style: My signature is using glass pebbles, different fabrics, and artificial flowers, oh, and a hot glue gun. What comes to your head? Visit, https://ramtahaljessica.wixsite.com/amberspiral.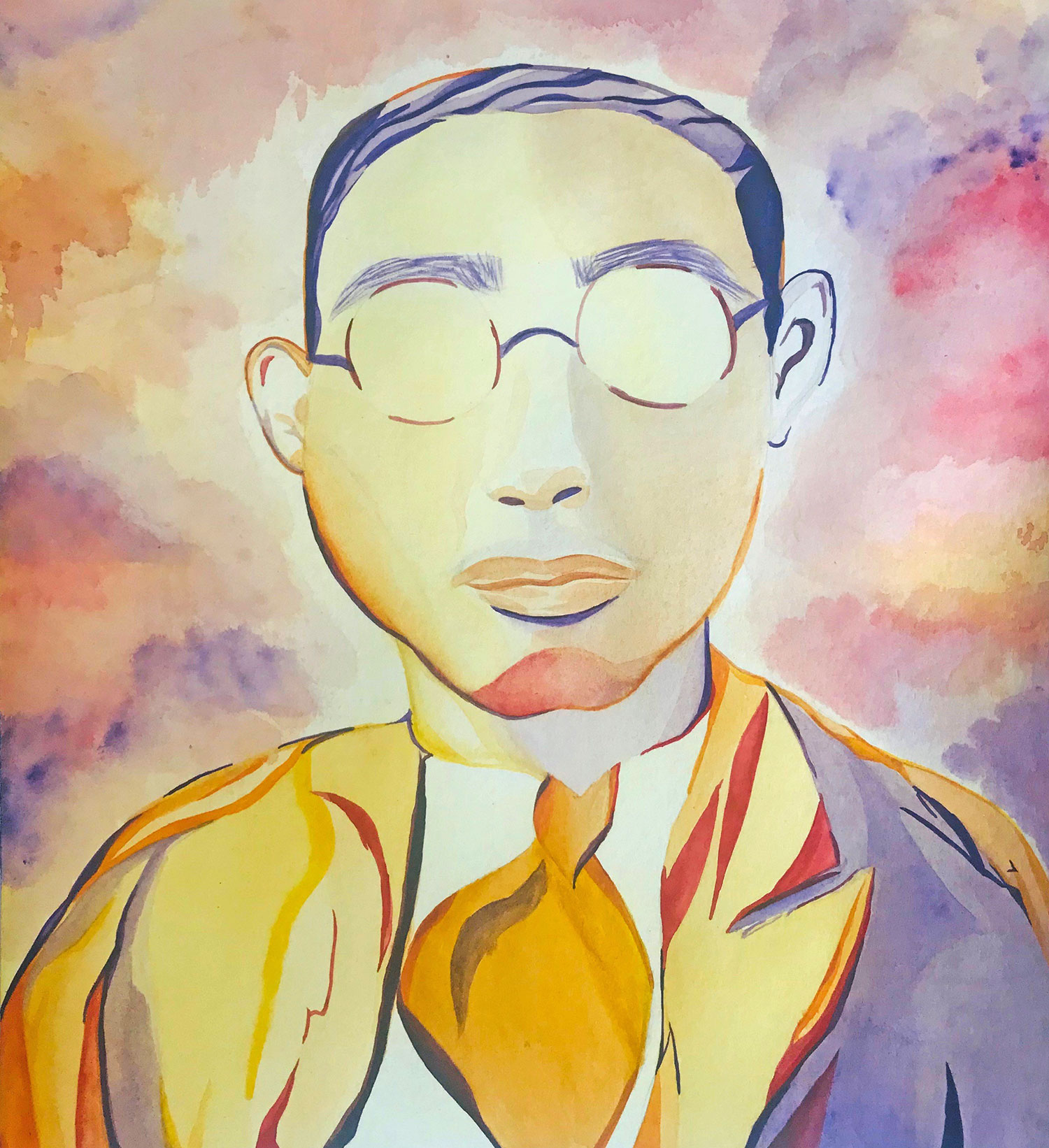 Tai-Ling Bey '20
What medium did you use? This portrait is done in watercolor.
What was your process for creating it? I went through a lot of different ideas for this portrait before I settled on doing a watercolor. I started out as an acrylic painter and originally it was going to be an acrylic painting. But I found that I couldn't settle on a single idea with that medium, and as I got better at doing watercolors I felt that it was the medium I wanted to use. I'm also a colorist, so I chose Hobart's colors and chose my palette using purple and orange and the colors that are the foundation for them.
When you first heard about the project, what stuck out for you? The thing that intrigued me the most was having full creative license. As an abstract painter I find it sometimes hard to do portraiture because I feel like I get stuck in a box, but I did what felt right to me and it turned out amazing.
What would you say is your artistic style? I would say that I am an abstract colorist with a twist. Lol, I don't really base my style off of anything, it's more like feeling for color if that makes sense.
Would you like to share any website or social media you have of your other art? My art instagram is tai_lingbey and website coming soon.
Geneva in Adams' Time
2023 Alger Adams Scholars
Abdoulaye Diallo '23




Ahmed Wise '24




Ainsley Woods '24




Alaura Michele Enright '24




Alexandra George '24




Alexis Kazumi-Takijima McNair '23




Angela Ariana Hernandez '25




Anjalee Wanduragala '25




Annelise Campino '25




Anthony S. Bray III '23




Anya Davis '24




Autumn Washington '24




Bianca Jameau '24




Biruk Nardos '25




Brenda Plascencia '24




Brianna Del Rosario '25




Cameron Guan '23




Carly Nina Bielicki '25




Christina Roc '24




Christopher Wright '23




Delores Amponsah '25




Denelis Ferreira '23




Derrielle Faulkner '25




Djeneba Diop '25




Elisa Ribordy '24




Eliyah Roberts '24




Elliott Menzies '24




Elsa Tariq '25

Emely Martinez '25




Fatou Diokhane '23




Frances Wilson '24




Gabriela Nieves '23




Grace Bott '23




Hrithik Biswas '23




Irini Konstantinou '23




Isabella De Nes '25




Isaiah Joseph Washington '24




Ivan Malcolm '24




Jacob Linares '25




Jadon Layne '25




Jenna Marie Hart Grant Hyman '23




John Tyler Anderson '25




Jordan Britton '24




Joshua Barclay '23




Jovan Joseph '25




Julianna Gong '23




Julyssa (July) Winters '24




Katerina Yacoub '23




Kimberly Saavedra- Mendez '25




Kisean Jones '25




Konoko Tsubakiyama '23




Lauren DeVaney '23




Litzy Bautista '23




Madeline Wasner '25




Malique Bailey '24




Mamadou Meite '23

Marissa Mastracco '25




Melissa Crist '24




Melody Celeste Alvarado '24




Milla Chunton '25




Mohammad Yassin '25




Nailah Lloyd-Jones '24




Natalie Dawley '23




Needhi Bajaj '23




Nicole Wadsworth '23




Niima Sellah '23




Noah James Hoabinh Thirkill '23




Omar kiwan '24




Paulina Tejada '25




Rafael I. Aguilar '25




Robin Ting Ting Snetsinger '23




Roxana Janet Pena '23




Samantha Quinones '24




Samari Brown '24




Samuel Calderon '23




Sophia Mughal '25




Souleymane Ballo '23




Syed Muhammad Abbas Jafri '24




Tenzin Yonten '23




Thao Bui '25




Umama Ahmed '24




Velocity Moei-Jie Jovanka Lopolito '24




Yovanka López '24




Zhengrui Wei '23




Zoe Renee Aracena '25
2022 Alger Adams Scholars
Aaron Tsuchitori '22




Aicha Oumou Bah '23




Aidan Michael Spencer '22




Ainsley Woods '24




Alexis Kazumi Takijima McNair '23




Amalia Tempel '24




Andrea Delgado '22




Anya Davis '24




Autumn Washington '24




Avi Rajkarnikar '23




Bliss Thia Tam Doney '22




Cameron Guan '23




Catherine Joy Britt '22




Cézanne Henriquez '23




Delilah Jesson '22




Denelis Massiel Ferreira '23




Deying Chen '22




Dominique Marshall '22




Eesha Anjum '23




Eliyah Roberts '24




Emma Lucas '22




Fatou Diokhane '23




Gabriela Rosa Nieves '23

Gizem Hussain '22




Guillermo Alberto Castaneda Chang '24




Jacob Dillon Sampson '22




Jamie Lionel Arias Guanga '22




Jenna Hyman '23




Jiaqi Wang '22




Joshua Samuel Barclay '23




Joshua Salazar '22




Julia Bellamy '22




Julissa Ramirez '23




Kaityn Ruth Brathwaite '22




Katerina Yue E Yacoub '23




Keyondre Betaudier '22




Kidus Asmare Ayele '23




Lauren Elisabeth DeVaney '23




Lillian Lin '22




Litzy M Bautista '23




Madison Maren Kaenzig de Denus '22




Martina Roca '23




Mary Mazzarella '22




Matthew Messina '24




Melody Alvarado '24





Meryem Boumalak '23




Muhammad Sarim Karim '22




Nassir Trevon Whitley '22




Natalie McCarthy '22




Needhi Deepak Bajaj '23




Nicole Kathryn Wadsworth '23




Noah James Thirkill '23




Nuzhat Wahid '22




Olivia Broomes '23




Ourania Markaki '22




Raja Hammad Mehmood '22




Sadia Rahman '22




Saima Mashori '22




Salim Fabio '22




Samari Brown '24




Shayna Corrinne Riggins '22




Simiao Dai '23




Souleymane Ballo '23




Star Peña '22




Stephanie Louisa Cox '23




Tia Victoria Thevenin '23




William Argueta '24
2021 Alger Adams Scholars
Aaron Tsuchitori '22
Abdoulaye Diallo '23
Abigail Dana Leyson '22
Aicha Oumou Bah '23
Aidan Michael Spencer '22
Albright Rohan Dwarka '21
Alexis Kazumi Takijima McNair '23
Aliscia Michelle Richardson '23
Aman Jamani Cumberbatch '21
Amelia Thornton Smith '21
Andrea Delgado '22
Anne M Husband '23
Arielys Altagracia Antonio '23
Ashley Nunekpeku '23
Audreyanna Lynn Camacho '23
Aye Zainab Bah '23
Bliss Thia Tam Doney '22
Brisamar Hernandez '23
Cameron Miguel '22
Cassidy Makai Gregory '22
Catherine Joy Britt '22
Cezanne Henriquez '23
Darius Anthony Brummell '21
Delilah Jesson '22
Denelis Massiel Ferreira '23
Deying Chen '22
Dillon Thomas Carey '21
Fatim Cisse '23
Fatou Diokhane '23
Gabriela Rosa Nieves '23
Gabriela Ines Martinez '22
Giselle Miranda '21
Grace Ann Li Bott '23
Grace Victoria Faulkner '22
Hope Lee '22
Hrithik Biswas '23
Isabel Urquiza '22
Jack Russo '22
Jacob Dillon Sampson '22
Jamal Khawar Spear '21
Jamie Lionel Arias Guanga '22
Jenna Hyman '23
Joshua Samuel Barclay '23
Juliana Linda Bruno '21
Julianna Celeste Gong '23
Kaityn Ruth Brathwaite '22
Katelyn Victoria Nguyen '21
Katerina Yue E Yacoub '23
Katie Ruth Kumta '21
Kevin Gonzalo Cervantes '21
Kevin Lima '23
Keyon'Dre Betaudier '22
Kidus Asmare Ayele '23
Lalaine Vergara '21
Lauren Elisabeth DeVaney '23
Lillian Lin '22
Lily Grace Walker '22
Litzy M Bautista '23
Lorena Robelo-Lara '21
Madison Maren Kaenzig de Denus '22
Mamadou Meite '23
Margaret Kayul Bonomo '22
Maya Striuli '22
Maydoneri Perez '22
Mercy Sherman '22
Michael DeVaney '21
Misty Chien '23
Nassir Trevon Whitley '22
Natalie McCarthy '22
Needhi Deepak Bajaj '23
Nicole Kathryn Wadsworth '23
Nicole Mendez '23
Noah James Thirkill '23
Nuzhat Wahid '22
Olivia Broomes '23
Robin Ting Snetsinger '23
Roxanne Dyer '23
Sadia Rahman '22
Salim Fabio '22
Sarah Merecedes Starks '21
Shayla Young Heekin '23
Shayna Corrinne Riggins '22
Sheila Uria '21
Shreeya S Desai '21
Stephanie Louisa Cox '23
Steven Elijah D'Alterio '21
Taylor Ayanna Williams '21
Thomas Ke Xiang Shung '22
Tia Victoria Thevenin '23
Tiana Mayer Fishler '21
Tolulope Adetoun Arasanyin '21
William Dzi-Hong Persina '22
Yalemwork Teferra '21
Zyanya Isabel Rizzo '23