Dining Options

Food Galore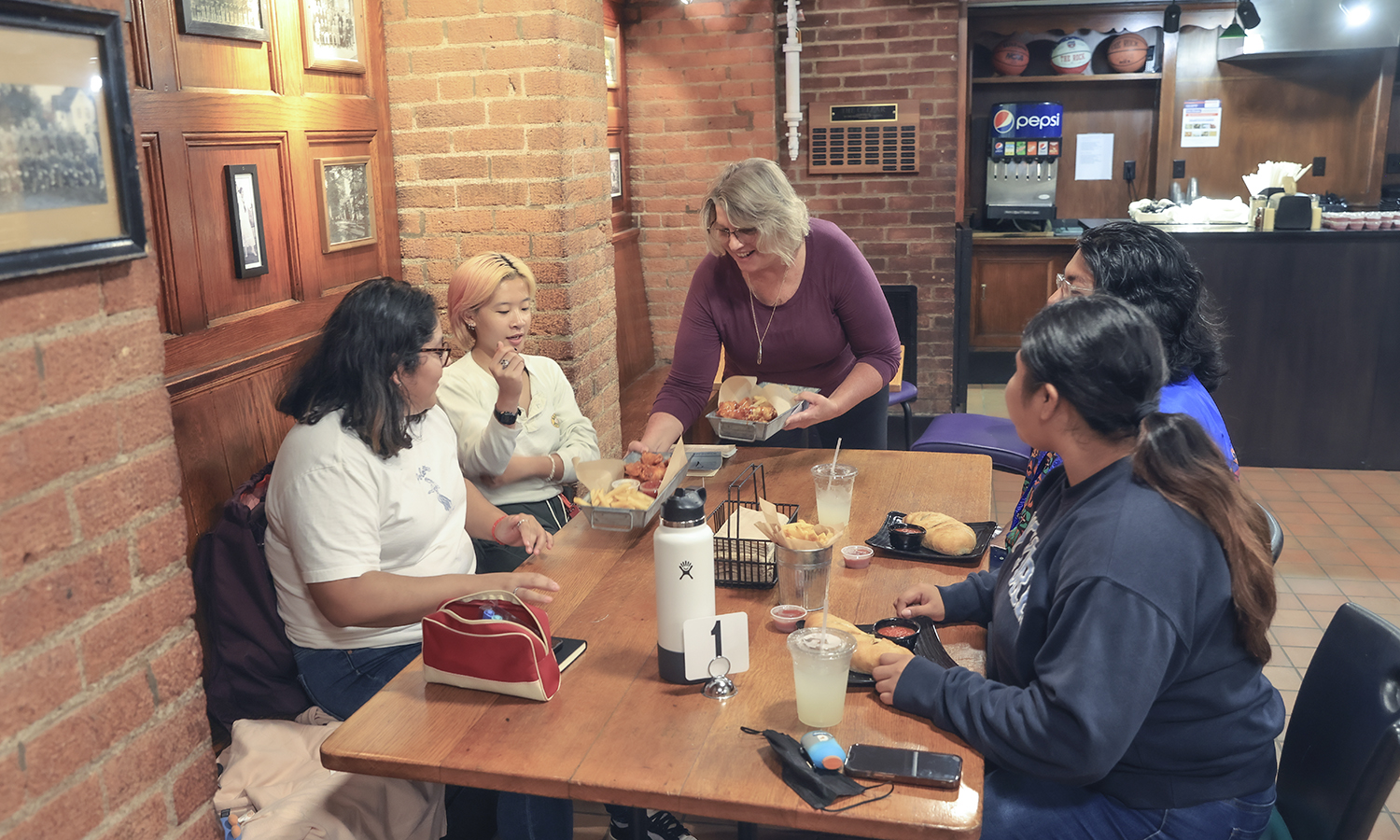 Hobart and William Smith feature four eateries with multiple cuisines to suit your needs.
saga
Officially the Great Dining Hall of Saga, Saga is the main dining hall at HWS located inside the Scandling Center. You can find a variety of options at the following stations that make up Saga:
Basil-Vegetarian and vegan dishes
Daily Dish-Classic entrees
Fired Up-Plain and specialy pizzas
Ignite-Burgers, hot dogs and more
My Kitchen-Rotating breakfast, lunch and dinner classics
Stacks-Customizable sandwiches
Sakura-Classic Asian dishes
Additional salads, sides and desserts are also available to enjoy. Stations at Saga are buffet style and all-you-can-eat. In a rush? Saga offers meals to-go as well, meaning you won't go hungry with a busy schedule. Meals are based on swipes related to meal plan.
get a closer look at saga in this episode of dining halls, drive-ins and dives
the café
Adjacent to Saga is The Café. The Café is made up of three main stations:
Tres Habanero-Burritos, quesadillas and more Mexican favories
Subconnection-Create your own sub or order a signature classic
The Grill-Breakfast sandwiches, burgers and grilled sandwiches
The Cafe also offers ice cream, snacks and to-go meals for whenever you are hungry. Meals at The Café are paid through Snack Money or you can pay via cash or a credit card.
the cellar pub
Tucked in the basement of Coxe Hall is The Cellar Pub. A cozy gathering for lunch and dinner, the pub offers classics including chicken wings, fries, pizza and calzones. And for those late nights, the Pub has you covered; it's open until midnight Thursday through Saturday. Meals are paid through Snack Money or you can pay via cash or a credit card.
pizza, wings and fries are on the menu as dining halls, drive-ins and dives tours the cellar pub
au bon pain
Looking for a simple coffee and a sandwich? Au Bon Pain has got you covered. Located in the atrium of the William Hunting Smith Library, Au Bon Pain offers a variety of hot and cold drinks, pastries, hot and cold sandiwches, breakfast foods and soups. Meals are paid through Snack Money, or you can pay via cash or a credit card.
Grab and Go
Grab and Go is simple; students can pick up a Saga meal to-go comprised of an entrée, a side, a dessert and a beverage. Grab and Go offers a diverse selection of entrees, from yogurt parfait breakfast items to reheatable baked ziti and macaroni & cheese, sides ranging from fresh whole fruit to hot homemade soup, and your choice of beverage and cookie dessert. Grab and Go hours are Monday-Friday from 7 a.m.-9 p.m.