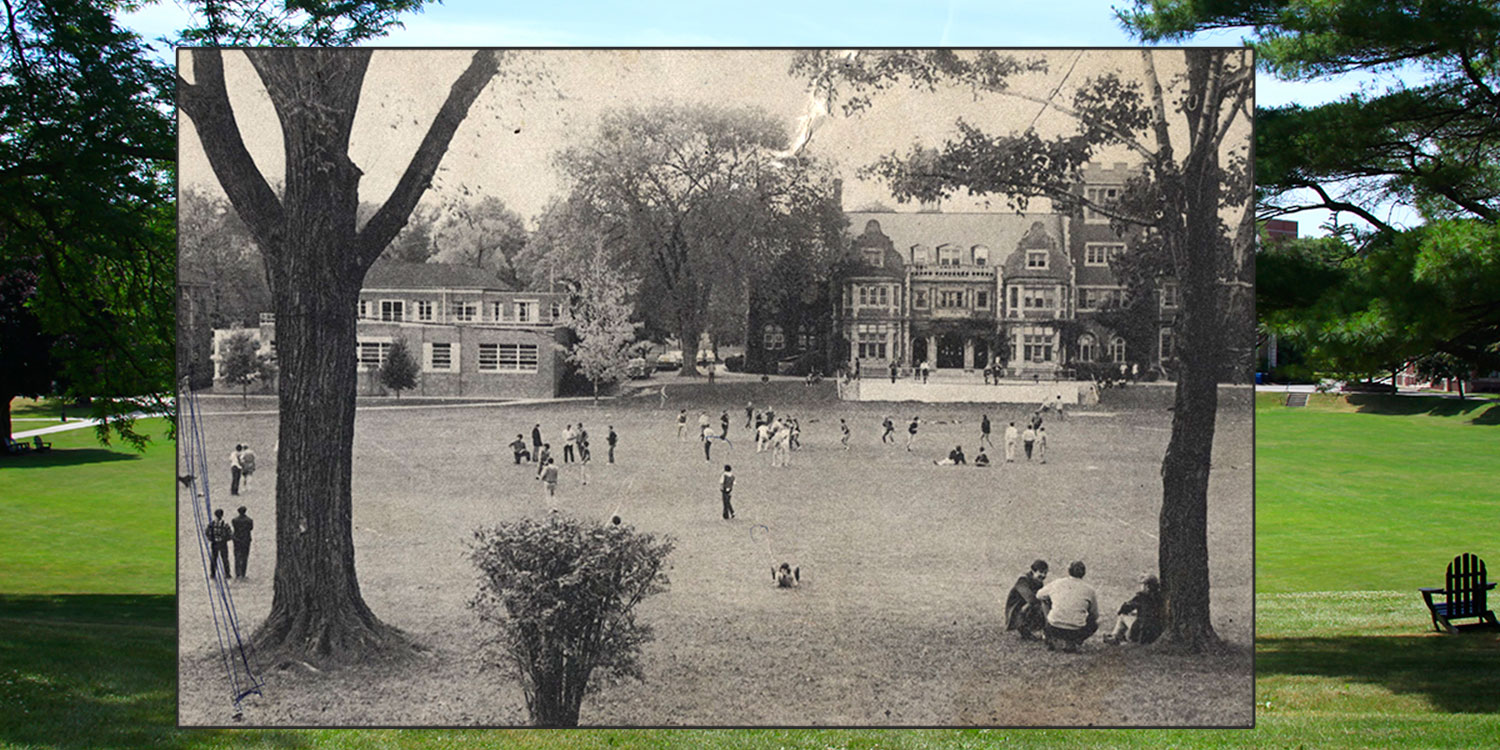 History
Originally founded as two separate colleges – Hobart College in 1822 and William Smith College in 1908 – Hobart and William Smith Colleges today enjoy a rich and unique history that spans 200 years on Seneca Lake. Below is a timeline of the Colleges' major milestones and events from its foundation until present day.
A short video history of the Finger Lakes Region as prepared by the Geneva Historical Society.
1818
John Henry Hobart, bishop of the Episcopal Diocese of New York, announces his plans for establishing a college in Geneva.
1822
With the construction of its first building complete, Geneva College opens its doors to students. The all-male college was renamed Hobart College in memory of its founder in 1852.
1829
The first Native American student, Abraham (or Abram) La Fort from the Class of 1829, studied at Geneva College but did not graduate.
1834
Geneva Medical College was founded as a department/subsidiary of Geneva College. The Medical College was here from 1834-1871.
1836
Isaiah George DeGrasee is the first African American student to matriculate at Geneva Medical College.
1844
Peter Wilson, a member of the Cayuga Nation, is the First Native American graduate of Geneva Medical College. He went on to practice medicine, served as an interpreter and was a noted orator.
1849
Elizabeth Blackwell graduates at the top of her class from Geneva Medical College, making her the first woman in America to receive the degree of Doctor of Medicine.
1852
In honor of its founder, Geneva College is renamed Hobart College.
1879
The Hobart Herald, the student newspaper, begins as a monthly publication.
1894
Barnabas Tokutaro Sakai, from Nagoya, Japan, is the first Asian student to graduate from Hobart. He went on to graduate from the Harvard University Divinity School.
1906
Geneva Nurseryman William Smith signs a deed of gift that establishes William Smith College – a "Coordinate School for Women." The college enrolled its first class of 18 students two years later. The two colleges – Hobart for men and William Smith for women – share the same faculty, facilities and administration yet take classes separately.
1922
The first joint commencement is held, eroding some of the strict separations between Hobart College for men and William Smith College for women.
1932
Rev. Dr. Alger L. Adams'32, D.D.'83 went on to become an Episcopal clergyman and the editor and publisher of The Westchester County Press.
1942
Mildred Constance Li '42 is the first Asian American student to attend and graduate from William Smith College. She went to Saranac Lake in 1945 seeking a cure from tuberculosis. After her marriage to William G. Distin, Jr., she helped him manage Branch and Callanan, the family sawmill and construction business, from 1953 until 1993, and the Distin Boat Company. The couple were hosts for the 1980 Winter Olympics, entertaining visiting VIPs at Whiteface and other venues.
1943
Hobart College contracts with the Department of the Navy to establish a unit of the Naval V-12 program on campus, ensuring adequate enrollments for the Colleges during the war years.
Eleanor Merrill '44 is the first woman editor of The Herald.
During the administration of President John Milton Potter, William Smith College was elevated from its original status as a department of Hobart College to that of an independent college on equal footing with Hobart.
1945
A new curriculum known to students as "Western Civ" is established, the core of which is a sequence of "coordinate courses" dealing with the history, philosophy and literature of Western civilization and its social and political institutions.
1952
Gloria Robinson Lowry '52 is the first African American student to matriculate and graduate from William Smith College.
1956
Eunice Corbin '57 is the first African American woman to hold an elected office at William Smith College where she served as the secretary of her class.
1958
On the occasion of William Smith College's 50th anniversary, the first Elizabeth Blackwell Award is presented to medical missionary Gwendolyn Grant Mellon.
1961
Hobart and William Smith's team on television's General Electric Bowl retires undefeated.
1969
HWS is one of the first colleges in the country to offer Women's Studies as a major.
1970
WEOS (W – Echo of Seneca), which was established somewhere between 1947 and 1949, is converted from AM to FM and begins broadcasting a variety of live and recorded music, news and sports, including programming from NPR.
The Koshare Dance Collective debuts on the Bartlett Theatre stage. Today, Koshare is held at the Smith Opera House and draws nearly 2,000 attendees.
A year after legislation establishes the Higher Education Opportunity Program (HEOP) at independent colleges and universities in New York State, the Colleges found an Office dedicated to HEOP. In 2006, the Governor and the Legislature approve a name change in honor of the important role former Assemblyman Arthur O. Eve P'89, L.H.D. '10 played in increasing access to higher education in New York State.
After much lobbying by students and faculty, the Colleges approve a Black Studies Program, making it one of the first in the nation.
1971
Wendy D. Puriefoy '71 was elected to the Board of Trustees as the first student trustee -- a position that has continued at the Colleges for more than 40 years. She again served on HWS Board of Trustees from 1992-94.
1973
An organization called The Third World Coalition is established by students to address racism on campus. The group comprises African American, Latino and Asian students.
1976
LAO is created to raise awareness of Latin American culture on campus through various programs and events.
1986
A new curriculum, to take effect for the classes of 1990, includes distribution requirements for courses in each academic division; a first-year "Ways of Knowing" course; sophomore-year disciplinary courses; and a strong recommendation of off-campus study, preferably abroad, during the junior year.
1988
Currently known as Sankofa, the Black Student Union, the organization is founded to promote education and awareness of the black diaspora through programs and events.
1995
The Peer Education In Human Relations minor is created to educate students on issues of privilege and oppression. It includes a student certification component giving students the ability to facilitate dialogue.
1998
The Fisher Center for the Study of Gender and Justice is founded. Through curricular, programmatic and scholarly projects, the Center encourages the HWS community to explore the important issues facing men and women of our time. A men's studies minor, the first in the nation, is offered.
1999
The Caribbean Student Association is formed to celebrate the richness of Caribbean culture through educational and social events.
2000
The President's Forum Speaker Series is launched and kicks off with a discussion on public service and volunteerism from Hillary Clinton.
The Afro Latino And Alumni And Alumnae Association (ALAA) promotes the interests of HWS and its Afro Latino Alumni and Alumnae and partners with the president, Board of Trustees, Directors of Alumni and Alumnae Relations, Office of Development, and the Hobart Alumni Association and William Smith College Alumnae Association in order to strengthen relations among the Colleges and alumni and alumnae of color.
The Department of Asian Languages and Cultures, later renamed Asian Studies, is formed to acquaint students with cultural elements that are unique to Asia while providing a firm foundation for further study.
2002
Hobart and William Smith Colleges become the first college or university in the United States to offer an undergraduate major in the field of LGBT/Queer Studies. Today, The LGBT Studies program at HWS continues to grow and evolve.
The Finger Lakes Institute, an organization dedicated to the promotion of environmental research and education about the Finger Lakes region, is established and housed at 601 South Main Street in Geneva.
2006
Ontario ARC partners with Hobart and William Smith to offer the College Experience program designed to offer students with developmental disabilities access to college courses and college life.
Founded in 2006, the First Generation Initiative was established to ensure that first-generation students have academic, social and co-curricular guidance; have visibility as a group on campus; graduate; and take advantage of the resources and opportunities that HWS offers, both during and after their undergraduate years. In 2018, the First Generation Initiative recently welcomed its inaugural alumni speaker, HWS Board Chair Thomas S. Bozzuto '68, who established the Bozzuto Family First-Generation Endowed Scholarship with a $1 million gift.
2007
HWS President Mark D. Gearan signs the American College and University Presidents Climate Commitment, making Hobart and William Smith Colleges a charter member of an effort to reduce emissions of gases responsible for global warming.
President Mark D. Gearan L.H.D. '17 convenes the Commission on Inclusive Excellence committee to consider ways to engender a more inclusive community at Hobart and William Smith.
The Abbe Center for Jewish Life provides an environment for people of Jewish faith or with Jewish interests to gather and socialize, and to celebrate Shabbat and other Jewish holidays.
2008
In commemoration of the William Smith Centennial, the Centennial Center for Leadership is established at 603 South Main Street as an innovative space where HWS students can gain access to coursework, presentations, workshops and community projects that deepen their understanding of leadership.
2010
The Arts Experience is a partnership of Hobart and William Smith Colleges and the Collaborative of the Finger Lakes. The festival is an opportunity for participants, including people with intellectual and other developmental disabilities, the college community, and the general public to explore various means of expression through the arts.
2012
Campaign for the Colleges raises more than $205 million, making it the largest and most comprehensive fundraising effort in the Colleges' history. In total, $74 million was added to the endowment, creating more than 90 new student scholarships, three new endowed professorships and 57 new endowed funds supporting programs in technology, public service and internships. The Campaign also allowed the Colleges to embark on a comprehensive campus revitalization initiative, constructing six new buildings and significantly renovating 22 others, as well as provided support for innovative programs that are housed in the new Rosensweig Learning Commons, the Finger Lakes Institute, and the Centennial Center for Leadership.
The Muslim Student Center is established to provide an environment for prayer and community engagement among Muslim students, faculty and staff.
2013
The Race and Racism coalition is created by students to engage in dialogues to improve cultural and institutional ideas about and responses to issues of race on campus and in society.
2014
The Culture of Respect Committee's mission is to examine, research and offer recommendations designed to elicit important positive change at Hobart and William Smith Colleges. Specifically, the committee will offer recommendations designed to cultivate a culture of respect within five focus areas that include 1) safety and wellness, 2) campus facilities, 3) history and heritage, 4) dialogue across differences and 5) the curriculum review. With representatives from the faculty, staff, students, parents, the board of trustee, alumni and alumnae council, the committee will gather for a period of one academic year. Using an appreciative inquiry framework, the committee will synthesize and prioritize existing recommendations and develop it's own recommendations. In conjunction with senior staff, the committee will create a process for implementing each recommendation, assign responsibility for short-term goals and develop a forward-thinking blueprint for long-term goals.
Associate Professor of Theatre Heather May establishes Mosaic NY, a student theatre group, to create and perform works of theatre that promote dialogue, develop community, celebrate diversity, and encourage the active pursuit of social justice.
2015
The We the Unheard Student Protest is led by students calling for increased support and diversity on campus, specifically pushing for a Chief Diversity Officer and increased racial representation across the institution.
2016
The new Gearan Center for the Performing Arts, named in honor of President Mark D. Gearan and Mary Herlihy Gearan, opens on campus. The facility provides academic and performance space for the departments of music, dance, theatre, and media and society.
President Mark D. Gearan L.H.D. '17 appoints an Interim Chief Diversity Officer Solomé Rose. Rose is the first to hold the position and works to address campus climate, recruitment and retention, and teaching and learning.
The HWS Strategic Diversity Plan, created by a group of faculty, staff, students and trustees, offers a series of recommendations around recruitment and retention, teaching and learning, space, student relations, and community development designed to make HWS a more inclusive and diverse campus.
2017
The longest serving president in the history of Hobart and William Smith Colleges, Mark D. Gearan L.H.D. '17 retired at the end of the 2016-17 academic year. Dr. Gregory J. Vincent '83 was appointed the 27th President of Hobart College and the 16th of William Smith College in April of 2017.
The LGBTQ+ Resource Center, located on the first floor of de Cordova Hall, offers a safe, physical space for students and organizations to meet and find campus and community resources; the Center provides campus with programming and outreach initiatives to support and educate on the unique needs of LGBTQ+ community members. Its opening coincides with the 15th anniversary of Hobart and William Smith's LGBT Studies program, the first of its kind in the country.
2018
Professor Emeritus of Economics of Hobart and William Smith Colleges Patrick A. McGuire L.H.D.'12 is appointed as Interim President while a national search for a new president is conducted.
2019
On July 1, 2019, Joyce P. Jacobsen began serving as the 29th President of Hobart College and the 18th of William Smith College. Jacobsen is a renowned scholar of economics, an award-winning teacher and an experienced administrator with degrees from Harvard, The London School of Economics and Stanford University. She is the first woman to serve as president of Hobart and William Smith Colleges.
Geneva College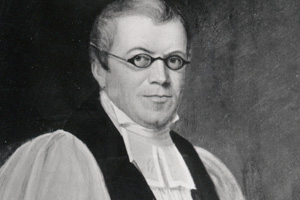 When John Henry Hobart, bishop of the Episcopal Diocese of New York, visited Geneva in 1818, he immediately knew that the bustling lakeside village was the perfect place to build what he called an, "outpost for civilized and learned behavior." He founded Geneva College, and its first building, Geneva Hall, was completed in 1822.
In its early years, the college was split into trimesters and offered a classical education, requiring that students pass courses in geometry, Latin grammar and Roman history. After 1834, students were also able to earn a medical education. By all accounts, Geneva College was a haven for a handful of quiet, studious men.
But by the time the institution was renamed in honor of its founder in 1852, campus had become much livelier, with lacrosse games against Native Americans spilling off the Quad and into the local neighborhood.
Pranks were also a common occurrence. Cows were sometimes found in the Chapel for 5:30 a.m. service, cannon balls frequently thundered down the halls of Geneva and Trinity Halls at night and it was not at all unusual for a Professor to find himself locked in his classroom.
William Smith College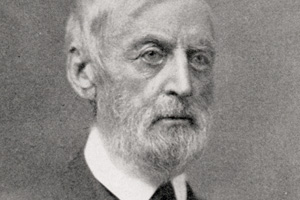 By the early 20th century, as philanthropist and nurseryman William Smith was determining how to best transform his wealth into opportunity for others, he befriended a number of suffragettes and activists including Elizabeth Smith Miller and her daughter Anne Fitzhugh Miller.
The two had a deep impact on him, encouraging him to become a part of the women's movement. It was through their involvement that Smith became committed to founding a nondenominational, liberal arts institution dedicated to educating women broadly, not just vocationally.
On December 13, 1906, Smith formalized his intentions, and two years later, William Smith School for Women enrolled its first class of 18 students, although there were 20 by the end of the year. The College was founded adjacent to Hobart and entered into a coordinate arrangement that is now unique among American colleges.
Despite sharing some facilities and teachers, Hobart College and William Smith College remained quite separate. Classes were conducted in duplicate, and women students were not allowed on the Hobart Quad. Those who required access to Trinity and Merritt halls, the library and the Chapel, traveled there on public sidewalks along the campus perimeter.
The strict separation eroded gradually as it became increasing impractical to enforce. In 1922, the first joint commencement was held, though baccalaureate services remained separate until 1942. By then, coeducational classes had become the norm, and the curriculum centered on the idea of an across-the-board education, encouraging students and faculty to consider their studies from several points of view.
In 1943, during the administration of President John Milton Potter, William Smith College was elevated from its original status as a department of Hobart College to that of an independent college, on equal footing with Hobart.
Mid-Late 20th Century
As Hobart and William Smith matured and grew during the mid-20th century, students and faculty challenged the old rules and developed an increasingly innovative approach to education.
To keep up with changing attitudes, the curriculum changed significantly during this time, moving from an intensive study of Western Civilization toward increasingly open-ended and goal-oriented requirements. The focus on interdisciplinary education remained and strengthened, and HWS became one of the first colleges in the country to offer a First-Year Seminar.
At the insistence of the faculty and staff, HWS saw the dawn of several ground-breaking additions to the curriculum, including robust programs in Far Eastern Studies, Russian Studies, Black Studies, LGBT Studies, Women's Studies and Men's Studies. In fact, Hobart and William Smith was the first in the nation to offer a major in LGBT Studies and a minor in men's studies.
It was also during this time that the international HWS campus was founded. In 1975, Associate Professor of Art Elena Ciletti accompanied 30 students to Italy for the first HWS abroad program. Soon after, students were able to study in London, Italy, Greece, China and Vietnam. Today, HWS students study on every continent except Antarctica.
Changes across the academic sphere were met with enthusiasm and creativity by the Hobart and William Smith community, and those feelings spilled out across campus, prompting intense conversations, deep friendships and a sense of real empowerment.
In 1966, students and faculty members participated in a hunger strike against what they perceived as the lack of personal freedoms for students. By 1968, the student code was entirely overhauled, making room for increased freedom among the student body.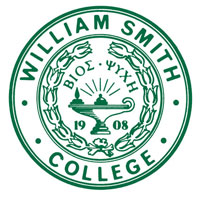 The Hobart and William Smith community rallied for civil rights, women's rights and men's rights, too. They participated in the first annual Take Back the Night March and organized Diversity Awareness programming. In 1970, HWS was named the upstate headquarters for the National Student Strike for Peace.
When Title IX was enacted in 1972, it changed HWS by putting female athletes on equal footing with their male counterparts. That same year, Katie Coleman Nicoll '74, the driving force behind the HWS Sailing Team, qualified for nationals. Ten years later, swimmer Vibeke Hopkinson Swanson '83 was the first national champion in any William Smith sport.
William Smith women continued to break records on and off the athletic field, and the 1980s and 90s were periods of growth and prosperity for athletics and for HWS as a whole. The faculty continued to develop new and innovative academic programs, and HWS students flourished on campus and beyond.
Early 21st Century
In 1999, Hobart and William Smith inaugurated Mark D. Gearan as the 26th president of Hobart College and 15th of William Smith College. At the close of his first year, President Gearan initiated the first of what would become three, collaborative strategic planning efforts. The most recent, HWS 2015 is focused around three core areas – liberal arts in the 21st century, community and inclusive excellence.
In 2019, Joyce P. Jacobsen began serving as the 29th President of Hobart College and the 18th of William Smith College. Jacobsen is the first woman to serve as president of Hobart and William Smith Colleges.