Facilities
Katherine D. Elliott Studio Arts Center
The Katherine D. Elliott Studio Arts Center is home to the Studio Art Department at HWS. Constructed in 2006, this facility provides 14,600 square feet of academic space, including classrooms, offices, studios for painting and photography, and printing, wood and metal shops. The Studio Arts Center provides students with a space that is as artistic and inventive as the work they create inside. The building's contemporary, open design includes large windows and high ceilings, allowing ample light into a space where art flows freely from one end to the other. The modern Elliott Center is a striking contrast with the venerable Houghton House estate, but this duality reflects the breadth of art itself, as well as the practice of the faculty and students who use the facility.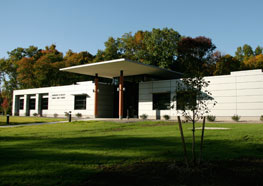 Originally gifted to the Colleges in 1943 for use as a women's dormitory, Houghton House has since become the home of the Art Department. The first floor contains two galleries. The Davis Gallery features rotating exhibits of contemporary art and works from the Colleges' art collection. The Solarium Gallery operates as both a formal gallery and as a space for student-led installations and pop ups. The second floor is used primarily as office space for faculty. The third floor of Houghton House hosts the Architectural Studies program, renovated in 2009 by a generous gift from Ridgway H. White '02.
The expansive facilities include two architectural design studios; a computer lab outfitted with graphic and digital drafting software, a large scale plotter, scanners and color printers; a library for sustainable materials samples, design and urban planning periodicals, and reference books; a 'working gallery' for the display of current student work; and a critique room for student presentations, space and equipment for professional studio photography sessions, and special events such as film screenings and architecture student society (American Institute of Architecture Students) meetings.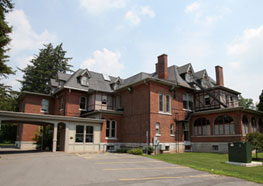 Goldstein Family Carriage House
The Carriage House is home to the studio art department.
An addition to the original Houghton House Estate, the Carriage House was constructed in 1913 for Helen Houghton Vail, widow of former Corning Glass executive Charles Houghton and wife of Professor Charles Vail, a professor of English at the Colleges as well as the librarian and registrar.
The Vail family donated the Carriage House to the Colleges, along with Houghton House and the surrounding land in 1943.
In 2005, the newly appointed Goldstein Family Carriage House was completely restored and refinished and includes an 18-station digital photography lab with a state-of-the-art poster printer, a modernized darkroom for film-based photography and private studio space for advanced and honors students.
The renovations were financed in part by a gift from the Sheldon and Ruth Goldstein Foundation, in honor of the couple's granddaughters, Sara Nargiso '07 and Rachel Nargiso '04.