Internships
While studying at HWS, architecture students often spend their summers interning in design firms all over the country. HWS helps students gain dynamic and hands-on experiences that build their resumes and help them stand out as unique applicants to graduate schools and future employers. These opportunities include working in the Carribean at an eco-tourist resort learning sustainable design building technologies, doing design/build for internationally known furniture makers, and working at our local community design center, the Geneva Neighborhood Resource Center.
Architectural Studies majors at HWS have interned with prominent organizations from across the country, including:
Architectural and Environmental Associates – Flagstaff, AZ
Atelier Architects – Washington, D.C.
Ford3 Architects – Princeton, NJ
Geneva Dept. of Planning and Economic Development – Geneva, NY
Geneva Neighborhood Resource Center
Hilton Doubletree Guest Suites – Boston, MA
Hueber Breuer Construction Co., Inc. – Syracuse, NY
Hunt Architects – Rochester, NY
KGD Architecture – Rosslyn, VA
Maho Bay on St. John, USVI
Meditch Murphey Architects – Chevy Chase, MD
Metropolis Magazine – New York, NY
Miles and May Furniture Works – Geneva, NY
Minatoishi Architects, Inc. – Honolulu, Hawaii
New York Kitchen – Canandaigua, NY
Perkins Eastman – New York, NY
Rochester Amerks and Knighthawks – Rochester, NY
Shumaker Consulting – Binghamton, NY
Skidmore, Owings and Merrill LLP – New York, NY
Professional School
Many of our graduates go on to earn a Master's in Architecture degree or Master's in Landscape Architecture degree, while others choose to enter a program of graduate study in interior design, industrial design, urban design, city and regional planning, fashion, or real estate.
Due largely to the reputation of our alumni, the HWS Department of Art and Architecture has developed outstanding relationships with graduate programs in Architecture (M.Arch) and Landscape Architecture.
Below are some of the graduate schools HWS Architectural Studies majors have been accepted and attended:
University of Michigan Ann Arbor
University of Oregon
University of Washington Seattle
University of Minnesota
University of California Berkeley
University of California Los Angeles
University of Massachusetts Amherst
Massachusetts Institute of Technology
University of North Carolina Charlotte
North Carolina State University
Roger Williams University
Fashion Institute of Technology
Boston Architectural Center
Columbia University
Cornell University
Frank Lloyd Wright School of Architecture at Taliesin
Harvard Graduate School of Design
Harvard University
Illinois Institute of Technology
Massachusetts Institute of Design
Pratt Institute – New York City
Rhode Island School of Design
Sci-Arc (Southern California Institute of Architecture
Syracuse University School of Architecture
University of Buffalo
University of Cincinnati College of Design, Architecture, Art and Planning
University of Colorado Denver
University of Maryland College Park
University of Pennsylvania
University of Texas
University of Virginia
Virginia Tech
Washington University
Arizona State University
City University of New York
Graduate Profile: Amanda Walker '16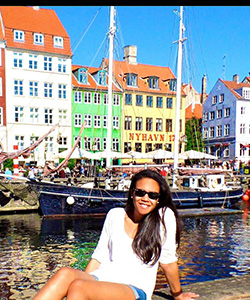 Graduate Student, Harvard Graduate School of Design
Kingston, Jamaica
"Through the collection of my HWS experiences, I gained a greater confidence in myself as a designer and developed a strong portfolio and resume, which earned me acceptances to multiple graduate schools: Harvard University, The University of Pennsylvania, The University of Virginia and The University of Michigan. With much consideration, I decided to attend The Harvard Graduate School of Design, where I will earn a master's degree in Landscape Architecture."