Internships
Art History majors at HWS have interned with prominent organizations from across the country. Below is a sampling of some of the internships Art History students have had.
U.S. Dept. of Agriculture
A Fine Thing (Edward T. Pollack Fine Arts)
Albright-Knox Art Gallery
American Civil War Memorial
AmeriCorps
Chelsea Gallery
Christie's
DFS Galleria
Film Movement, Inc.
The Frick Collection
Gateway Arts (Art Therapy)
Geneva Business Improvement District
Geneva Chamber of Commerce
Geneva Dept. of Planning and Economic Development
Geneva Historical Society
Graphic Design
Guggenheim Museum
Kenneth Cole
Lancaster Cultural History Museum
Magna Global Trading
Massachusetts Museum of Contemporary Art
Memorial Art Gallery of the University of Rochester
Metropolitan Museum of Art
Museum of Fine Arts, Boston
The Museum of Modern Art
National American Art/Portrait Gallery Library, Smithsonian Institution
New York Council for the Humanities
New York Historical Society
P.P.O.W. Art Gallery
Partners & Napier
Philadelphia Museum of Art
Ralph Lauren Polo
Rochester Amerks and Knighthawks
Rochester Business Journal
Rochester Historical Society
Rubin Museum of Art
Sampson State Park Museum
Signs Plus of Kanona, Inc.
Skinner, Inc.
Smith Opera House
Southern Vermont Art Center
Professional School
Many of our graduates go on to graduate school in Fine Arts and Education, while others go on to earn an M.A. or Ph.D. Below is a sampling of some of the graduate schools HWS Art history majors have attended:
American University
Bryn Mawr College
Christie's London
City University of New York
College of William and Mary
Cornell University
Indiana University
Nazareth College
New York University
Newcastle University
Pennsylvania Academy of the Fine Arts
Pratt University
Rochester Institute of Technology
Savannah College of Art and Design
School of Oriental and African Studies
Syracuse University
University of Florida
University of Maryland
University of Massachusetts
University of Pennsylvania
University of Washington
University of Wisconsin at Madison
Virginia Commonwealth University
Graduate Profile: Peter Colon '01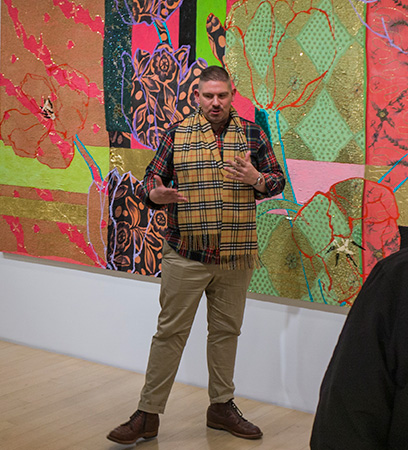 Associate Director, DC Moore Gallery
New York, New York
Colon began his career in the art world early, interning at the magazine ARTFORUM as a sophomore while at HWS. After working in publications, Colon began working with artists, institutions, and collectors through several reputable national galleries, including the Alpha Gallery in Boston, Matthew Marks Gallery in New York City and, in San Francisco, the John Berggruen Gallery, the Hackett-Freedman Gallery, and the Fraenkel Gallery.
Careers
Art history graduates have chosen to work in museums and galleries, fine arts, commercial art, art therapy, media, art sales, fashion, textile and interior design, and education.
Our graduates have gone on to work for the following companies:
Cathedral of St. John the Divine
Colgate University
Conde Nast
Christie's
DFS Galleria
Freer Gallery of Art
G3 Fashion
Hudson Valley Contemporary Art Center
J. Crew
Japan Exchange and Teaching (JET) Programme
KSS Architects
Louis Vuitton
Metropolitan Museum of Art
Pittsburgh Symphony Orchestra
Pratt Institute
Quandrangle Group, LLC.
Random House Publishing
School of the Art Institute of Chicago
Smith College Museum of Art
Smithsonian American Art Museum
Sotheby's
Sterling and Francine Clark Art Institute
Vineyard Vines