Facilities
Eaton Hall, Lansing Hall and Rosenberg Hall
The buildings' 15 instructional laboratories, 12 student-faculty research laboratories, 3 instrument rooms, sterile culture room, chemical storage rooms, greenhouse, and computer labs are light-filled and neatly appointed with soft woods, glass and polished steel.
The departments also have state-of-the-art, research-grade instrumentation for teaching and research. A partial list includes DNA thermal cyclers, gel docking station, spectrophotometers, Western blot scanner, colorimetric and fluorescent ELISA plate readers, environmental growth chambers, patch clamp equipment, CO2 incubators, tissue culture hoods, O2 and CO2 analyzers, Zeiss fluorescence inverted and dissecting microscopes, Cryostat, Olympus phase contrast microscopes, 400 MHz Varian NMR, an Agilent GC-MS, an Advion electrospray mass spectrometer, a Waters analytical and semiprep HPLC, LCMS, a Perkin Elmer 100 FT-IR (ATR), a Polymer Laboratories PL-GPC 120 Integrated Gel Permeation Chromatography System, UV-vis spectrophotometers, a MBraun Unilab (1200/780) Inert Atmosphere Glove Box, a PureSolv 400 solvent purification system, and computer graphics workstation.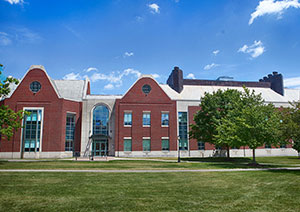 The William Scandling, Hobart and William Smith's steel hulled, 65 foot scientific research vessel, has access to various lakes, including Seneca, Cayuga and Ontario, for student and faculty classroom and research activities.
The vessel, berth in Seneca Lake, is used regularly by Biology, Geoscience and Chemistry students and is a fully equipped for sediment, water and biota studies. The equipment list includes radar, GPS, cellular phone, radios, depth finders, MicroBT, CTDs, high-resolution subbottom profiler, side-scan sonar, current meters, temperature loggers and computers.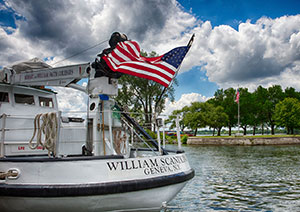 The Finger Lakes Institute
The Finger Lakes Institute (FLI) at Hobart and William Smith Colleges is an educational and information center dedicated to the promotion of environmental research about the Finger Lakes and surrounding environments. The institute, located on campus, offers a variety of programs each semester. To learn more about the variety of ways students integrate FLI into their educational programs, visit the Finger Lakes Institute website.