Mission
Over the course of your major, you will gain an understanding of the complexity of the biological world and its interconnectedness. To achieve this type of understanding, you will participate in hands-on laboratory and field-based coursework and collaborate with department faculty. Obtaining the skills necessary to acquire new knowledge is an essential part of your success as a biologist.

Understanding life requires multiple perspectives. For example, suppose you're interested in the behavior of running in humans. You could investigate how running is facilitated by the musculoskeletal and cardiovascular systems, or how genetic processes affect the development of running behavior over a lifetime. You can also investigate evolutionary hypotheses about why humans run (e.g., to hunt prey or escape danger), or why humans have high running endurance relative to other mammals. Fully understanding biological traits requires elucidating proximate mechanisms about structure and function ("how" questions), as well as the historical and evolutionary factors that shape variation in traits among individuals, populations, and species ("why" questions).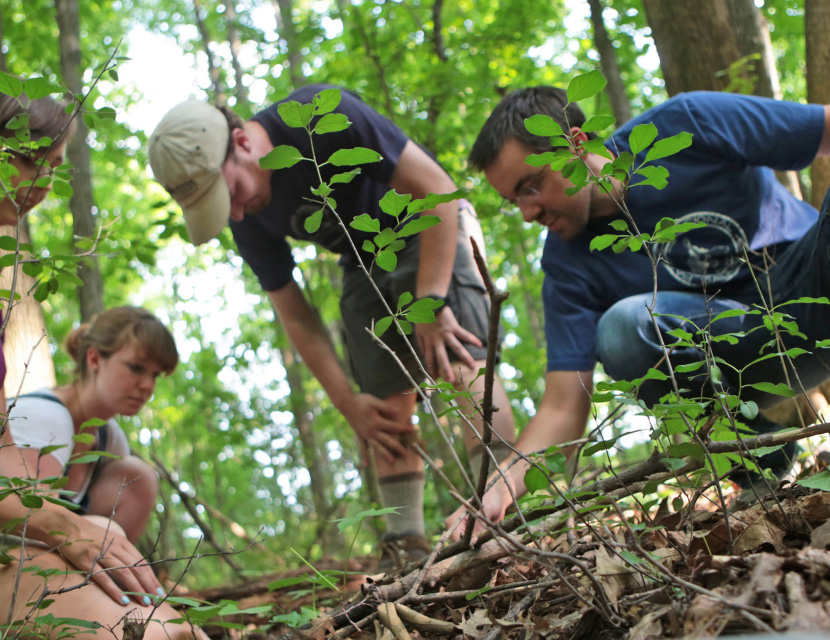 CURRICULUM
The Biology Department offers majors a solid foundation in modern biology providing breadth in biological study through an array of diverse course topics and the opportunity for advanced coursework and independent investigation within the framework of a liberal arts curriculum. Because biology is a diverse discipline united by common principles, completion of certain core courses is required for all majors. The required core courses include BIOL 167 Introductory Topics, BIOL 212 Biostatistics, and BIOL 460 Senior Seminar. However, because biology is a diverse discipline, our curriculum allows students to select many electives courses. Elective courses are organized into two categories that represent different types of questioning and different levels of analysis within biology. Biology offers two disciplinary majors, a B.A. and a B.S., and a disciplinary minor.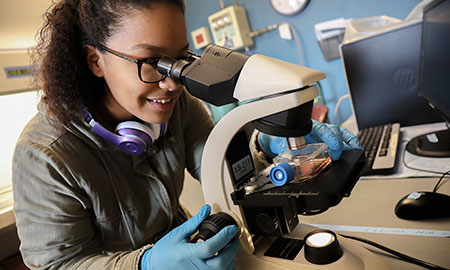 COURSE LIST
If you'd like to view a full listing of our course options in Biology or any other subject, please visit the Online Course Catalogue.
Requirements for the Major (B.A.)
disciplinary, 12 courses
Nine biology courses, seven of which must be completed at HWS or as part of HWS-sponsored abroad programs. Biology courses must include BIOL 167, BIOL 212, and BIOL 460. The remaining six courses are electives, three of which must be completed at the 200-level and three of which must be completed at the 300-level. Of the six biology electives for the BA, three must be completed in Category A and three in Category B (see Table 1 in the Catalogue). BIOL 450 Independent Study may substitute for a maximum of one 300-level biology course. Completion of BIOL 495 Honors may substitute for BIOL 460. Other required courses are MATH 130, CHEM 110, and CHEM 240.
At least six courses must be unique to the major. All courses for the major must be completed with a grade of C- or better. Of the nine biology courses for the BA, seven must be HWS courses or as part of HWS-sponsored abroad programs. At least five biology courses must have a laboratory.
Requirements for the Major (B.S.)
disciplinary, 16 courses
All of the requirements for the B.A. major, plus one additional 200- or 300-level course from biology, and three more courses from chemistry, computer science, environmental studies (ENV 200, ENV 203 or ENV 310 only), geoscience, mathematics, physics or psychology. Of the 10 biology courses for the B.S., seven must be completed at HWS or as part of HWS-sponsored abroad programs. At least five biology courses must have a laboratory. All courses must be passed with a grade of C- or higher. Credit/no credit courses cannot be counted towards the major.
Requirements for the Minor
disciplinary, 6 courses
BIOL 167 and five additional biology courses. Students minoring in biology should work with a biology advisor to select courses that best compliment your major and your career goals.
(A) Processes within organisms
200-level
BIOL 220: Genetics
BIOL 222: Microbiology
BIOL 224: Anatomy
BIOL 232: Cell Biology
BIOL 233: General Physiology
300-level
BIOL 302: Immunology
BIOL 327: Cancer Biology
BIOL 340: Neurobiology
BIOL 341: Developmental Biology
BIOL 380: Genomics
(B) Processes among individuals
200-level
BIOL 215: Evolutionary Genetics
BIOL 225: Ecology
BIOL 227: Behavioral Ecology
BIOL 228: Biology of Plants
BIOL 234: Vertebrate Biology
BIOL 238: Aquatic Biology
BIOL 240: Global Change Biology
300-level
BIOL 316: Conservation Biology
BIOL 325: Invasion Biology
BIOL 336: Evolutionary Analysis
BIOL 356: Ornithology