Professional Pathways
The study of geoscience provides strong preparation for a variety of careers in government, industry and education. Our students work in natural resource management, environmental law, secondary education, science journalism, and research. Geoscience alums occupy fields as traditional as exploration geology for major petroleum companies to fields as far removed from geoscience as finance and marketing. Most Geoscience alumni/ae follow careers in one of four broad categories: (1) education, (2) environmental consulting, (3) scientific research or related fields, and (4) non-scientific careers. The chart below identifies major career paths for our graduates since 1975.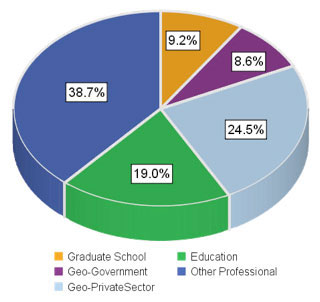 Graduate Profile: Matt Lamanna '97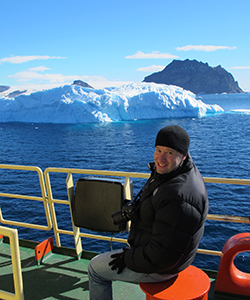 Associate Curator of Vertebrate Paleontology Carnegie Museum of Natural History
Pittsburgh, Pa.
Considered to be a pivotal contributor to the understanding of how dinosaurs and their environments evolved through time, Matt Lamanna '97 has travelled to all seven continents on paleontological expeditions. In Egypt, he was on the team that discovered one of the largest dinosaurs that ever lived — a discovery that is hailed as one of the most significant paleontological finds in recent history. Lamanna also travelled to China as part of the team that found a new species of ancient waterbird, one of the oldest members of a group that eventually led to the evolution of today's birds.