Internships
International Relations majors at HWS have interned with prominent organizations from across the country and around the globe, including:
United Nations High Commission on Refugees – Amman, Jordan
CodePink – Washington, DC
Middle East Report and Information Project – Washington, DC
IHS Markit, Ltd. – London, Singapore, and Hong Kong
Action for Boston Community Development – Boston
Esquire – New York
Forbes – New York
International Trade Administration – Washington, DC
NBC – New York
Senator Edward Kennedy – Washington, DC
Giuliani Presidential Campaign – New York
Careers
Many of our International Relations graduates have gone on to work in politics, government, journalism, nonprofit organizations and business. Our graduates have gone on to work for the following companies, right after graduation:
Bank of America
Corrigan, Bennett and Belfort, P.C.
Freedom House
International Food Policy Research Institute
Magna Global Trading
Metropolitan Museum of Art
Ministry of Foreign Affairs of the Republic of Bulgaria
Nova Group
Peace Corps
Shell Oil Company Foundation
Graduate School
Many of our majors go on to graduate school in economics, politics or international studies, while others go on to earn an M.B.A. or a law degree.
University of Pennsylvania
American University
Albany Law School
Indiana University Law School
Georgetown University
New England Law
New York University School of Economics
Northeastern University School of Law
Northwestern University School of Law
Syracuse Law School
University of Pittsburgh Law School
University of Rochester
Villanova School of Law
Widener University of Law
Graduate Profile: Honorable Shireen Avis Fisher '70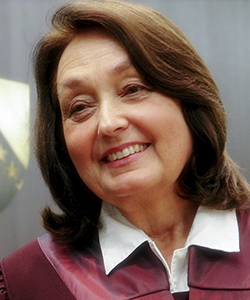 Justice of the Residual Special Court for Sierra Leone
View Full Profile