CURRICULUM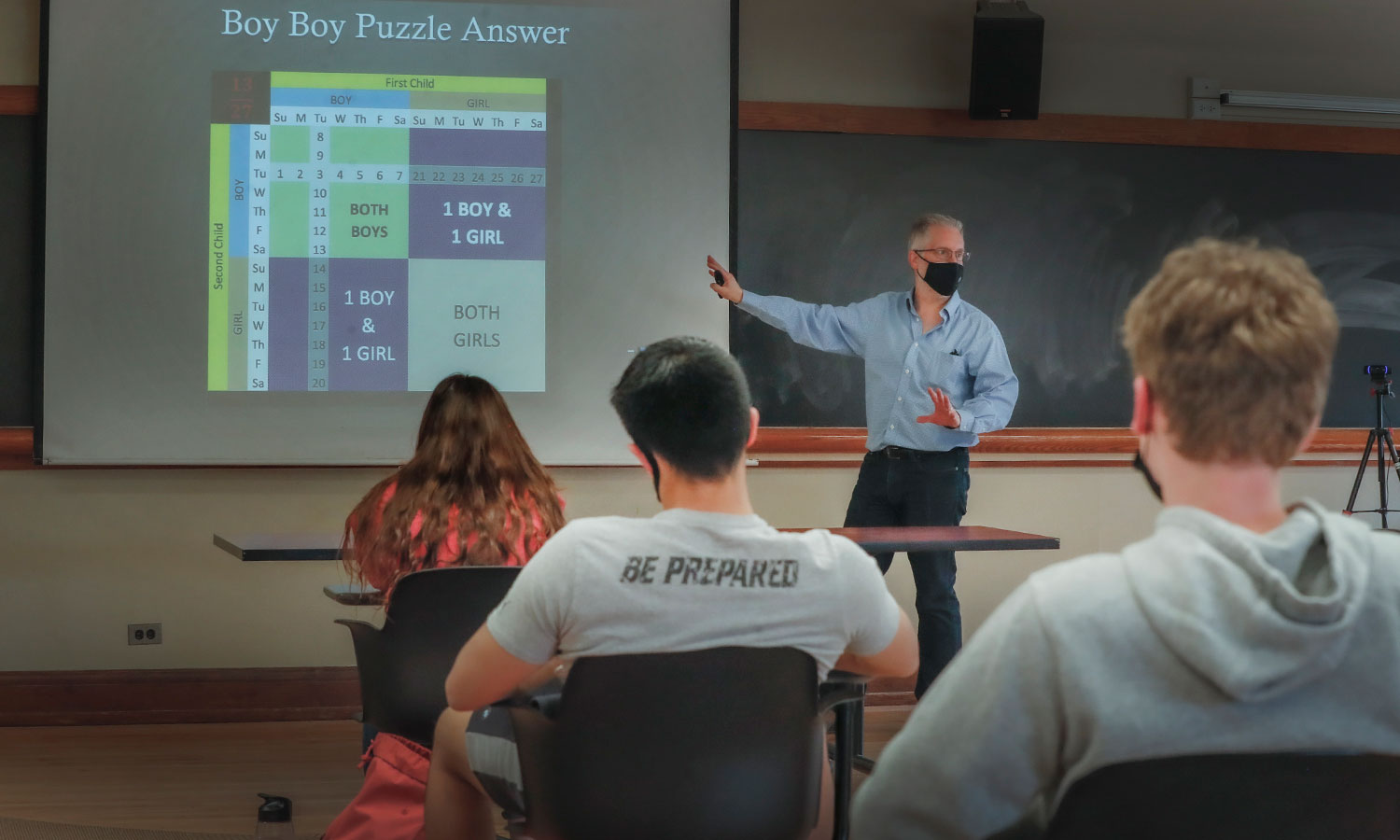 Courses in the philosophy department are designed to provide students with a background in the history of philosophy and to assist them in developing competence in the analysis and evaluation of philosophical problems and arguments that arise in making choices about their own lives and in participating in the decisions on the future of our society. Philosophy is concerned with the most fundamental questions that human beings can ask. What is the ultimate nature of the world? When are our beliefs justified? What can we know? Which actions are right and which are wrong? What is the best form of government? What is the good life? Is mind reducible to body? In addition, philosophy seeks to understand the bases of other areas of study, for example in philosophy of science, philosophy of language, philosophy of law, and philosophy of art.
The philosophy department welcomes both those who have an interest in continuing in philosophy and those who wish to use their philosophical training as a basis for other life pursuits.
The philosophy program offers a disciplinary major (B.A.) and a disciplinary minor.

Course List
If you'd like to view a full listing of our course options in Philosophy or any other subject, please visit the Online Course Catalogue.
Requirements for the Major (B.A.)
disciplinary, 10 courses At least six courses must be unique to the major.
No more than three 100-level courses may be counted toward the major. The following three courses:
PHIL 370 Ancient Philosophy
PHIL 372 Early Modern Philosophy
PHIL 460 Senior Seminar
At least two area courses: (at least one of which must be at the 300-level)
One of the following courses about knowledge/reality:


PHIL 220 Semiotics
PHIL 237 Philosophy of Religion
PHIL 238 Philosophy of Natural Science: A Contemporary Introduction
PHIL 260 Mind and Language
PHIL 342 Experiencing and Knowing
PHIL 345 Power, Privilege, and Knowledge
PHIL 350 Theories of Reality: Mind, Matter, Free Will, Meaning
PHIL 355 Philosophy of Time
PHIL 373 Kant
PHIL 374 German Idealism
PHIL 380 Experience and Consciousness: Introduction to Phenomenology
PHIL 390 Contemporary Philosophy

One of the following courses about values/normative theory:


PHIL 230 Aesthetics
PHIL 232 Liberty and Community
PHIL 234 Theories of Right & Wrong
PHIL 235 Morality and Self Interest
PHIL 236 Philosophy of Law
PHIL 250 Feminism: Ethics and Knowledge
PHIL 256 Health Care Policy
PHIL 310 Cooperation, Competition and Justice
PHIL 315 Social Justice
Any five additional philosophy courses, at least two of which must be at the 200-level or higher.
Requirements for the Minor
disciplinary, 5 courses
One of the following courses about knowledge/reality: 220, 237, 238, 260, 342, 345, 350, 373, 374, 380, 390
One of the following courses about values/normative theory: 230, 232, 234, 235, 236, 250, 310, 315
One of the following historical courses: 370, 372, 373, 374, 390
Any two additional philosophy courses