Dobro Slovo, the National Slavic Honor Society
Delta Mu Chapter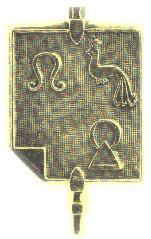 History
A campus chapter of Dobro Slovo was established at Berkeley on Oct 29, 1926, to recognize academic excellence among Slavic students. In 1963, the National Slavic Honor Society "Dobro Slovo" was founded with the help and encouragement of the American Association of Teachers of Slavic and East European Languages. The Society serves as a means for the recognition of academic excellence in the study of Slavic languages and literatures and provides incentive for scholarly interest in Slavic life and culture. The Society was patterned after existing honorary organizations in other fields. Since 1963, Dobro Slovo has steadily grown to be an internationally recognized academic Honor Society with a distinguished membership.
The Key of the National Slavic Honor Society "Dobro Slovo" is a representation of academic excellence in Slavic studies as the Phi Beta Kappa Key is for overall academic excellence.
The HWS Chapter of Dobro Slovo (Delta Mu) was chartered in December, 2003.
Membership Requirements
The student must have:
Completed two years (or equivalent) of study of Slavic languages and/or literature, culture or related subjects, with a minimum grade of 85% (B+) or its letter or point equivalent. (3.4 in the 4.0 system).
Have a minimum overall academic average of 80% (B) (3.0 in a 4.0 system) or its letter or point equivalent.
Indicate an active and continuing interest in studying Slavic languages, literature, culture and related fields of Slavic studies. Delta Mu chapter interprets this as majoring or minoring in Russian Area Studies.
Life Members of Delta Mu, Dobro Slovo
Members are listed by year of induction, name and year of graduation.
2018
Sarah Marie Cavanaugh '20
Alexandra Ann Curtis '20
2017
Sebastien Jean Gilles Sauvagnat '17
Shafiullah Shirzai '17
2015
James Joseph Prowse '15
Megan Christine Barden '16
John Robert Jayne '15
Emily Elizabeth Linde '16
Erica Lynn Randazzo '15
Rory Alexander Silverman '15
2011
Chelsea Clare Hudson '12
Thomas T. Luly '12
Catherine Marie Moshier '13
John Peter Nettl '11
2010
Melissa Marie Warner '12
2009
Belinda Jessica Littlefield '11
Julie Lynn Boardman-Brann '10
2008
Katrina Lynette Havrish '10
Emily Lyons-Ellison '10
2007
Sarah Marie Loomis '07
2006
Chloe Gray Hall '06
Susan Erica Jordan '06
Daryl Johnson Mallet '06
2003
Tara Elizabeth Edlund '04
Sarah Hope Kapp '05