Off-Campus Studies
Whether it's interning in London, studying in Spain or doing research in Germany, most Hobart and William Smith students will have some kind of international learning experience before they graduate.
With some planning, sociology majors can travel abroad nearly anywhere in the world. While the Center for Global Education offers abroad programs on six continents, faculty from the sociology department sponsor programs in Ireland, South Africa and Vietnam.
Learn More About Global Education
---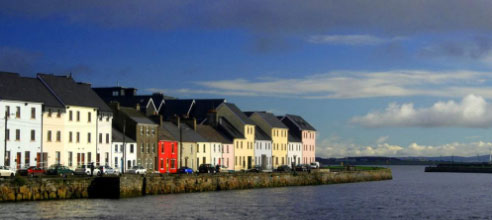 The Colleges maintain an affiliation with the National University of Ireland, Galway (NUIG) to provide students with the opportunity to live and study among Irish students at an Irish university. Participants in the program are also encouraged to join one of the many university clubs and organizations in order to directly experience Irish student life and culture. Community service options are available and provide a unique opportunity for students to gain access to the local community.
Hanoi, the capital of Vietnam, is a large, bustling city that has grown rapidly in recent years. While Hanoi reflects Vietnam's long and tumultuous past in the ancient merchant streets of its unique Old Quarter, the colonial facades of the French Quarter, the monuments and houses of Ho Chi Minh and the relics of the struggle for independence and the "American War," it has also embraced the open economic policies of doi moi that are transforming Vietnam.
South Africa provides unique opportunities for study abroad students. It is a highly industrialized country that maintains its African identity, thus bridging the gap between Africa and the Western world. Moreover, South Africa provides perspectives on the central issues of race and ethnicity unlike those found virtually anywhere else in the world.
Hobart and William Smith Colleges maintain an affiliation with University College Maastricht (UCM), a small, international undergraduate division within the larger Universiteit Maastricht (UM), which boasts a student population of 15,000. Founded in 2002 as one of the first liberal arts honors programs in the Netherlands, UCM program offers highly qualified HWS students the opportunity to study (in English) alongside Dutch and international classmates in a rigorous, highly interactive learning environment.
This program is based at Charles University, the oldest university in Central Europe, founded in 1348. Charles University has a student population of over 40,000 Czech and European students at both graduate and undergraduate levels. The program through HWS is delivered by the Undergraduate Program in Central European Studies (UPCES), which is affiliated with Charles University's Center for Economic Research and Graduate Education. Each study abroad student is assigned to a Czech "student buddy" upon arrival to help with social and cultural integration.

Auckland is New Zealand's largest city with a population of 1.8 million and is the country's main economic and commercial center. Sometimes called the "City of Sails", Auckland is the home port of more boats per capita than any other city in the world. Spread out across an isthmus outlined by the Pacific Ocean, Waitemata and Manukua Harbours, Auckland is very much defined by its neighborhoods, each with a distinctive character and tempo.
Hobart and William Smith Colleges maintain an affiliation with DIS to offer off-campus programs in Copenhagen, Denmark and Stockholm, Sweden. Denmark is among the most socially progressive countries in Europe and Copenhagen, the capital and financial center, is universally recognized as one of the "greenest" cities in the world. At DIS Copenhagen, students can take classes (more than 200 courses are offered) taught in English by an outstanding group of faculty and can participate in study tours to other European countries (Russia, Germany, the Czech Republic and other parts of Northern Europe and Scandinavia).