Off the ice and onto airwaves, William Smith hockey players Morgan Bayreuther '18 and Krista Federow '18 premiered their new sports talk show "The Score Radio" on WHWS-FM on Tuesday, Feb. 10.
The show will air weekly on Tuesdays from noon to 1 p.m. and focus on the Statesmen and Heron teams. Guests will include in and off-season coaches and athletes. The first show featured William Smith Hockey Head Coach Jaime Totten and Assistant Coach Kate Gallagher.
"Being two female athletes, we have a different voice and opinion than most sport talk show hosts," Bayreuther says. "Hopefully our show will be refreshing for listeners to hear women talking about sports. Krista and I are also really silly, so it probably won't be as serious as some other talk shows."
For Bayreuther and Federow, a love of sports runs deep. Bayreuther began playing hockey and lacrosse at a young age-with a desire to continue both motivating her desire to attend HWS. From a "Canadian, hockey-loving family," Federow also began learning the sport at a young age, later picking up competitive soccer and lacrosse.
"Morgan and I love to talk, and we have a different perspective that is often overlooked in sports," Federow says. "Although just getting started, I am very excited to learn and gain experience in this field. I am currently undecided so therefore interested in all subjects and trying to keep my options open."
Station Manager Greg Cotterill, who has elevated college radio at HWS to include news, podcasts, arts events, music and full sports coverage since joining the Colleges in 2003, says "The Score Radio" will be a great addition to the existing program lineup.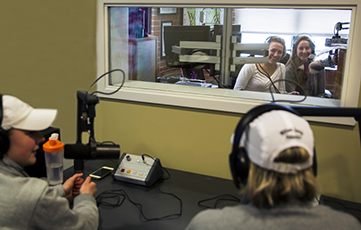 "We're very excited to welcome Morgan and Krista to WHWS-FM," Cotterill says. "With our state-of-the-art radio station now located in the Scandling Campus Center, 'The Score Radio' will not only bring a new and interesting dynamic to the airwaves, but will also be a great opportunity for Morgan and Krista to get firsthand experience in broadcasting."
Although these Herons are quite busy training for the team, Bayreuther and Federow are exploring other passions during their first year on campus.
Bayreuther is considering a major in media and society, which would suit her dreams of a career in sports journalism. She also is a member of Eye to Eye, an arts-mentorship program benefitting Geneva middle school students with learning disabilities, and plays on the Herons lacrosse team. Federow is exploring her academic interests, particularly in psychology and studio art. She played club soccer in the fall and will begin club lacrosse this semester.
"The Score Radio" airs Tuesdays from 12 to 1 p.m. on WHWS-FM, 105.7 FM. Online listening to the station is available on their website. Hobart and William Smith Colleges' radio station is home of WEOS-FM and WHWS-FM.