Drawing Hobart and William Smith alums from all corners of the globe, nearly 1,000 returned to the shores of Seneca Lake for Reunion 2015. Under bright sunshine and in the company of old and new friends, alums from milestone class years ending in 0 and 5 as well as those celebrating their 50th PLUS Reunion from the Classes of 1936-1964 converged on campus for a weekend of excitement and reminiscing.
"Just being on campus is my favorite part of Reunion," said Elana Distenfield Gitter '85, P'16. "I have very warm memories of being on campus. I can take a deep breath when I get here and see Seneca Lake; it just feels like home."
From Performing Arts Center tours to Mini College classes and the always popular Quad Party, alumni and alumnae had the opportunity to choose from an impressive lineup of events that allowed them to reflect on their time as students and get a glimpse of the new developments on campus since their last visit.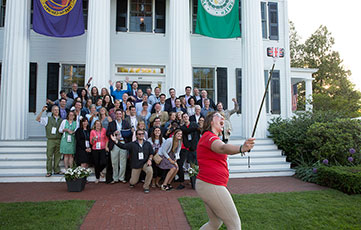 The celebrations began on Thursday night with the 50th PLUS Welcome Reception and Dinner at the President's House, welcoming back William Smith alumnae from as far back as the Class of 1936, and a Hobart alum from the Class of 1943. In addition, both the 50th Reunion Classes and the 25th Reunion Classes enjoyed special dinners hosted by President Mark D. Gearan and Mary Herlihy Gearan at the President's House.
"It makes me happy to see that while there are many things that have changed around Hobart and William Smith, the core is still the same familiar place for remembering our heritage," said Dr. Paul VenHemel '65. "Being around the Quad again, and on the steps of Coxe Hall will always stir something up in me."
As more alums made their way back to HWS on Friday morning, a full lineup of events kicked-off with the HWS Classic golf tournament at Bristol Harbour Resort. Christopher McDonald '77, L.H.D. '13 teed-off with fellow alums before heading back to campus for a tour of the new Performing Arts Center, which was open to all alums on both Friday and Saturday afternoons.
"The only thing we lacked was the physical space to honor the talent here," said Gearan during a tour of the Performing Arts Center, scheduled to open in January 2016. "It's been exciting to watch this project all year and to imagine the expansive ways it will be used."
Taking a tour of the center, Geoffrey Butcher '61, who majored in music at Hobart said, "Seeing this new Performing Arts Center is really unbelievable compared to the little white house they had when we were here."
Guided walking tours of campus were also offered to give alums a look at many of the changes made since their last trip to the Colleges. For Kristine Tjerandsen Smith '65, the new buildings and transformation to the aesthetics of campus were the biggest changes she noticed throughout the weekend.
"I love this campus, it's just a beautiful place and it makes you feel like you're at a college, which big universities just don't do," Smith said. "The Colleges are huge now, so hopefully that translates into a greater variety of classes and more resources, and I'm sure the Performing Arts Center will provide a greater connection with the town."
Tours of the newly acquired HWS Fribolin Farm and the nearby historic Rose Hill Mansion were also offered on Friday, as well as the annual Tour de Finger Lakes Bike Tour and the chance to set sail on one of three excursions on the William Scandling research vessel on Seneca Lake.
"I feel so glad that HWS is getting students engaged in this integration of both water, and of smart, active, green cultivation around sustainability," said Doug Leavens '65 after taking a tour of the HWS Fribolin Farm. "There's a future in sustainability here."
Friday evening included the Street Party on Pulteney, live jazz and the opening of the art exhibit by Mark Jones '72, P'14 at the Davis Gallery at Houghton House, as well as individual class gatherings at various restaurants in downtown Geneva.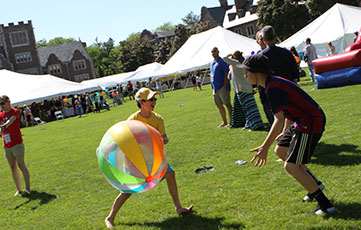 "We love coming back because it's one of the only times we can catch up with our friends who we never get to see," said Erica Saunder Bromley '95, who returned with her husband Ted Bromley '95 and their son, Nico. The couple began dating in their first year on campus, and have returned to Reunion every five years since graduating.
"We had a lot of the same friends, and we still have a lot of friends we're very close with," Erica said. "It's just nice to be here; it still feels comfortable every time we return."
On Saturday, a packed schedule of celebrations and events continued as reunion-goers had the chance to get up-and-at-'em with Sunrise Yoga on the Bozzuto Boathouse dock and a Sunrise 5k through campus.
Alums also headed to the classroom with a full schedule of Mini College classes on Saturday morning. Michelle Calabro '05, who attended the course on music at the movies taught by Assistant Professor of Music Charity Lofthouse, said the class was one of the events she was looking forward to most throughout the weekend.
"What Charity talked about gave me a whole new set of vocab to talk about what I do," said Calabro, who is an experienced designer in New Orleans. "For me, having someone talk about the pairing of music and visuals is my world."
Calabro, who says that Dean of Hobart College Eugen Baer HON'07, P'95, P'97 was one of her most influential professors, also attended the class on the changes made to the HWS curriculum throughout the years, taught by Baer, Dean of William Smith College Catherine Gallouët, and James Spates, professor emeritus of anthropology and sociology.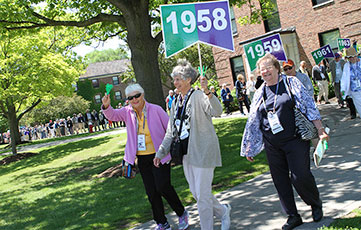 Saturday's events also included the annual Alums on Parade, an All-Classes Sing-In, book-signings with alum authors and several open houses, including the Centennial Center for Leadership, the Finger Lakes Institute, Greek Houses, Hillel, and WEOS.
"It's an absolute thrill to be back," says Christie Palmer Lowrance '65, who is a third generation HWS graduate. She not only celebrated her 50th Reunion this year, but also returned to sign copies of her book, "Nature's Ambassador: The Legacy of Thornton W. Burgess."
"HWS was the best four years of my life," she reflected. "I always say that. This is where I grew up, and I feel our class has truly lived lives of consequence."
Also part of Saturday's lineup was the annual State of the Colleges Address, where the Alumna Achievement Award was presented to The Hon. Shireen Avis Fisher '70, Justice of the Residual Special Court for Sierra Leone.
For James Yovanoff '70, P'05, P'10, hearing the President speak was the best part of Reunion. "It made me feel even better about being an alum," he said after attending the State of the Colleges.
Events and activities on the Quad also provided entertainment throughout the day, including lunch and the Reunion Forum on the Quad, when the Alumnae and Alumni Associations presented their annual awards and announced each Classes' fundraising achievements, as well as the Family Fun Festival and the Finger Lakes Wine and Micro Beer Festival.
Celebrations on the Quad continued as alums and their families danced the night away to live music under a sky full of fireworks, and headed down to Bozzuto Boathouse to finish off the last night of Reunion with the Midnight Launching of Class Memory Lanterns to remember those who have passed.
Reunion 2015 concluded on Sunday with the annual morning toast for Reunion volunteers, and Emerson and Wheeler Society members, as well as Brunch on the Quad to give alums the chance to say farewell to classmates before leaving campus.
"My youth is Hobart," said John Terauchi '55. "I came to Reunion because I wanted it! I wanted it, simply. The three-and-a-half years I spent at Hobart are the prime of my youth."
Related Links