Illuminating the many distinct ways in which Hobart and William Smith prepare students to lead lives of consequence, Convocation not only marked the beginning of the 2015-2016 academic year and the welcoming of new HWS community members, but also served as a moment to consider how the Colleges continue to be meaningfully enhanced and enriched.
"We are called together as a community to celebrate the opening of what promises to be a remarkable academic year, one marked by excellence in the classroom, in the performing arts and on the playing fields, and one in which we hold ourselves and one another to the highest of standards – both as intellectuals and as human beings," said President Mark D. Gearan speaking from Stern Lawn amid nearly 100 flags representing all the nations where students and faculty hail from or have studied abroad. Gearan acknowledged the Colleges' past, present and future, noting the distinctive work and accomplishments of the HWS community. He said the high-achieving Classes of 2019 continue that tradition.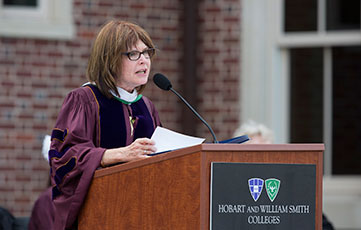 In her keynote address, HWS Board Chair Maureen Collins Zupan '72, P'09 reflected on her longstanding commitment to HWS, urging students to consider how they too can expand their horizons in the weeks, months and years ahead. A member of the Board of Trustees since 1994, she was elected Board Chair in 2012, making her the first William Smith alumna to serve in that role.
"My challenge to you is to do so by being uncomfortable," said Zupan. "You are going to do it by taking some courses you think you couldn't possibly like or benefit from. You are going to do it by joining a club or activity that you have never tried before. You are going to spend time getting to really know at least one of your professors every term really well. You are going to sometimes sit at a different table in the dining hall with people you don't know. You are going to partner with members of the Geneva community to apply what you're learning in the classroom to the real world. You are going to leave campus for a term to immerse yourself in a community someplace in the world where you will be the person who is different."
In her address, Zupan reflected on several alums who endeavored beyond challenges on their way to success: Dr. Elizabeth Blackwell, the first woman to receive a Doctor of Medicine degree in the U.S., earning it from Geneva Medical College, precursor of Hobart College in 1849; William F. Scandling '49, LL.D. '67, the most generous donor in HWS history and a founder of Saga; Celeste V. Lopes '80, Esq., visually-impaired since the age of three, currently serves as an Assistant District Attorney in the King's County District Attorney's Office; and The Hon. Herbert J. Stern '58; LL.D. '74, a distinguished prosecutor and judge.
At Convocation, remarks were also offered by Professor of Art and Architecture Nicholas Ruth, recipient of the 2014-2015 Faculty Prize for Scholarship, Title IX Coordinator Susan Lee, HWS Chaplain Maurice Charles, and Student Trustees Max Gorton '16 and Nicole O'Connell '16. The ceremony was opened by Faculty Marshal and Professor of Biology Elizabeth Newell.
Introduced by Provost and Dean of Faculty Titi Ufomata, Ruth asked students to consider what it means to be good at something, and what it means "to be good at college." Ruth says there's more to it than one might expect and that in doing so there's an opportunity "to make the familiar seem strange."
"Why work so hard to disrupt the comfort and certainty that you have earned by being good at things? Why challenge the assumptions you have been raised with? Well, there are lots of good reasons, but here are two of the best: one, by recognizing how what you take for granted makes you a person of privilege, you will become a more compassionate person; and, two, relying less on all the mental categories that tell you how something should work puts you and your senses back in charge, so you – with a sense of discovery and wonder – can figure out how it does work. In both cases, newness is what's at stake, and newness leads to insight and a more vivid picture of the world and your place in it," Ruth said.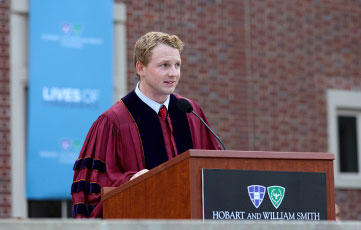 Following Ruth's address, Lee reflected on her own past working for justice and offered insights about the Colleges' culture of respect and resources on campus.
"Today I challenge you to become change agents," Lee said. "Take to heart your Bystander Intervention training. Speak up. Be a leader. Create a future where the thought of sexual violence and relationship violence occurring anywhere would be absurd. Create a future where the thought of racist, misogynist and homophobic cultures would be absurd."
During his remarks, Charles said: "Hobart and William Smith and Geneva as a whole are communities built on small gestures that matter. We invite you to create your own gestures of hospitality, to help us widen the circle of friendship, and yes, even to challenge us on those unfortunate occasions when we fail to live up to our highest values. You belong here. Listen for that message in all that you hear today."
Together, the student speakers also shared their words of wisdom with the Classes of 2019.
 "At HWS, plan on your passions being heightened and if you are brave enough, your passions are in danger of being reinvented," said Gorton after being introduced by Hobart Dean Eugen Baer P'95, P'97. "You are not being asked to reinvent the wheel; you are simply being given the opportunity to reinvent yourself; a notion that is both terrifying and overwhelming. But understand that in front of you lies an amazing opportunity to discover just what it is that makes you tick, and the opportunity to rigorously pursue that rhythm."
O'Connell, who was introduced by William Smith Dean Catherine Gallouët, said she learned that it's okay to feel lost. "It's ok to not know what you want to do with the rest of your life, to fail and make mistakes. It's okay to miss your family, your friends, your athletic teams, and your favorite teachers. It's okay. It will all be okay. This is just the first step in your journey at Hobart and William Smith Colleges, one that will make you question your assumptions and expectations."
In concluding the ceremony, Gearan reflected on the sentiments shared by the speakers and urged the audience to look to the future.
"This can be a year of enormous opportunity – a new performing arts center opening, a new curriculum designed and readied for the next generation of students, new students and colleagues bringing their many skills and talents to our campus," Gearan said. "But we will not be our best, unless we purposefully and intentionally work to enhance our culture. A great deal has been accomplished, but more work remains. And we need all your help. And so, I open this academic year with great excitement for our collective work together."