Join the CGE team!
Are you interested in using your study abroad experience to support the work of the CGE? Work as a Programming Assistant or volunteer as a Global Ambassador and help other students as they prepare to embark on their own study abroad journeys. Or, serve as a Global Buddy to help a visiting international exchange student studying at HWS.
Programming Assistants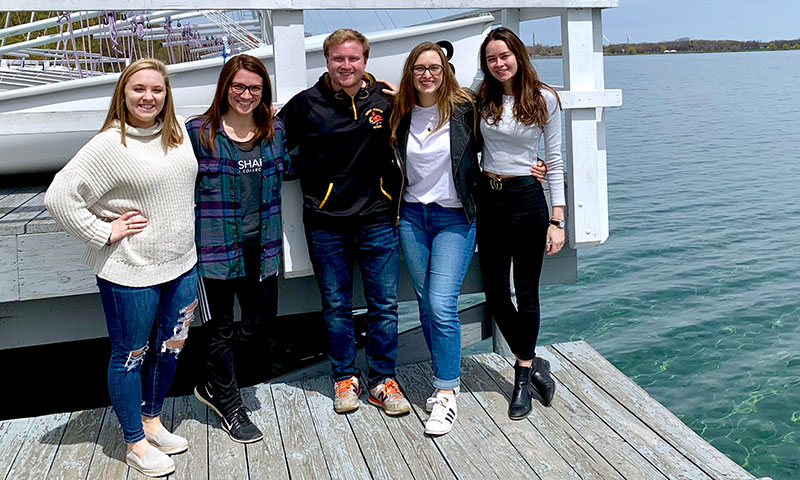 As a CGE Programming Assistant, you'll work with the staff of the Center for Global Education on a variety of tasks and projects. You will serve as a CGE representative at campus events and will help in preparing other students for their own impactful abroad experiences. This is a paid position and we solicit applications each spring semester for the following year.
Apply to be a Programming Assistant >>
Global Ambassadors

Students who have participated in HWS study abroad programs may support the work of the CGE as Global Ambassadors. GA's serve as peer mentors, representing the programs they participated in to help recruit and prepare students to go abroad. In addition to addressing program-and location-specific questions, GA's help to provide insight into the study abroad experience generally. This is a volunteer position that will enable you to continue your global journey while building your resume.
Apply to be a Global Ambassador >>
Global Buddies

HWS hosts a number of international students from around the world who choose to study abroad at HWS for a semester or year. "Global Buddies" is a program that pairs returned HWS study abroad students with incoming exchange students. HWS buddies are asked to serve as a cultural and campus resource for their buddy and to participate in one mutually agreed activity per month on campus or in the area to help the exchange student meet Americans and learn about our community. At the beginning of each semester, the CGE will email all returnees to solicit interest in serving as a Global Buddy.
Meet our Global Ambassadors & Global Buddies! >>
Meet our current Programming Assistants!

Shayna Riggins
Seville, Spain
I love immersing myself in cultures, languages, cuisines, and beautiful sights and each place I go always finds a way to take my breath away. In Fall of 2019 I studied in Seville, Spain andmade the best of both memories and friends there. The Center of Global Education makes the overwhelming process of traveling painless and more accessible to students. I appreciated the compassion of the CGE staff as I prepared for my semester abroad and I would like to also be an available and relatable resource to students looking to study abroad!
---

Carling Landeche
Mendoza, Argentina
As an International Relations major, studying abroad was an integral part of my college experience. I went to Mendoza, Argentina during the fall of my sophomore year. I absolutely enjoyed the experience and it enriched almost every class I took after I returned. As a CGE Programming Assistant, I hope to share my experiences with other students and help them make the best study abroad decisions when applying. I also look forward to working with students as they prepare for their travels. In the future, I hope to work with an international non-profit or a global business.
---

Joshua Hylkema
Maastricht, Netherlands and Wales Summer Program
I am a Programming Assistant because I feel that introducing yourself to other cultures and places around the world is an invaluable experience and I hope to help other students create lifetime memories through traveling. I studied abroad to immerse myself in other cultures and engage with international students. During the summer of 2019 I studied in Wales with 11 other HWS students where we learned about the different theories and approaches to outdoor education at the University of Wales Trinity St. David. In the Spring of 2020 I attended the University College Maastricht for my semester abroad where I took courses in Advertising, Social Entrepreneurship, and European History with a completely international student body. In Maastricht I was able to live with students from Italy, Ireland, France, and Finland and I met students from all over the world. One of my favorite things was time spent talking with roommates and really getting to know them. I hope to help students learn about the world and other cultures through study abroad to become more well-rounded individuals just like my abroad experiences have done for me!
---

Morgan Willis
Rome, Italy
During my first year at HWS, the CGE was a place where I was able to find out who I wanted to be as well as a space where I always felt so inspired. After getting the opportunity to study abroad in Rome, I was so excited to come back to the campus community and be able to help others with similar adventures. I wanted to study abroad since I knew it was an option and I hope to be able to show others how to really take advantage of abroad programs. I hope to be enrolled in graduate school somewhere abroad in the next 2 years. A huge goal of mine since age 10 was to travel to as many countries as I can. I hope that working here might open my eyes to how achieving that goal will change during and after the pandemic.
---

Delaney Hoodak
Norwich, England
I've always had a passion for learning about new cultures and traditions and so studying abroad was always my plan. When I studied abroad in Norwich, England Spring 2020 it was a dream come true! Despite the experience getting cut short due to Covid-19, I had the most amazing time! I met so many people from all over the globe and was able to share my own culture as well as learn about theirs. Traveling, seeing new things, and trying new foods was so much fun and I cannot wait until I have another opportunity to travel abroad once again! I am passionate about learning and connecting with others and I hope to be able to connect with others especially as aCGE Programming Assistant. I want to help as many students as possible have the experience that I had because it expanded my worldview so much and really helped me to grow as a person and as a student! I would love to connect students with programs that are right for them as well as help students who are studying abroad at HWS find clubs and societies on campus.