HWS FACULTY-LED PROGRAMS FOR J-TERM 2021-22
MONTEVERDE, COSTA RICA: The Psychology of Consumerism and Sustainability in Latin America with Brien Ashdown (J-TERM: DECEMBER 2021-JANUARY 2022)
The Psychology of Consumerism and Sustainability in Latin America will provide students with a highly-interactive experience and meaningful cultural exchanges in the area around Monteverde, Costa Rica as they study how basic psychological principles – as applied to consumerism and sustainability – are currently being utilized there, as well as how they might be utilized even more effectively. Students will actively investigate how local people who work in agriculture, tourism, retail, government, and education are confronting the challenges of a globalized economy while maintaining and sustaining the quality of their natural environment. In the course, we will pay particular attention to the way that psychology, culture, economics, and climate all share a symbiotic relationship.
Program brochure page and online application
HAVANA, CUBA: Inside the New Cuba: Reconciling Socialism and the Market Economy with Jack Harris (J-TERM: DECEMBER 2021-JANUARY 2022)
Inside the New Cuba will trace the evolution of Cuban society from the 1959 revolution to the present. Drawing upon historical documents, literature, print media, films and music, the course will examine the impact of the revolution on Cuban society, as well as on the contemporary history of Latin America and the US. In many ways Cuba has been an experimental society since the revolution. The theory and practice of socialist thought and its effect on the welfare of Cuban society will be examined through a variety of lenses, including class, race, gender, religion and sexuality.
Program brochure page and online application
BALI, INDONESIA: The Performing Arts of Bali with Professor Chris Hatch (J-TERM: DECEMBER 2021-JANUARY 2022)
The Performing Arts of Bali includes an intensive exploration into the rich performing arts tradition of Bali, Indonesia. Students will be immersed in various aspects of Balinese performing arts including Dance, Masked Performance, Traditional Instrument Performance, Shadow Puppetry, and Mask Carving. Our "classroom" will be an actual professionally operating artistic conservatory where students will be working with, performing with, and surrounded by professional artists of Bali. Studio work will be supplemented with attendance at professional productions of different Balinese performing arts allowing students to see what they are studying at a professional level and allowing them to learn and experience how ingrained the performing arts are in other aspects of Balinese culture.
*Important note for students interested in upcoming short-term (Summer and J-term) programs:
All students interested in HWS short-term or affiliate short-term programs will apply online. Beginning September 16, the Apply Now button will be active on the programs' brochure pages. Check out the list of upcoming short-term program options and deadlines
here
.
AFFILIATE SHORT-TERM PROGRAMS
These programs require a dual application process. Students will first apply and be screened through the CGE. Upon acceptance, students will then need to apply directly to the affiliate provider. Each program below has its own deadlines and application procedures.
For more information on HWS summer or J-term affiliate programs and to apply for an affiliate program, please click on the above link(s). These links will direct you to the HWSabroad application portal for all short-term programs. Scroll down to the affiliate section at the bottom and click on the link of the program that you are interested in for more information and to begin the online application process.
Need further guidance about which short-term study abroad program is right for you? Setup an advising meeting with CGE Associate Program Manager, Colleen Kolb (kolb@hws.edu).
Student Profile: Elise Donovan '22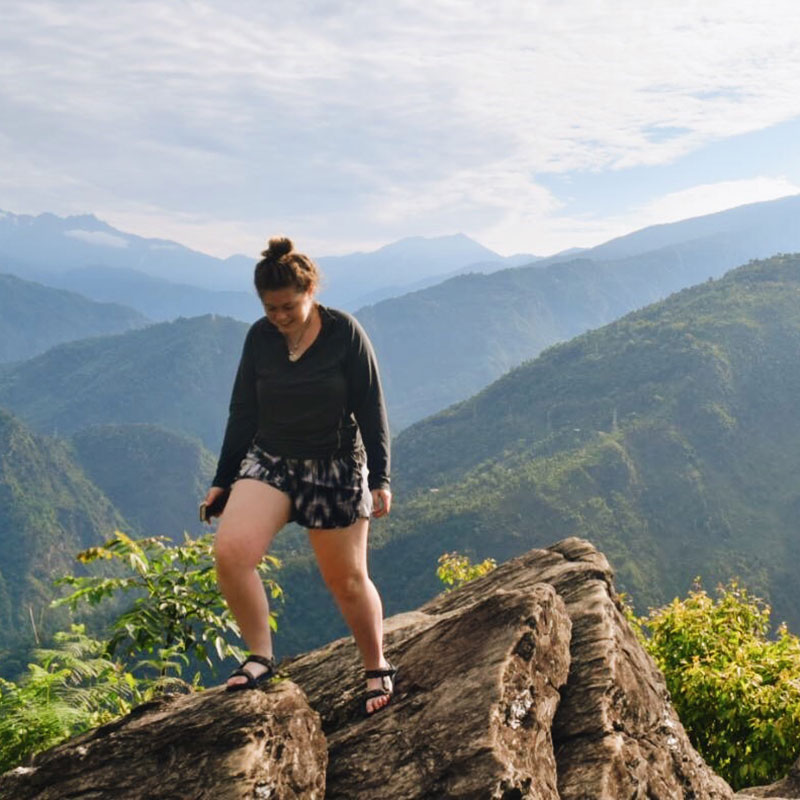 Major: International Relations
Minor: Environmental Studies
"During the summer of 2019, I completed a short-term summer study abroad program with eight of my peers in India. The program was led by Associate Professor of Political Science Vikash Yadav who taught a course on the intersection of environmental, labor and identity politics contained within the state of Sikkim. Every day was different, as we traveled to different parts of the country. For a snapshot of our trip to the Yangsum Heritage Farm in Rinchenpong, West Sikkim, India, read my day-in-the-life account here."