HWS FACULTY-LED PROGRAMS FOR SUMMER 2022 & J-TERM 2022-23
ATHENS, GREECE: Ancient Astronomy, Engineering, and Technology: A History of Practical Mathematics with Professors Leah Himmelhoch and Leslie Hebb (SUMMER 2022)
Ancient Astronomy, Engineering, and Technology: A History of Practical Mathematics will discuss the mathematical innovations-and the flow of ideas between-Mesopotamia, Egypt, the Minoans, Greece (from the Bronze age through the Classical period), Hellenistic Alexandria, and early Republican Rome. In this program, the group will track the flow and transmission of technology and scientific ideas throughout the Mediterranean and how its various cultures interacted through trade, diplomacy, and warfare. Further, you will discuss how this history of early math, science, and technology undermines modern racist claims that only "white" Northern/Western European cultures (or, indeed, that any single culture) created (and excelled in) the fields of math, science, and technology. You will not only learn how 'practical' math was important to humanity's past and present, but how it remains an essential tool for our future.
Program brochure page and online application
RIO DE JANEIRO, BRAZIL: Race in Rio: Black Lives and the African Diaspora in "The Marvelous City" with Professor Colby Ristow (SUMMER 2022)
Race in Rio: Black Lives and the African Diaspora in "The Marvelous City" will be an immersive exploration of racial identity Brazilian society. Beginning with a history of slavery and emancipation in the city, students will examine how Africa was and still is mapped onto Rio de Janeiro through its people, its culture, and its overwhelming social problems. Despite its slave past, Brazil never followed the one-drop rule of racial identification, and after abolition there was no formal, legal segregation like in the United States or South Africa. The impact of this fundamental contradiction is felt in the present day, where many promote an image of Brazilian society as a racial democracy – free from racial discrimination – despite many signs to the contrary. Nowhere are these mixed signals more evident than in Rio: a majority black city where access to wealth and education continue to be determined by racial identity, and where the police kill an average of five people per day, the vast majority of them non-white. The course will finish by looking at police "pacification" and the Vidas Negras Importam movement in the context of Black Lives Matter in the US.
Program brochure page and online application
INVERNESS, SCOTLAND: Social Enterprise in the Highlands & Islands with Tom Drennen and Craig Talmage (SUMMER 2022)
Social Enterprise in the Highlands & Islands will teach students about social entrepreneurship and social enterprise theory and practice. The course will be augmented with a service-learning component. Social enterprises in Scotland will be used as case studies, and students will engage in community consulting approaches to offer insights to and co-create new opportunities for the social enterprises in Scotland working to address community needs. Finally, the students will engage in excursions around the highlands, Inverness and nearby Scottish islands to experience the life and culture of Scotland and see social enterprises at work.
Program brochure page and online application
CARMARTHEN, WALES: Outdoor Education: Theoretical Issues in Outdoor Pursuits with Dean Mapstone in partnership with University of Wales Trinity St. David (SUMMER 2022)
Outdoor Education will be a combination of academic theory and hands-on outdoor activities (including hiking, caving, kayaking, climbing, mine exploration, and coastering) that provide a means for examining a range of academic themes such as sustainability, conservation, changing landscapes, personal and social development, and the duality of risk versus adventure. Students will gain insight into Welsh culture and society through active participation in those activities that are thought to be quintessentially Welsh.
Program brochure page and online application
BALI, INDONESIA: The Performing Arts of Bali with Professor Chris Hatch (J-TERM: DECEMBER 2022-JANUARY 2023)
The Performing Arts of Bali includes an intensive exploration into the rich performing arts tradition of Bali, Indonesia. Students will be immersed in various aspects of Balinese performing arts including Dance, Masked Performance, Traditional Instrument Performance, Shadow Puppetry, and Mask Carving. Our "classroom" will be an actual professionally operating artistic conservatory where students will be working with, performing with, and surrounded by professional artists of Bali. Studio work will be supplemented with attendance at professional productions of different Balinese performing arts allowing students to see what they are studying at a professional level and allowing them to learn and experience how ingrained the performing arts are in other aspects of Balinese culture.
Program brochure page and online application
MEXICO CITY, MEXICO & SAN FRANCISCO, USA: Chicanx Cultures on Display: Performing Mexican Identity Across Borders with Professor Michelle Martin-Baron (J-TERM: DECEMBER 2022-JANUARY 2023)
Chicanx Cultures on Display: Performing Mexican Identity Across Borders will explore Mexico City and the San Francisco Bay Area as sites of Chicanx and Mexican visual and performance culture. The course will trace the use of a variety of artistic practices from fine art to agit-prop theater, muralism to folk dance, that not only created a new identity for Mexican-Americans/Chicanx people, but also led to an articulated vision for a more just society. Through multiple excursions, you will experience firsthand how a vibrant arts culture contributes and creates community and social transformation. Uniquely situated across borders and in two major urban centers, you will not only gain a comparative lens through which to understand how identities shift and change across borders but also the ways Mexican-Americans utilized a variety of Mexican traditions to craft their own identities.
*Important note for students interested in upcoming short-term (Summer and J-term) programs: All students interested in HWS short-term or affiliate short-term programs will apply online. Beginning September 15, the Apply Now button will be active on the programs' brochure pages. Check out the list of upcoming short-term program options and deadlines here.
AFFILIATE SHORT-TERM PROGRAMS
These programs require a dual application process. Students will first apply and be screened through the CGE. Upon acceptance, students will then need to apply directly to the affiliate provider. Each program below has its own deadlines and application procedures.
Various locations worldwide (API)
For more information on HWS summer or J-term affiliate programs and to apply for an affiliate program, please click on the above link(s). These links will direct you to the HWSabroad application portal for all short-term programs. Scroll down to the affiliate section at the bottom and click on the link of the program that you are interested in for more information and to begin the online application process.
Need further guidance about which short-term study abroad program is right for you? Setup an advising meeting with CGE Associate Program Manager, Colleen Kolb (kolb@hws.edu).
Student Profile: Elise Donovan '22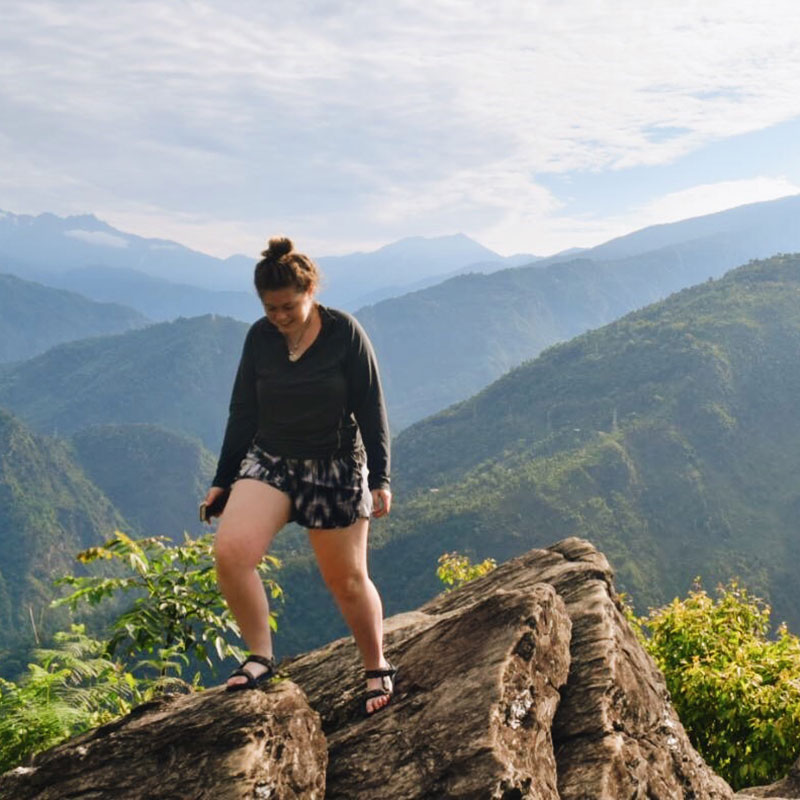 Major: International Relations
Minor: Environmental Studies
"During the summer of 2019, I completed a short-term summer study abroad program with eight of my peers in India. The program was led by Associate Professor of Political Science Vikash Yadav who taught a course on the intersection of environmental, labor and identity politics contained within the state of Sikkim. Every day was different, as we traveled to different parts of the country. For a snapshot of our trip to the Yangsum Heritage Farm in Rinchenpong, West Sikkim, India, read my day-in-the-life account here."