The Michael '59 and Ellen '60 Opell
IdeaLab
Learn how to shape an entrepreneurial idea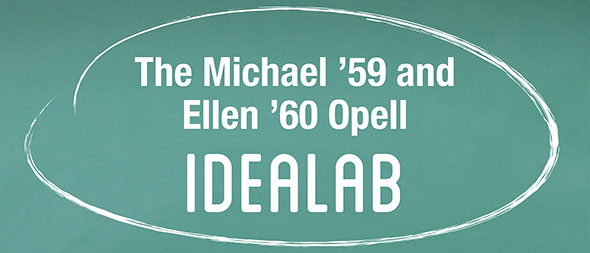 IdeaLab is designed to bring student ideas to reality as well as promote an entrepreneurial mindset on the HWS campus. Simply submit a brief proposal that outlines an idea for a product, service or organization (for-profit or non-profit), and participate in a six-week accelerator program with expert faculty, staff and alumni with the goal of shaping, refining, differentiating your idea. At the end, participants can submit a proposal to the Pitch Competition or the Student Investment Committee for funding to advance their idea.
The IdeaLab is the perfect preparation program for those looking to participate in The Pitch competition, and ALL majors are encouraged to apply!
What is it?
Idealab is the earliest of start-up accelerator programs and offers a creative environment, peer feedback, mentoring resources, structured workshops and funding support for new student ideas. This program is designed to power up your product, service or organization idea in six weeks.
When is it?
Fall 2023 IdeaLab will run from 7-8:30 p.m. in the Seneca Room on consecutive Thursdays starting September 14 and ending October 19.
How does it work?
Submit your application and you're in! IdeaLab is designed to bring student ideas to reality and to promote the entrepreneurial mindset on campus. Ideas are worked and advanced throughout the six sessions through peer feedback and mentor coaching. At the end of the six weeks, a small group of your peers in coordination with Centennial Center staff will review each proposal and determine how the $5000 is allocated.
Who is eligible?
Any current HWS student can apply, and ALL majors and levels of experience are welcome. If interested, simply fill out the application and describe your idea. If you apply, it is important that you commit for the full six weeks. Sessions typically last an hour and a half.
What will I learn?
The IdeaLab has assembled an array of faculty and staff to instruct workshops in topics such as idea creation, customer discovery, market segmentation, cost structure and strategic planning. Additionally, we will tap into our alumni network for expertise in marketing, design or management. You'll receive peer feedback, instructor challenge, mentor expertise and potential funding to support the implementation of your idea.
How does the funding work?
There is an IdeaLab investment pool of $5000. At the end of the six weeks, IdeaLab participants interested in continuing to advance their idea can submit a proposal to our Student Investment Committee for funding consideration. Funding will vary from individual to individual.
How do students enter?
Register online for workshops on a rolling basis from September 14-October 19.