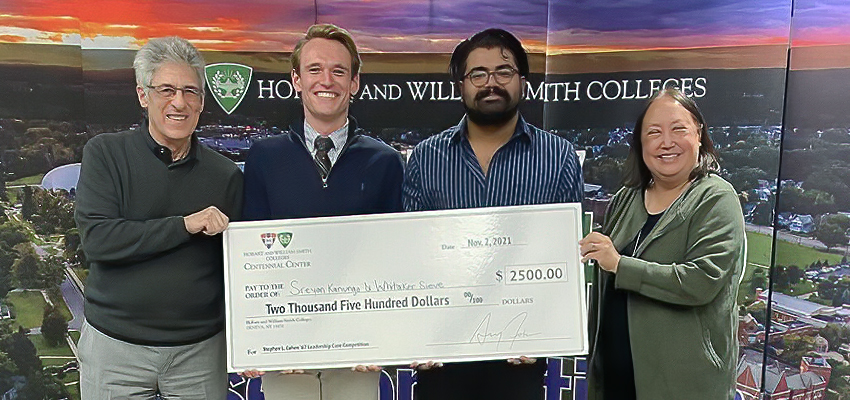 Stephen L. Cohen '67 Leadership Case Competition
Introduction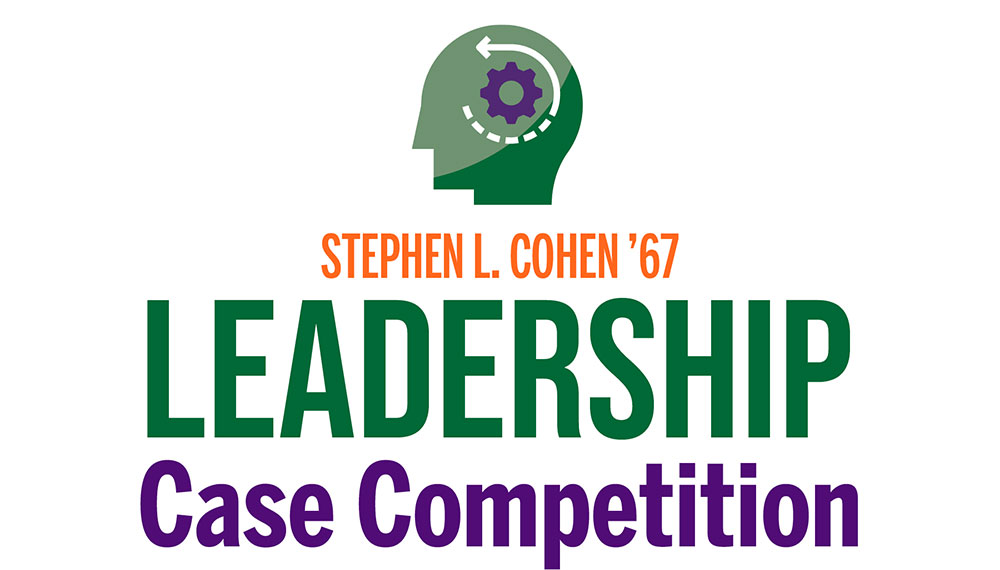 Designed to provide a real-world leadership learning opportunity for students, the Stephen L. Cohen '67 Leadership Case Competition will offer an original case study developed and written by college students in coordination with the Centennial Center. The 2022-2023 academic year will be the second year of the Leadership Case Competition for Hobart and William Smith undergraduate and graduate students.
Case studies will focus on a global or local challenge with a unique leadership dilemma that participants will need to analyze and address through three competitive rounds. Based on the values of the Centennial Center and the legacy of its alum sponsor and former trustee, Stephen L. Cohen, the competition will emphasize critical thinking, ethical decision-making, perspective-taking, application of leadership theory, problem solving, and communication.
Competition Overview
Participants should enter as an individual or in teams of up to 3, either undergraduate or graduate students. Each individual or team must designate a faculty, staff, or alum coach. Once the case study has been officially posted, the competition will consist of three distinct rounds:
Round One: Participants will submit a document outlining their analysis and recommendations in under four pages, single spaced, using criteria in the judging rubric.
Round Two: Participants will submit a poster presentation via a four-minute video using the criteria in the judging rubric. Time limits will be strictly enforced.
Round Three: Participants will have six minutes to present their work live to a panel of judges and an HWS audience followed by a three-minute Q&A. Again, time limits will be strictly enforced.
Participants will be evaluated by a selection committee of faculty, staff, and alums for rounds one and two, and a judging panel will decide on one winning team and one runner up. One winner will receive $2,500 and one runner up team will receive $1000.
Competition Learning Goals
The Leadership Case Competition will center on the following learning goals:
Critical Thinking: Require students to demonstrate a strong ability to process information and engage in issues that offer complexities, and think strategically about possible outcomes.
Ethical Decision-Making: Require students to weigh the moral pros and cons of a decision and analyze potential impact.
Perspective-Taking: Require students to investigate multiple perspectives to an issue and explain the implications of each perspective.
Application of Leadership Theory: Require students to pursue and apply knowledge of contemporary leadership theory in a real-world context.
Creative Problem-Solving: Require students to demonstrate a strong understanding of the problem and a capacity to identify innovative and viable solutions.
Communication: Require students to demonstrate a strong ability to express views effectively and articulate ideas succinctly.
Important Dates
Sept. 12 - Case Study Round #1 due at noon.
Sept. 28 - Case Study Round #2 due at noon.
Nov. 1 - Case Study Final Event at 7 p.m.
Competition Rules
Participants must be current HWS students.
Participants must be available to present at the final event.
All submissions must be the original work of participants. Participants should cite any references using MLA format.
The Centennial Center reserves the right to use any submissions for marketing and communications purposes.
All competition decisions by the selection committee and judges are final.
Case Study Development
Each year, the Centennial Center will gather a group of three or four student writers largely recruited from our writing-intensive disciplines. In coordination with the Centennial Center, the writing group will generate research on a global or local challenge and develop a one-page case study that offers a leadership dilemma. Cases will be nuanced, complex, and rich in details that require responses rooted in the six learning goals. In addition to the leadership learning experience that the competition provides for participants, being a member of the case study writing group will offer students the challenge of presenting a complex problem, evidence-based research, and real-world leadership dilemmas in a succinct fashion. Members of the writing group will be published on the case study and honored at the final event.
Tips for Coaches
Guide your team using the judging rubric.
Help them analyze and frame the problem.
Advise them in developing innovative and viable solutions.
Support their efforts and encourage them to stay within time limits.