Telluric Transformations
Rebecca Murtaugh
August 27-September 25, 2021 | Davis Gallery
Through abstraction and transformation, this exhibition features ceramic sculptures that ask the viewer to slow down to consider our relationship to the natural and human made world. The role of the hand and the history of objects play important roles in the artist's philosophy, as well as gesture and touch. These senses are imparted with immediacy and subtlety in materials with pre-historic origins, and being directly from and of the earth.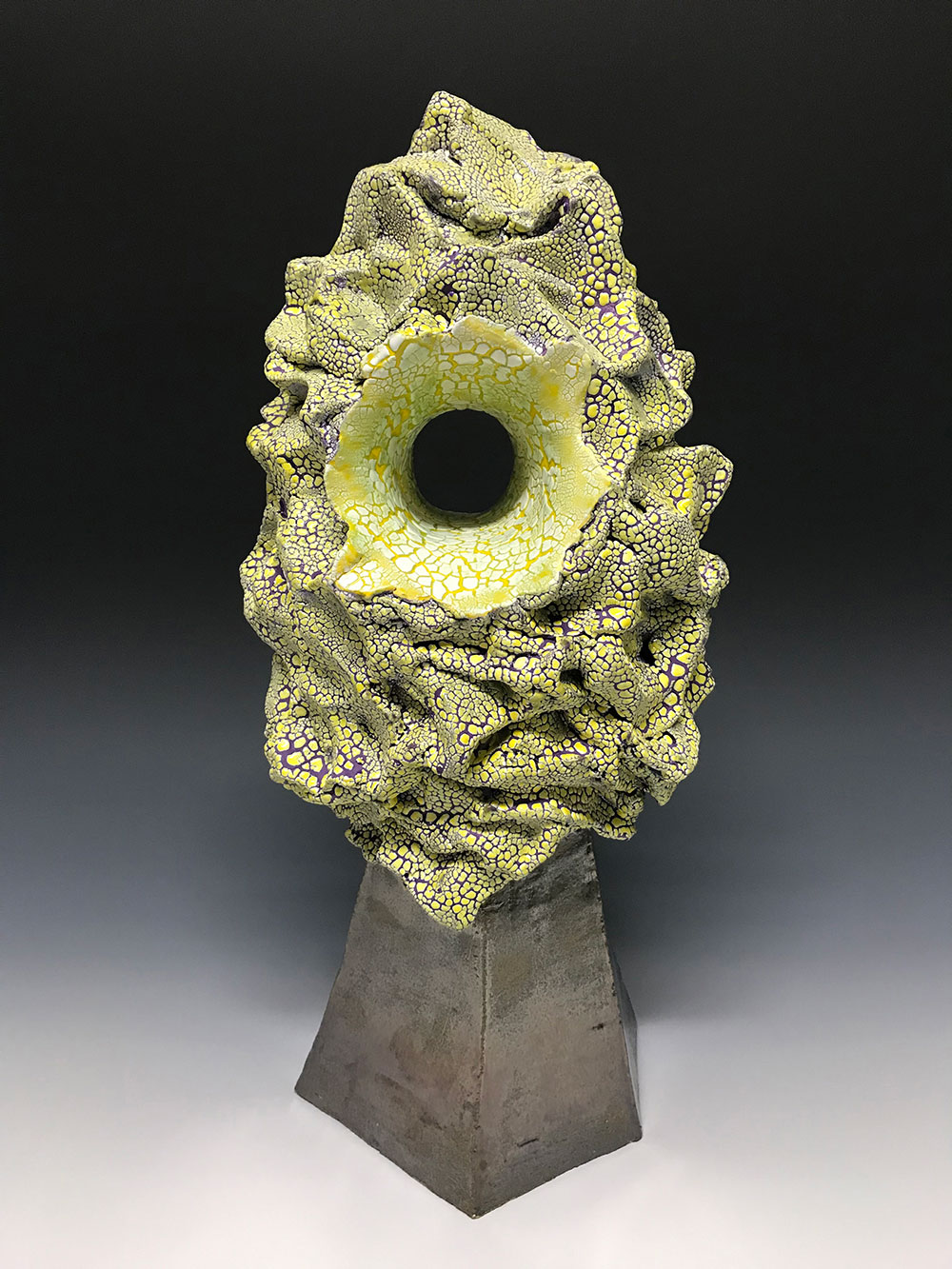 Image: Rebecca Murtaugh, Mallet and Burrow: Cobblestone, Celadon, Sunkissed, and Green Mirror, 2020, ceramic
Portraits
HWS Art Collections and Institutional Faces
February 4-March 4, 2022 | Davis Gallery
This exhibition, drawn from the HWS Art Collections, will examine the artistic genre of portraiture. Images of humans are never just about replicating features: these images are about controlling a narrative, unequal systems of power, questions of immortality, and a marker of admiration. The fall 2021 curatorial students will be examining the fraught and powerful nature of portraiture through the lens of institutional critique, and applying this to the Collections at HWS. This exhibition will coincide with the Hobart Bicentennial, so we will also be examining and including portraits of HWS's own—who is represented, who is not, and why.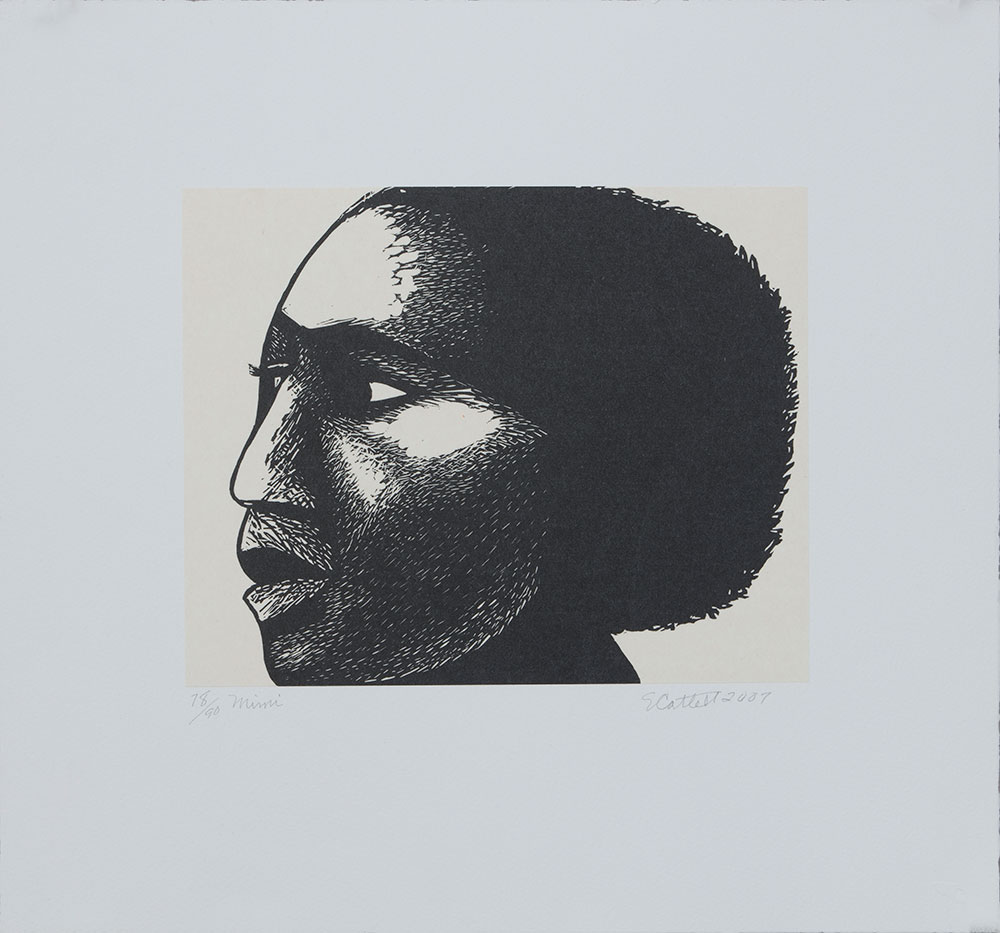 Image: Elizabeth Catlett (1915-2012), Mimi, 2007, linocut
VESTED: Interest Due
Andrew Johnson
March 11-April 15, 2022 | Davis Gallery
Vested: Interest Due offers an allegorical and partial accounting of the acquisition and inheritance, plunder and punishment that characterizes American history. Sculptures and large works on paper present depictions both earnest and ironic, exposing our nation's flawed foundation and its enduring legacy. They fill a visual ledger of an inequitable economy, leaving a balance that may never be reconciled. Vested: Interest Due is an assessment. Calculated reform would leave us short. A reckoning is due.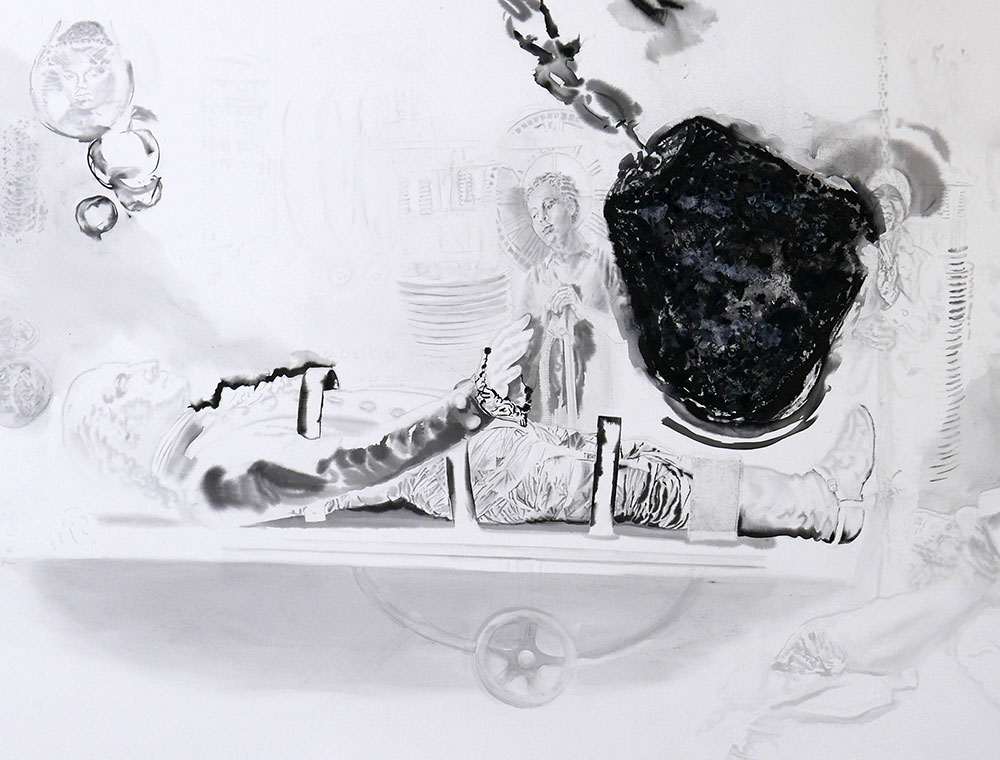 Image: Andrew Johnson, The Creation of G.W. (detail), 2018, ink and wax on paper
Afrofutures: Before and Beyond
October 15-December 1, 2021 | Davis Gallery
Afrofutures: Before & Beyond is an exhibition of art that communicates the philosophies, politics, and aesthetics of Afrofuturism. The Afrofuturist art included imagines a place and time wherein Black identity and experience are defined absent of colonial ideologies. Like much Afrofuturist art, it is hybrid, diasporic, technocritical, and malleable. It figures bodies and ways of being that are neither necessarily utopic nor apocalyptic. In short: It builds other worlds. Afrofutures: Before and Beyond will feature a variety of media including digital collage, sculpture, installation, graphic arts, music and film. Artists include Kimberly Ashby, Tania Balan-Gaubert, and Stacey Robinson. Exhibition is organized by Christine Goding-Doty, James McCorkle, Robinson Murphy, Angelique Szymanek, and Anna Wager.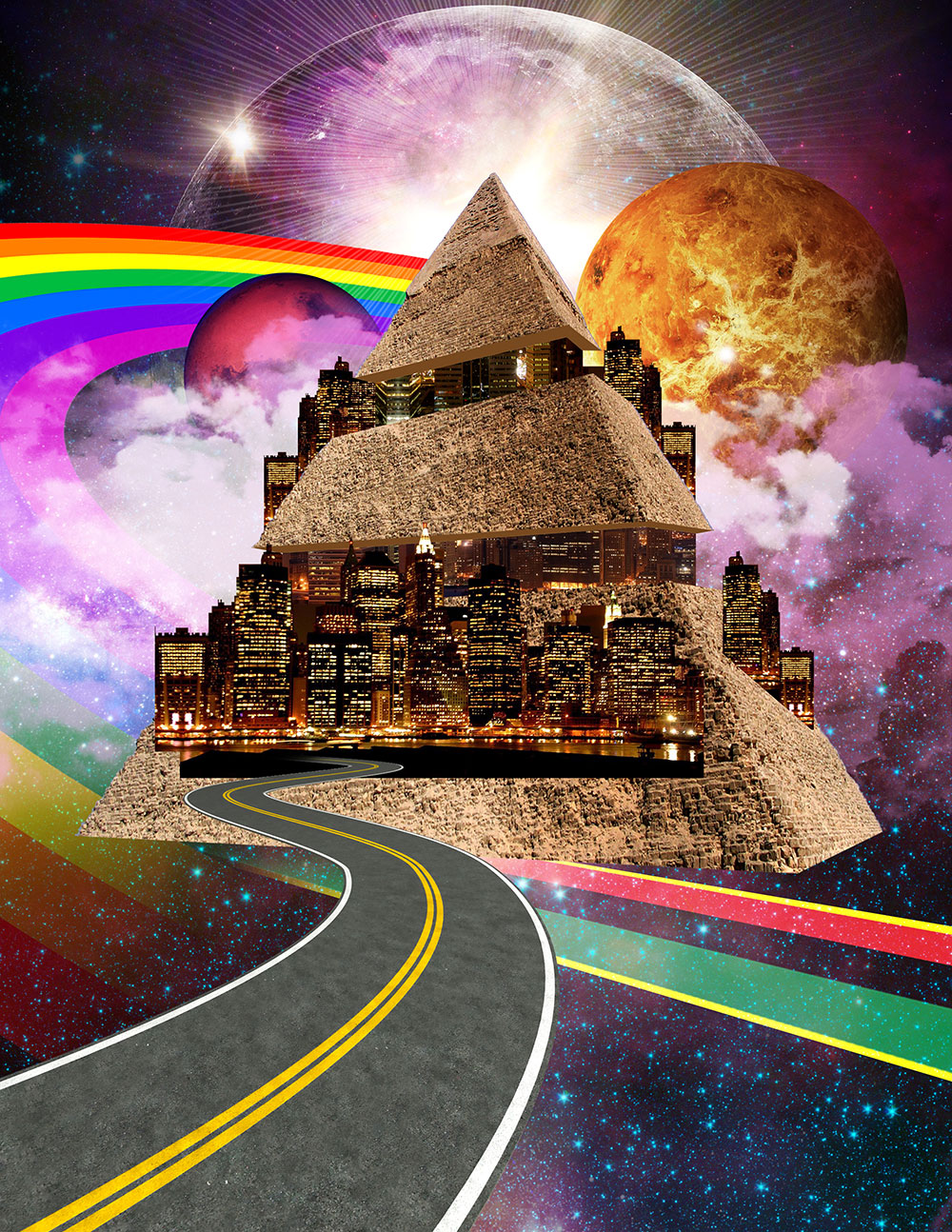 Image: Stacey Robinson, Afrotopia 1, 2016, digital collage print
Quiet Buildings
Ed Hallborg
February 4-March 4, 2022 | Solarium Gallery
Ed Hallborg's "cement paintings" are built of wood and cement. A finished composition combines sculpture, painting and model making. Some of his latest work, entitled "Quiet Buildings" is a series of apparently desolate structures in which the viewer is asked to question when, why and how. Are these derelicts of the past, a snapshot of life during a pandemic or a warning for the future?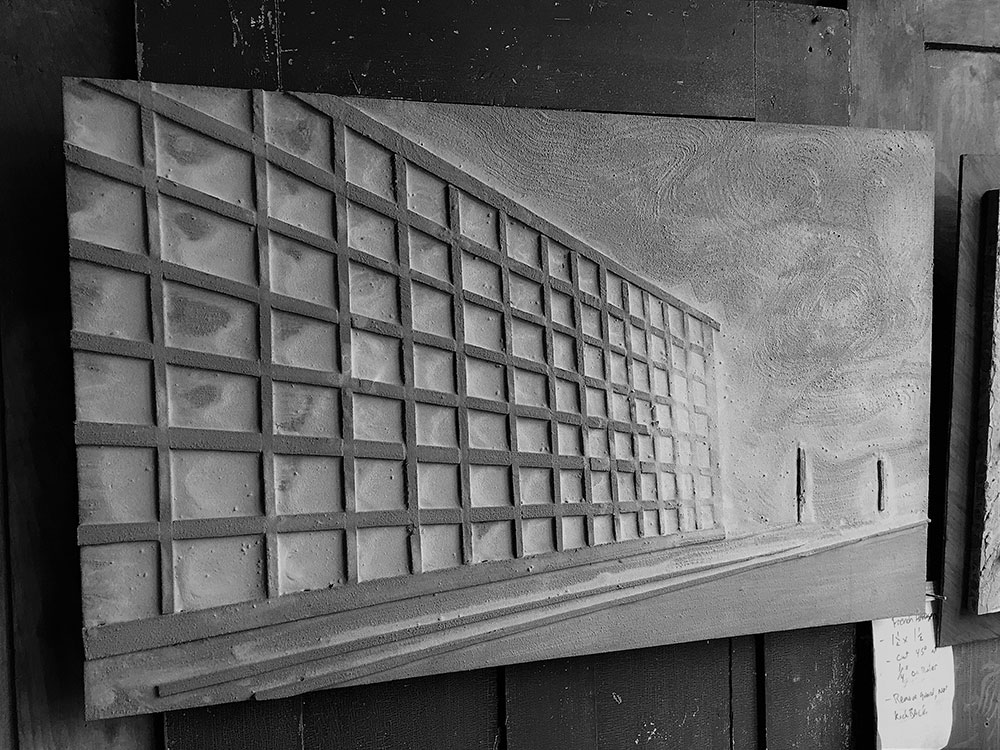 Image: Ed Hallborg, Monolith, 2021, cement and wood
Student Exhibition
April 29-May 22, 2022 | Davis and Solarium Galleries
The annual Student Art and Architecture Exhibition presents the work of students taking classes in the Department of Art and Architecture. Faculty select work for the show that reflects a high level of creativity, critical engagement and technical accomplishment. Students in art history courses assist in the curation and design of the show. Ranging broadly in concept, media, and materials, the selected work showcases a variety of responses to the worlds of contemporary fine art and architecture. Please join us for this dynamic exhibition!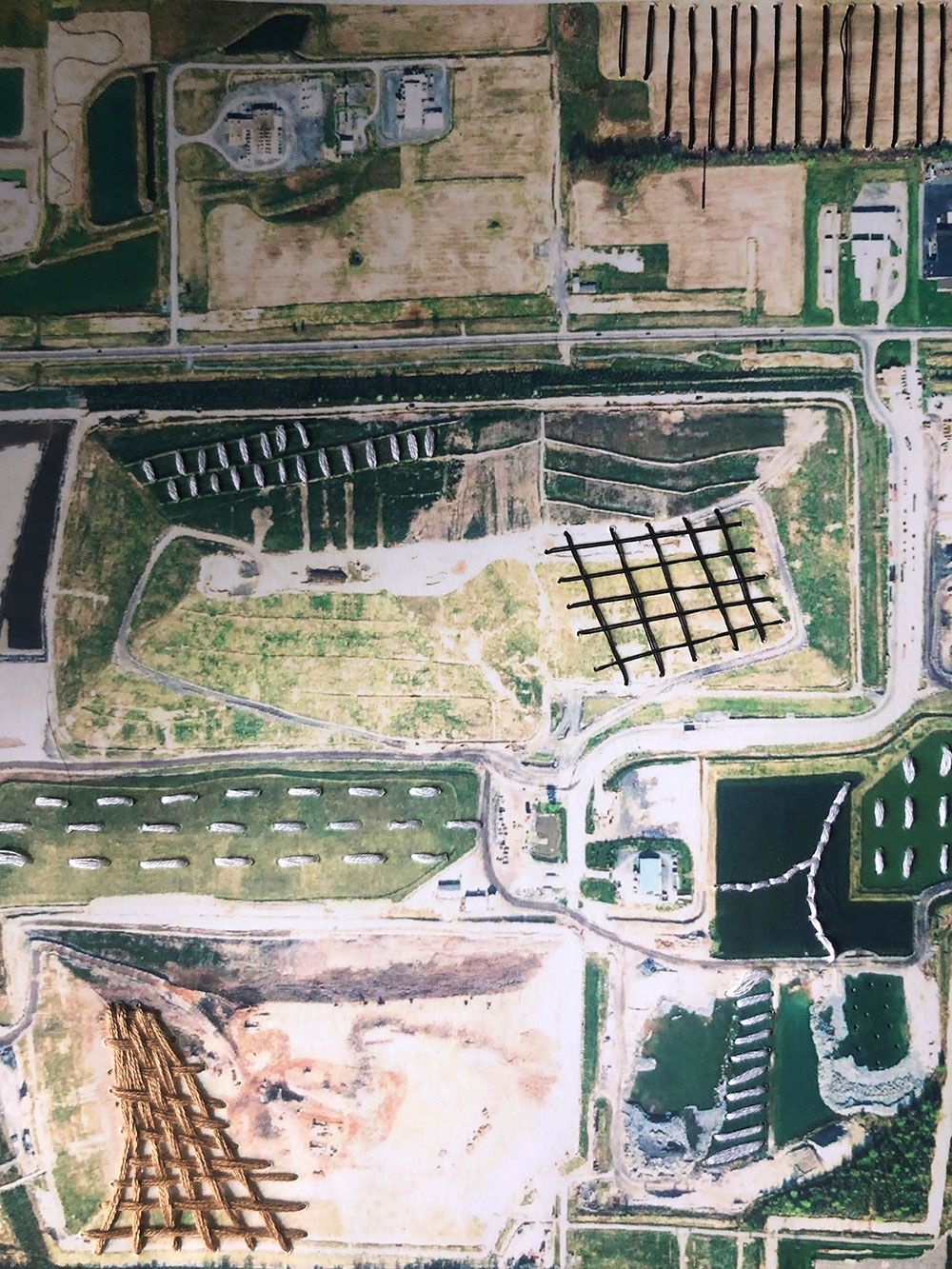 Image: Isabella Pardales '21, Seneca Meadows, Mended, detail, 2020, thread and paper