Finger Lakes Community College President Robert K. Nye recently joined Assistant Professor of Political Science Justin Rose's "Higher Education Under Fire" class for a broad-ranging discussion of the challenges and opportunities facing community colleges in the 21st century.
Nye's visit coincided with the class' study of political challenges and hot button issues at colleges throughout the nation. "Community colleges are so vital to educating our population, and yet they are often left out of the conversation," says Rose. "Many of the books that we have read throughout the semester have ignored community colleges or have only spoken about them tangentially."
Students in the upper-level seminar prepared for the class by reading material on issues that face community colleges, which enroll more than six million students in the U.S. The students were expected to bring a solid base of knowledge to the class, as they do to all class sessions. "Except this time they had an expert on hand to engage with them on the material," says Rose. "Dr. Nye offered a few remarks at the beginning, but the ultimate goal was to have a free exchange of ideas."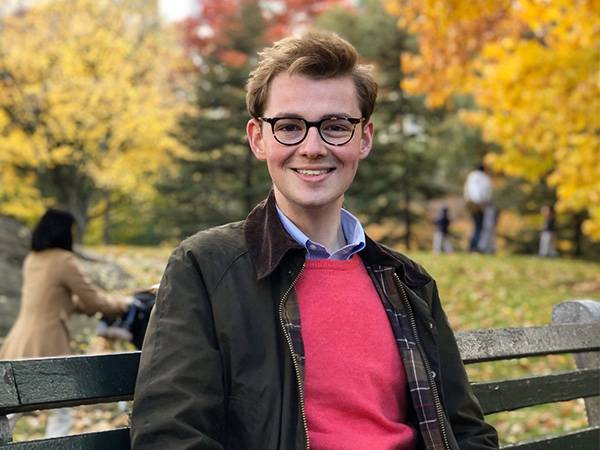 Gavin Flood '20, a political science and educational studies dual major, felt he benefited from Nye's visit. "In a higher-level class, it is vastly important to have firsthand accounts from speakers about their fields and perspectives," he says. "Dr. Nye's visit to our class was important to our understanding of how community colleges operate in contrast to their four-year university counterparts."
Flood was impressed with FLCC's individualized approach to advisement, which Nye says is similar to that of HWS. "Dr. Nye explained that students at FLCC are constantly in conversation with professors and advisers to make sure they are on track," Flood says. "The institution is actively seeking to ensure students have every opportunity to succeed and graduate."
Nye, the fifth president of the Canandaigua-based college, has been at the institution since 2016. He served in the U.S. Army for 30 years until his retirement with the rank of colonel. His Army tenure included an assignment as deputy provost of the Army War College. Prior to arriving at FLCC, he was vice president for academic affairs at Thaddeus Stevens College of Technology in Lancaster, Pa. He holds a doctorate in public administration from the University of Kansas.