HWS Sociology Presents at NYSSA
3 November 2016 • Mentorship • Research HWS Sociology Presents at NYSSA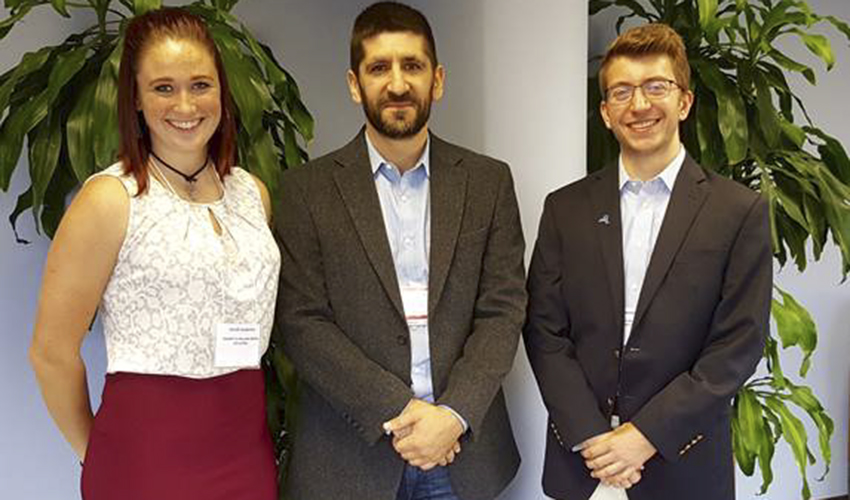 At the annual New York State Sociological Association (NYSSA) meeting, Christopher Demas '17 and Chloe Sudduth '17, accompanied by Assistant Professor of Anthropology and Sociology Ervin Kosta, presented research from their independent study and Honors projects.
Held at the Rochester Institute of Technology in Rochester, N.Y., the 64th annual NYSSA meeting focused on the theme "Social Change and the Social Imagination," exploring environmental and social changes in race, class, gender and sexual identification.
Demas presented research from his independent study project, "Experience with Adult Acne," advised by Associate Professor of Anthropology and Sociology James Sutton.
"Having experienced severe acne in college, I wanted to give others a space to discuss their own experiences with adult acne," Demas explains. "I wanted to take the time to learn how others live with acne, how or if acne affects their identity, and how they manage the stigma associated with having acne into adulthood. It has been incredibly rewarding to know that my research will provide insight into an area of limited study and ultimately help others."
Sudduth presented a portion of her Honors research, advised by Kosta, titled "Upscaling Downtown Geneva: Current Development Strategies and Their Impact on Public Space."
The NYSSA is dedicated to exploring "how we can change society for the better, creating an environment that provides equal opportunities for all. These themes derived from the central topic of how different societal effects, and personal troubles contribute to the concept of social change."
This year's meeting of the NYSSA considered the role of social scientists and sociologists in addressing contemporary social change issues including the Black Lives Matter and Occupy movements, immigration restrictions, right-to-work debates and topics raised by the U.S. presidential election.