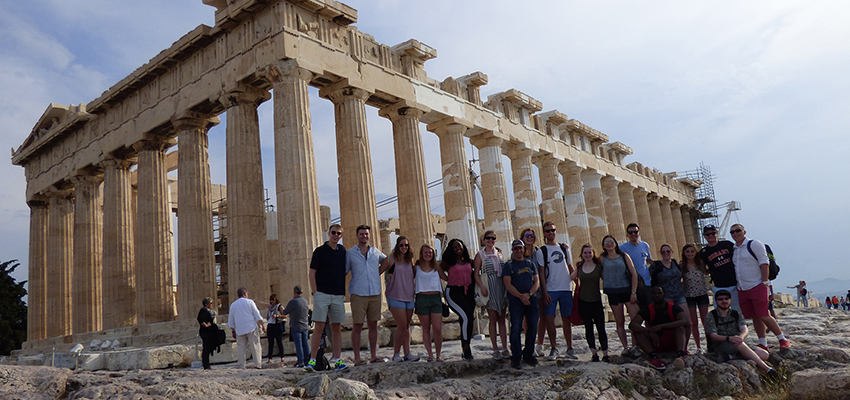 HWS News
1 February 2021

Short-Term Study Abroad Planned for Summer 2021

The Center for Global Education has announced new Short-term Study Abroad programs for the summer of 2021 and in December of 2021-January 2022. HWS faculty-led programs will be offered to countries in South East Asia, Latin America and Europe, where students can participate in a range of opportunities including learning from entrepreneurs in Scotland, exploring the performing arts in Indonesia, and tracing the economic and political history of Cuba following the post-1959 revolution.

The deadline to apply for the summer of 2021 or J-term 2021-22 programs is on Thursday, Oct. 15 at 11:59 p.m. Learn more about each of the destinations and apply via the program's brochure page here. Contact hwsabroad@hws.edu for further information.

The following programs will be offered in the summer of 2021:

"Inside the New Cuba: Reconciling Socialism and the Market Economy" will be offered in Havana, Cuba and led by Professor of Sociology Jack Harris P'02, P'06. The course will trace the evolution of Cuba following the 1959 revolution. Drawing on historical documents, literature, print media, films and music, the course will examine the impact of the revolution on Cuban society, as well as on the contemporary history of Latin America and the U.S.
Associate Professor of Classics James Capreedy will lead "Sanctuaries and Cities: Ancient Greece" through Athens, Greece. Students will visit some of the most important archaeological sites in Greece, including Delphi, Corinth, Sparta and Athens, and consider the relationship between culture, history and urban development. They will examine firsthand how the archaeology of these spaces characterized the polis culture of Ancient Greece.
An intensive exploration into the rich performing arts tradition of Bali, Indonesia, "The Performing Arts of Bali" will be led by Associate Professor of Theatre Chris Hatch. Students will be immersed in various aspects of Balinese performing arts including dance, masked performance, traditional instrument performance, shadow puppetry and mask carving. Students will work in an artistic conservancy where they will perform with and be surrounded by professional artists of Bali.
"Social Enterprise in the Highlands & Islands" will be co-led by Professor of Economics Thomas Drennen and Assistant Professor of Entrepreneurial Studies Craig Talmage in Inverness, Scotland. While studying social entrepreneurship and social enterprise theory, students will have the opportunity to gain professional experience through a service-learning placement. Using a community consulting approach, students will offer insights to and co-create new opportunities for social enterprises in Scotland working to address community needs.
Students will explore the Welsh countryside during "Outdoor Education: Theoretical Issues in Outdoor Pursuits" with Hobart Assistant Dean David Mapstone '93, P'21. Coursework will include topics in sustainability, conservation, changing landscapes, personal and social development, and the duality of risk versus adventure. The Welsh countryside will be students' classroom. They will go hiking, caving, kayaking, climbing, mine exploring and coastering through Carmarthen, Wales, while gaining insight into Welsh culture and society.
During winter break between the Fall 2021 and Spring 2022 semesters, Associate Professor of Psychological Science Brien Ashdown will lead "The Psychology of Consumerism and Sustainability in Latin America" in Monteverde, Costa Rica. Students will actively investigate how local people who work in agriculture, tourism, retail, government and education are confronting the challenges of a globalized economy while maintaining and sustaining the quality of their natural environment.
In addition, students may also apply to the CGE's partner programs in various locations worldwide. Some of the possible destinations include Bath, England; Copenhagen, Denmark; Stockholm, Sweden; Aix-en-Provence, France; and Norwich, England.
In the photo above, students visit the Parthenon in Athens, Greece.