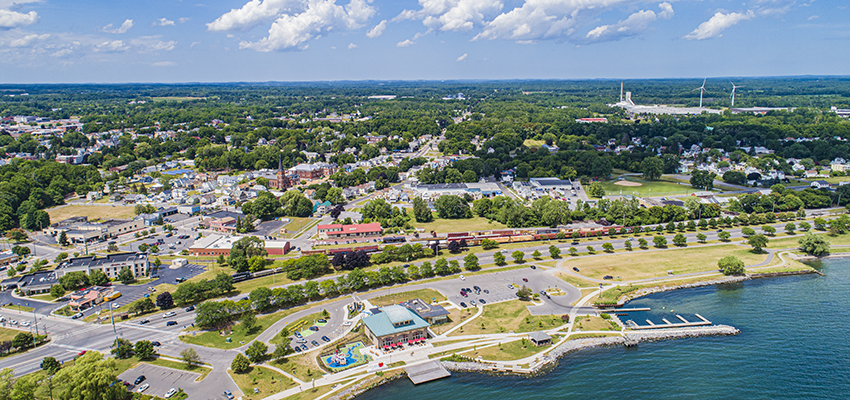 HWS News
9 April 2021 • Alums • Faculty HWS Supports Bridges Over Walls Leadership Project in Geneva
A workshop series organized by HWS supports respectful, productive civic dialogue among leaders of Geneva's non-profit, education, religious and public sector communities.
A grant to Hobart and William Smith Colleges from ESL funded this semester's "Bridges Over Walls" workshop series. Organized by HWS and facilitated by the M.K. Gandhi Institute for Nonviolence, the three-part series focused on developing tools for cross-cultural communication among the Geneva community's leaders and a shared understanding of the systemic issues undergirding social difference in the city.
"We're experiencing in our little city the dynamics that any community in the U.S. is facing," says HWS Vice President for Diversity, Equity and Inclusion Khuram Hussain. "Everything happening nationally is happening locally, and we need these discussions about nonviolent communication and capacity building so we can be stewards of public good. This workshop is an important step toward cultivating understanding across political and ideological differences on how we approach issues of racial justice."
The series was conceived following the events locally and nationally after the death of George Floyd. In late August, Hobart and William Smith Colleges President Joyce Jacobsen organized a full-page ad in the Finger Lakes Times that was signed by nearly three dozen community leaders, condemning violent discourse and inviting leaders to come together to build bridges.
During the workshops, elected officials and civic leaders convened to cultivate skills and knowledge in three areas: developing and employing nonviolent communication to strengthen effective collaboration between organizations; utilizing restorative practices to redress organizational and community harm; and creating common knowledge systems for data sharing and human development across organizations.
"It's important for us to continue the dialogue because we all have a duty to seek a deeper understanding of our community's divisions that has endured for generations. This was another step forward toward this understanding," says Lucile Mallard L.H.D. '15, president of the Geneva area branch of the NAACP.
Rev. Sidney Moore, vice president of the Geneva NAACP, adds: "We must continually challenge ourselves, both individually and collectively, to understand the needs of our neighbors that aren't being met by the current systems, and authorities who are in power."
Kit Miller, the director of the Gandhi Institute who facilitated the sessions, expressed gratitude "for the opportunity to support some committed, worn out public servants during this difficult year in our world and nation. I appreciated the honesty, the stretching to consider new ideas and the effort to try on a new lens for both listening and speaking. This is the kind of project that gives me hope!"
"We are grateful to ESL for funding and HWS for hosting this opportunity to increase City Council and Administration's capacity to collectively grow our strategies to be able to serve our community well," says Geneva City Manager Sage Gerling. "Our time with Kit Miller provided us the opportunity to learn new ways to listen for understanding; gain tools for how to have difficult conversations in a productive way; and increase our compassion for each other and community members we serve."
Dr. Robert Nye, president of Finger Lakes Community College, says, "The workshop was time well spent, filled with insightful practices leading to increased self-awareness and impactful communication strategies."
Chris Lavin '81, executive director of the Boys & Girls Club of Geneva, says the series offered "another example of the crucial leadership role the Colleges must play in Geneva today."
"I believe the success of Geneva as a community is directly linked to the success of Hobart and William Smith Colleges," Lavin says. "The economic impact and the intellectual capital that HWS brings to the table is the engine of local life. But at the same time, the community's ability to give HWS students a real-world, intimate laboratory for what they are learning may help the colleges thrive in challenging times for academia. The workshop gave us some tools to work more closely together."
Through ESL's Community Impact initiatives, the financial institution aspires to live up to its purpose of helping the community thrive and prosper by building a healthy, resilient and equitable Greater Rochester region. ESL is also a supporter of Geneva 2030, the community-wide education initiative to improve the outcomes for Geneva City School District students. Hobart and William Smith is the anchor institution of Geneva 2030.
Also based in Rochester, the Gandhi Institute is a nonprofit that equips people to use nonviolence to create a sustainable and just world for all. The Gandhi Institute collaborates with local organizations, academic institutions, students, and committed peacemakers on initiatives focused on nonviolence education, environmental sustainability, restorative practices and racial justice.