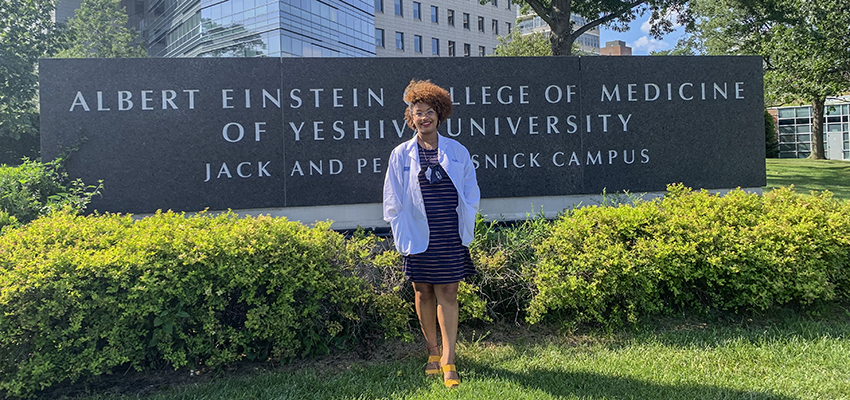 HWS News
20 December 2021 • Alums From HWS to Med School
Jerlin Garo '17, a first-year medical student at Albert Einstein College of Medicine, reflects on the research projects and internships she had at HWS.
Currently, a first-year student at the Albert Einstein College of Medicine, Jerlin Garo '17 recounts her time at HWS while earning her B.S. in Biochemistry and offers thanks to those who helped her on her path to becoming a doctor.
Through the combination of classwork, various opportunities, and independent study projects, Garo says she received support from several faculty members who helped "build my knowledge and feed my scientific curiosity."
Professors of Biology Patricia Mowery and Kristy Kenyon advised her for her independent study, which focused on developing a scratch assay to test anticancer therapy drugs. She also observed the effects of the therapy drugs on the development of the vascular system using the animal model system of the African clawed frog.
Professor Mowery also connected her to summer research at Cornell University's AgriTech campus in Geneva, where she analyzed the genes in apple trees.
After graduating, she participated in the National Institute of Health's Postbac IRTA/CRTA Program conducting research focused on signaling systems shown to be involved in angiogenesis and cancer metastasis.
Throughout her academic journey, she received guidance from her advisor Professor of Chemistry Erin Pelkey.
"The curriculum at HWS, my independent study, and the research I did helped prepare me well for medical school. Undergrad provided me with the liberty to pursue my interests and discover new ones," she says. "The faculty not only are great instructors but are also open to learning about the students as individuals. They were willing to learn about me as a student and as a person."
Garo also wanted exposure to physicians and medical providers and called upon Associate Director of Health Profession Counseling and Fellowship and Advising, Scott MacPhail. She shadowed a gastroenterologist on the West Side in New York City during winter break and was invited back in the summer. She later shadowed two hospitalists at Geneva General Hospital and her pediatrician in New York City.
The first-generation student from New York City encourages current students to be open about what they want to do. "Don't be shy about telling faculty and staff what you want," says Garo. "They all knew my goal was to be a doctor and everyone helped me on my way. They continue to be my support system."
On campus, she says she kept her Dominican culture alive by joining activities at the Office of Intercultural Affairs and serving as the vice president of Latin American Organization.
She also studied abroad in Queensland, Australia.
At the start of the pandemic, she worked in an urgent care center in the Bronx as a medical scribe and saw a need. "Spanish-speaking patients seen by physicians who spoke their language seemed more comfortable during their visits. It made a difference to them to have an individual who could speak their language. In the future, I want to help fill that need."
For exactly what medical area she wants to pursue, she's still exploring. "I've always been interested in pediatrics, but I am open to exploring other specialties."