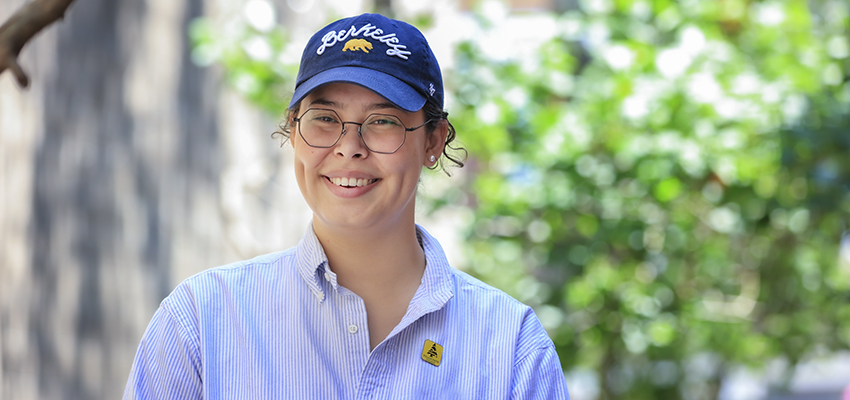 HWS News
3 June 2021

Fajardo '20 Accepted to UC Berkeley for Ph.D.

Elizabeth Fajardo '20 has been accepted to University of California at Berkeley's Ancient History and Mediterranean Archaeology integrated M.A. and Ph.D. program.

Elizabeth Fajardo '20 is one of only two students to be accepted to University of California at Berkeley's Ancient History and Mediterranean Archeology integrated M.A./Ph.D. program. With full funding, she will enroll in five years of intensive study and research, and hold a teaching position.

Fajardo says she applied to UC Berkeley because of the interdisciplinary nature of the program and the emphasis on a decolonized approach to Classics studies. Students study the greater Mediterranean world in antiquity from the North Atlantic to Central Asia and from southern Central Europe to northern Africa. Ancient History and Mediterranean Archeology students work with literary, archaeological, epigraphic, papyrological, and numismatic evidence to advance their understanding of the ancient Mediterranean.

At the Colleges, Fajardo seized every opportunity. She earned a double major in classics and economics, was a student-athlete on the William Smith swimming and diving team, studied abroad for an entire year as a Blocker Fellow in Germany, earned her Honors, all while holding jobs both on and off campus as a student photographer in the Office of Communications and a barista at Monaco's Coffee Shop.

Fajardo says that every time she set her sights on another goal, she had the support of her adviser Associate Professor of Classics Jim Capreedy, who would say, "Okay, let's figure out how to make it work."

When Fajardo decided she wanted to study abroad for a year, Capreedy helped her retain her training in Greek and Latin through weekly video chats.

"It wasn't for credit. Professor Capreedy just went above and beyond to help me make sure I didn't lose my Greek. I would leave my friends for an hour or two, saying "Oh I'll see you later; I have to practice my declensions."

Though both Capreedy and Associate Professor of Classics Leah Himmelhoch are both Hellenists – specialists in the study of Greek language, literature, culture or history – they supported and encouraged Fajardo to pursue her research interests in the sea trade, economics and the Roman Empire. Her independent research into the subject launched her Honors project, studying the flourishing Red Sea Trade in the 1st and 2nd centuries CE.

After completing her Honors, which included a 70-page final essay and an hour and a half oral exam, which she unanimously passed, Fajardo says she felt like she had a million more questions about the subject – an important trait for anyone considering applying to graduate school. As she pursues her Ph.D., Fajardo intends to study ancient connectivity and economy with a focus on interactions between Roman and non-Roman economic actors.

As she explained in her statement of purpose when applying to Berkley, her goal is to "broaden the scope of what Ancient History is and can be."

"I am interested in breaking the narrative that the ancient Western world, one of the largest preindustrial economies in the world, is intrinsically tied to whiteness," she says.

While applying for graduate school, Fajardo has been working at a wine shop near her home in St. Petersburg, Fla. Surrounded by wine professionals, Fajardo is studying for introductory wine certifications, and intends to take her exams before she arrives at Berkeley. Fajardo says her interest in the subject is partly inspired by her time in Geneva, N.Y., situated in the heart of the Finger Lakes wine region.