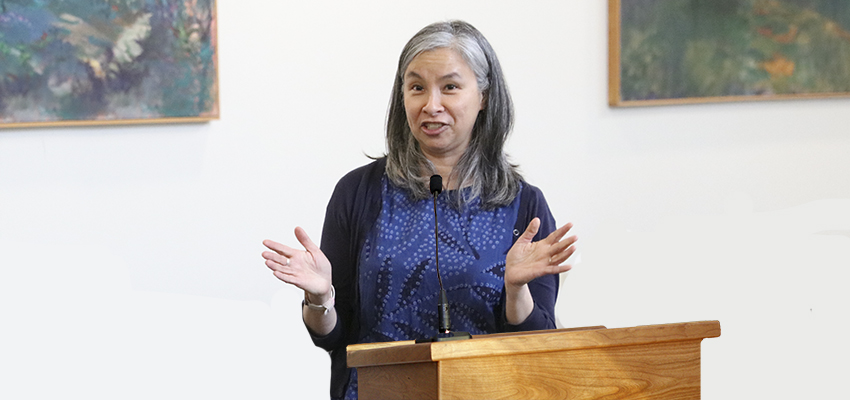 HWS News
1 March 2021 • Faculty Its a W-I-N for HWS Spelling Bee Team
A team made up of HWS faculty and staff took home first place honors in the annual adult spelling bee that raises funds for the nonprofit organization Literacy Volunteers Ontario-Yates.
Galeate. Kaddish.
With the correct spelling of those two words — the first means helmet shaped or hooded, the second is a 13th century Aramaic prayer — Team Bee+ were declared champions of the 2021 Adult Spelling Bee, hosted by Literacy Volunteers Ontario-Yates (LVOY).
It was the fourth win in the past six years for the team from HWS, comprised again this year of Professor of Art and Architecture Lara Blanchard, Associate Professor of Classics Leah Himmelhoch and Director, Emerson Society Program, Annual Giving Ruth Benedict GP'22.
The spelling bee serves as a fundraiser for LVOY, a nonprofit organization based in Canandaigua and Penn Yan, N.Y., that serves local communities through the development of literacy skills. "It's a really fun event and it's such a great cause," says Blanchard. The event raised more than $10,000 for LVOY this year, with Team Bee+ contributing $400.
Technology made the event possible — it took place on Zoom — and was also the cause for adjustments. As teammates were not together, they had to find a way to discuss spelling without texting or using the chat feature in Zoom, because both employ autocorrect. Instead, members wrote words down on paper and held them up to the camera, discussing them aloud to reach a consensus before spelling them out loud for the emcee and judges.
"One of my favorite parts of a spelling bee is working out how a word is spelled and why, so I really enjoyed seeing more of people's thought processes," says Blanchard. "It was kind of a behind-the-scenes look at spelling."
Himmelhoch notes that one plus of the event being held online is that it was easier to hear the emcee; the acoustics in an auditorium during a traditional event can make it challenging to distinguish, for example, the letter T from a B or a D.
Benedict attributes the repeated success of Team Bee+ to the skills and background of its members. She is an experienced editor and voracious reader, while Blanchard and Himmelhoch are naturally strong spellers. "Lara describes Leah's knowledge of classic language as our 'secret weapon,'" says Benedict.
For Himmelhoch, one of the most rewarding parts of participating in the bee is spending time — even virtually — with coworkers. "It's especially fun to be with them when we know that, no matter how we may perform, we are doing something enjoyable and helpful," she says. "Also, never forget the nerd factor. We are nerds for the greater good together. Nerds rule."
Shown in the photo above is Professor of Art and Architecture Lara Blanchard.