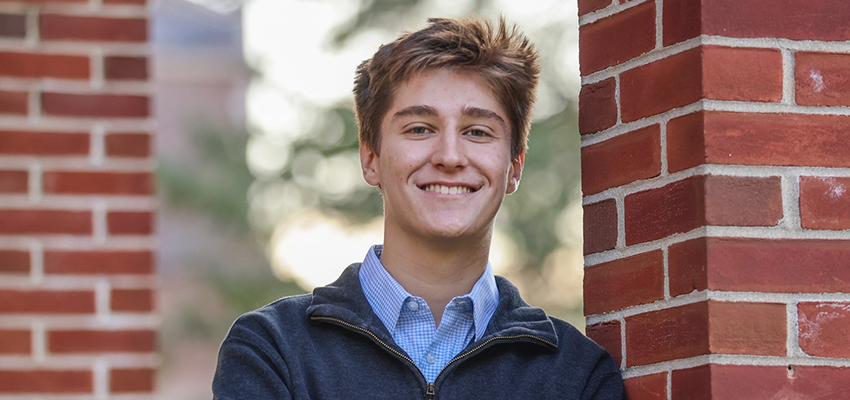 HWS News
30 June 2022

Whelan-Small '24 Named Newman Civic Fellow

Jesse Whelan-Small '24 has been named a Newman Civic Fellow for his work with the FLX College Leaders Program.

Campus Compact, a Boston-based non-profit organization working to advance the public purpose of higher education, has named Jesse Whelan-Small '24 as one of only 178 students nationwide who make up the 2022-2023 cohort of Newman Civic Fellows. The students from across the country are nominated by their college or university president based on their leadership potential.

This honor recognizes students who work to find solutions for challenges facing their communities. The fellowship provides training and resources that nurture students' assets and passions and helps them develop strategies to achieve social change.

Whelan-Small has become a pillar in the campus community through his work as Hobart Sophomore Class President, a research assistant with the Sociology Department, a community assistant with the Office of Student Engagement and an O'Laughlin Ambassador with the HWS Admissions Office. He has extended that community-oriented spirit to the Finger Lakes area through his volunteer work as a Big Brother with Big Brothers and Sisters of Greater Rochester and as a co-coordinator with the FLX College Leaders Program, which works with local high schools to support students as they go through the college application process.

"It was not until I got to college that I realized just how hard applying to college is. I was fortunate enough to have had help from my parents every step of the way, from scheduling tours to revising essays to getting forms organized," says Whelan-Small, of Maplewood, N.J. "A few weeks into my first year of college, after talking with some friends about their journeys to end up at Hobart and William Smith, I realized how difficult the process can be without guidance."

President Joyce P. Jacobsen says she is impressed with Whelan-Small's service to local youth. "Jesse is an exceptional student who has taken advantage of all that the Colleges and our region offer. As the student coordinator for FLX College Leaders, Jesse recruits classmates to connect with high schoolers from rural Wayne County to discuss college preparation, share resources and help them to build confidence throughout the application process. Although the high schoolers live 15 to 40 miles from the Hobart and William Smith campus, Jesse is able to leverage technology to virtually build a bridge between college students and high schoolers through this mutually beneficial partnership."

The curriculum for the FLX College Leaders program starts by working with high school juniors in the spring, guiding them through the basics of college applications, and training the students to assist their peers. In the fall, the volunteers with the program work directly with their peers to mentor them through the application process. "I can't wait to see all the great places our students end up," says Whelan-Small.

The Newman Civic Fellowship is run by Campus Compact, a national coalition of colleges and universities that works to promote civic and social responsibility in higher education. Throughout the fellowship, Campus Compact provides students with learning and networking opportunities, culminating in a two-day workshop called Annual Convening of Fellows. Previous Hobart and William Smith Newman Civic fellows include Gabriela Martinez '22, Ian Albreski '23 and Hamdan Ahmed '20.

Whelan-Small is double majoring in economics. On campus, he is also a member of the Hobart and William Smith Debate Team, the Orange Key Society, HWS Democrats, HWS Pre-Law Club and Kappa Alpha Literary Society.