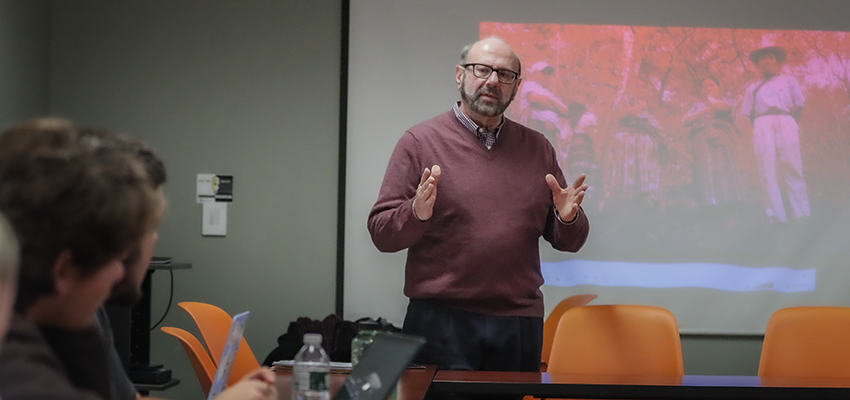 HWS News
12 April 2023 • Faculty Dobkowski to offer Yom HaShoah Keynote
Professor Dobkowski to speak at the Jewish Federation of Greater Rochester event April 17.
On Holocaust Remembrance Day, Professor of Religious Studies and Coordinator of Holocaust Studies Michael Dobkowski will discuss the history of the Warsaw Ghetto Uprising, an important moment of Jewish resistance and resilience in German-occupied Poland on its 80th anniversary.
The event is held in commemoration of Yom HaShoah (Holocaust Remembrance) at 7 p.m. on Monday, April 17 at the Louis S. Wolk JCC Auditorium by the Center for Holocaust Awareness and Information of the Jewish Federation of Greater Rochester. The event is free and open to the public.
The event will also include an annual candle-lighting ceremony as well as a memorial for those who perished in The Shoah. American Sign Language interpreters are available by contacting Sapir Soble at ssoble@jewishrochester.com.
At HWS, Dobkowski teaches courses in Jewish Studies and Holocaust and Genocide Studies, serves as the coordinator of the Holocaust Studies Minor, and is a founding member and current co-chair of the Genocide and Human Rights Symposium. He was instrumental in establishing the biennial off-campus program, The March: Bearing Witness to Hope. For 20 years, the March has offered participants a unique and memorable experience focusing on important landmarks and historical sites in Germany and Poland that are central to understanding the Nazi period and World War II, culminating in the Holocaust.

Dobkowski is the author, coauthor or editor of more than 10 books including The Tarnished Dream: The Basis of American Anti-Semitism (1979), The Politics of Indifference: Documentary History of Holocaust Victims in America (1982), Jewish American Voluntary Organizations (1986) and Nuclear Weapons, Nuclear States and Terrorism (2007). He has co-written and edited other volumes on the Holocaust, genocide, nuclear weapons and anti-Semitism, including The Coming Age Of Scarcity (1998), The Nuclear Predicament: Nuclear Weapons in the 21st Century (2000) and On The Edge of Scarcity (2003). His recent work has focused on Judaism and violence and anti-Semitism and Islamophobia.