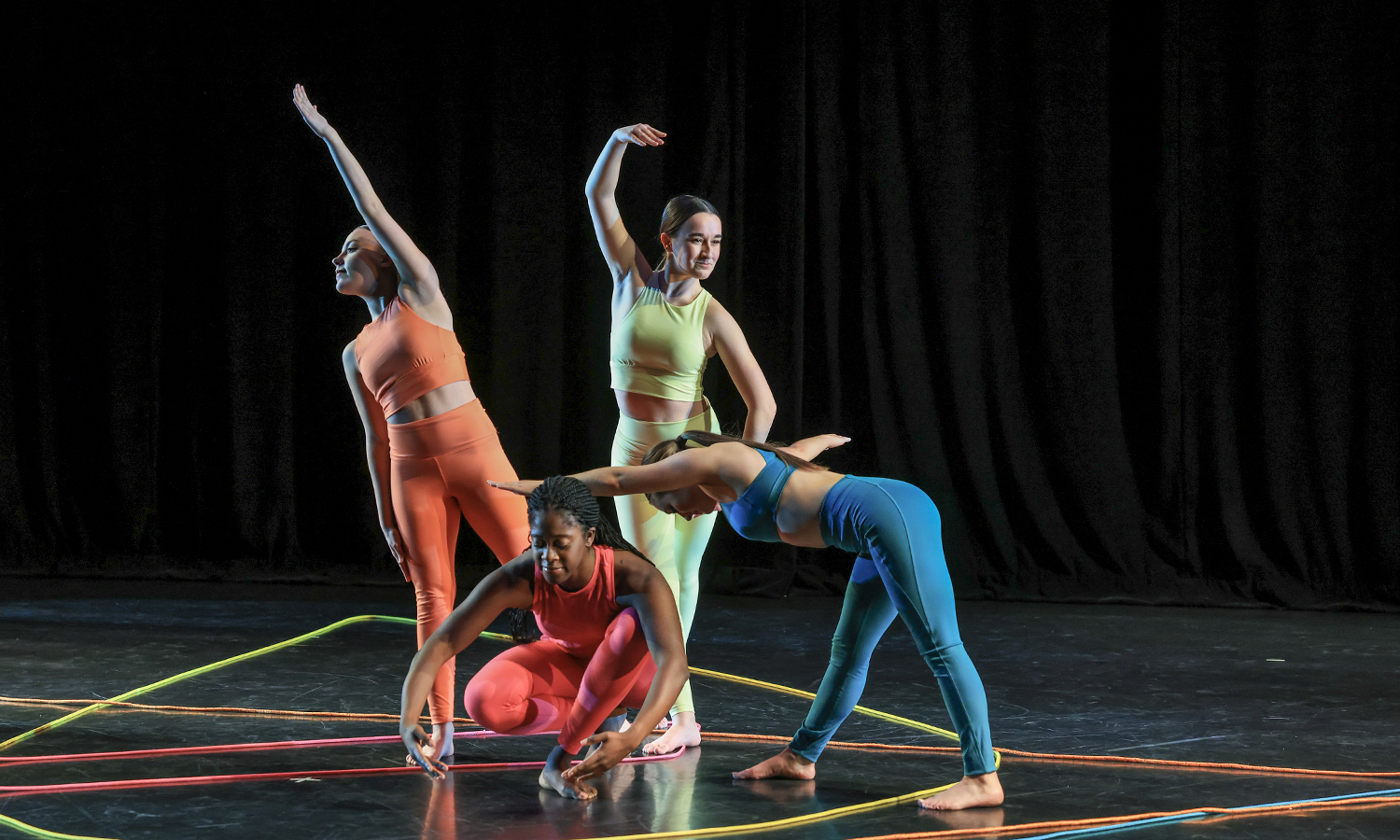 HWS News
13 April 2023 • Faculty Four Guest Artists Join HWS Faculty and Students in Dance Concert
The work of HWS faculty Donna Davenport, Michelle Iklé and Cynthia Williams will be complemented by four guest artists in this year's Faculty Dance Concert.
Kinespheres, this year's faculty dance concert, which runs just under an hour, will be presented on Friday and Saturday, April 21 and 22, at 7:30 p.m. in Deming Theatre of the Gearan Center for the Performing Arts. Students and children under 18 are free; General Admission is $10; and faculty, staff and senior (65+) tickets are $5 at the door.
Professor of Dance Donna Davenport says the HWS Dance Department is "delighted to present the work of four guest artists in this year's show." Artists include Choreographer Heather Roffe, director of dance at Nazareth College; musician Ivan Malcolm '24; and performances by Stevie Oaks, Associate Professor of Dance at Brockport, and Devon Stedge.
Oakes and Stedge will perform in the stormy duet, "Sirena/Sirena Contrario," choreographed by Roffe. The duet was performed at the SoloDuo Festival in New York City this winter.
In collaboration with the Dance Department's lighting designer Mark Wenderlich, Davenport will perform "at the end of the tunnel," a zany exploration of theatrical lighting.
Professor of Dance Cynthia Williams will present new choreography performed by a stellar group of 10 dancers. "Divination" is based on imagery from the iconic Rider-Waite Tarot deck created by Pamala Coleman Smith in 1909. Williams used figures from the cards to create gestures, movement and spatial patterns suggested by cards from the Major Arcana, and symbolism from the Lesser Arcana suits including Cups and Wands. The musical score for the piece blends atmospheric music from composers Brian Eno and Arvo Part with environmental sounds.
Associate Professor and Chair of Dance Michelle Iklé and her Dance Ensemble will present three pieces in this year's concert: "Proximity," a playful sestet with a strong jazz-influenced vibe. The audience is invited to notice the patterns that emerge as dancers negotiate moving in close proximity to each other.
The second work "Geometry," which premiered in the Vision of Sound concert series in February, is a playful exploration of shapes in the body and in space to music composed by Malcolm.
The third piece is an uplifting "Finale," which reflects the co-existence of social and theatrical jazz dance forms. In this humorous nod to the conventional finale, audience members can locate more than 50 references to iconic theatrical dance signatures and popular social dance movements. Critical in the creation of this piece is the acknowledgement of jazz dance's African roots and the multi-dimensional impacts of African dance that gave birth to all forms and styles of jazz dance.