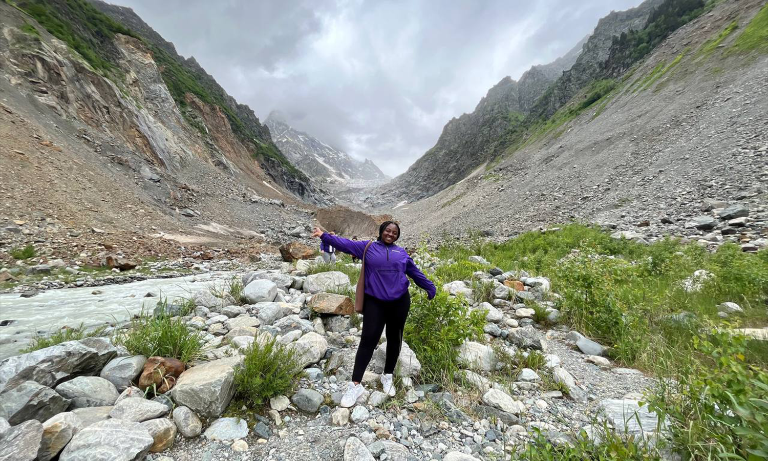 HWS News
14 November 2023 • Alums Asante '23 Thrives Through Immersive Experience in Georgia By Colin Spencer '19
Fulbright-Hays Group Projects provides an opportunity to learn Georgian culture.
For six weeks, Nana Yaa Asante '23 gained cultural appreciation and language knowledge in Georgia through the Fulbright-Hays Group Projects Abroad with Associate Professor of Russian Area Studies David Galloway and Associate Professor of Economics Keoka Grayson.
The experience allowed Asante, who currently works in the cardiology department at Boston Children's Hospital, to learn the Georgian language, the country's history, culture, economy, politics and healthcare system, all unfamiliar topics to her. She also learned of other facets of life during lectures and fieldtrips held across the country which sits at the intersection of Europe and Asia.
In taking courses with Professors Galloway and Grayson, along with Johanna Golden '23 and K-12 educators from around the U.S., Asante got to experience learning a new language and about a new culture together. Asante lived with a host family during the program, immersing herself more in the country.
"By learning the language, culture and history, and living with families, students gained a real entry into what life is like for Georgians and the issues they are contending with in 2023," says Galloway.
Kutaisi was chosen as the host city as it provided opportunities for a more authentic experience of Georgian life as foreigners are less common, says Galloway.
By chance, the experience also provided Asante with an opportunity to learn about the universal healthcare system, how it differs from America's and how the U.S. healthcare system can improve. This allowed her to have conversations with medical professionals and everyday people who depend on the healthcare system.
"My time there invigorated my passion for public health," says Asante, who graduated with a B.S. in biology.
The Fulbright-Hays project featured an intense language component, with Asante and others learning Georgian in three-hour lessons each day. Asante appreciated her teachers' patience and the engaging lessons they taught. This included learning Georgian through games and songs.
It also featured lots of excursions to places like Svaneti, Batumi, Tbilisi and Vardzia, many of which included walking for hours at a time.
"I think many were transported by seeing Svaneti, which lies in the northern Caucasus Mountain range," says Galloway. "We took a hike up to a glacier there, and the scenery was incredible. In Tbilisi, as part of our arrival orientation, we went to the local saunas, which also incorporate hot pools from the natural hot springs. This was a great cultural experience that also left us physically refreshed and ready to work."
At HWS, Asante studied abroad in Rio de Janeiro, Brazil in the summer of 2022, and learned about the program from her adviser, Professor Grayson.
"I just gained so much appreciation for [Georgia], especially staying with a host family," says Asante. "Having a second family half-way across the world is really neat."
The time in Georgia helped Asante truly appreciate the Georgian people, how proud they are of their heritage and culture, and how interwoven their language and culture is.
Asante says the experience showed her how she can grow as a learner in just a short time.
"To go from sitting in a room and not understanding anything to being able to understand a few words they're saying and to be able to see that growth is amazing," she says. "I also just want to stress the importance of getting out of your academic comfort zone and taking up these great study-abroad learning opportunities, especially during college, because they can really impact your life in unimaginable ways."
At HWS, Asante was the program coordinator for the STEM Scholars, a biology Teaching Fellow, worked at the Center for Community Engagement and Service Learning and danced in the Kinetic Dance Collective.
Top: Nana Yaa Asante '23 spent six weeks studying in Georgia through the Fulbright-Hays Group Projects Abroad with Associate Professor of Russian Area Studies David Galloway and Associate Professor of Economics Keoka Grayson.