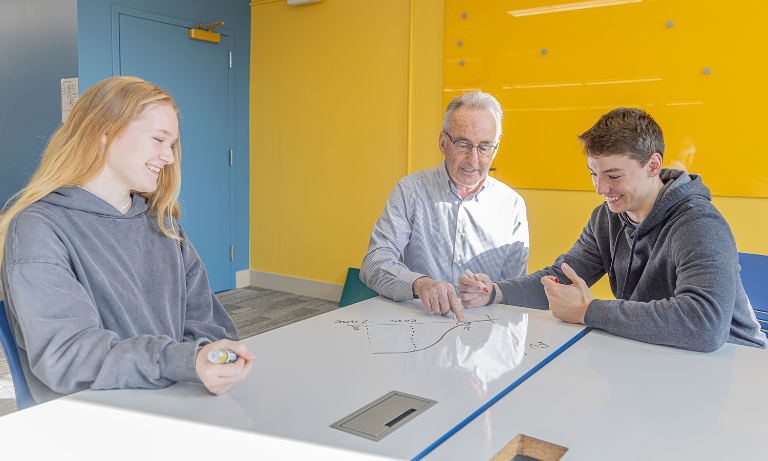 HWS News
17 November 2023 • Athletics Earning a Bachelor's and Master's in Just Four Years
Nicholas Gullace '23, MSM'24 and Emilyn Reed '23, MSM'24 will graduate in May with a Master of Science in Management. They are the first students to earn both a bachelor's and a master's degree in just four years.
In the fall of his sophomore year, Nicholas Gullace '23, MSM'24 met with his adviser, Professor of Economics Tom Drennen, the Stine Family Endowed Chair in Management and Entrepreneurship, who serves as the Director of the Master of Science in Management Program.
Due to an injury, Gullace knew he wouldn't be playing lacrosse for the season and wanted to explore the new joint degree program that would allow him to complete his bachelor's and master's degrees in management in four years.
"I thought the 3 + 1 program was a good opportunity for me to push myself and see how much academically I could take on," says Gullace, who earned his B.A. in economics and minor in entrepreneurial studies and hopes that the accelerated degree program will set him apart in the finance industry.
In May, Gullace and Emilyn Reed '23, MSM'24 will be the first two students to complete the 3+1 program. They both used AP credits to complete the degree requirements. Gullace attended Seton Hall Prep and Reed attended Exeter High School.
Reed, who completed her B.A. in environmental studies with a minor in entrepreneurial studies, came to HWS wanting to be "academically busy," taking five courses each semester, and intending to graduate in three years. After meeting with Drennen, who also serves as her adviser, she found the value of the accelerated joint degree program.
"My dream job is to be a sustainability manager at a large university campus and the master's program helps qualify me for those openings," says Reed. "The program has been an incredible opportunity for me, specifically for the price [two degrees for the price of one] but also to get a master's degree with what I call 'the Liberal Arts feel,' getting another year of small classes taught by tight-knit faculty and great mentorship."
On campus, Reed is a Lead Teaching Fellow for Management and Entrepreneurship and Environmental Studies and serves as a Graduate Community Assistant in the Office of Sustainability where she compiles and analyzes data for the Association for the Advancement of Sustainability in Higher Education (AASHE) STARS (Sustainability, Tracking, Assessment & Rating System) report and helps create awareness programs. In October, she attended the AASHE conference in Boston where she learned about an array of initiatives and programs while networking with faculty at other institutions. She served as president of the Campus Activities Board.
At HWS, Gullace is a member of the Finance Society, an Athletic Study Mentor and volunteers at the Boys and Girls Club. He held internships with R3i Capital, Corient Private Wealth and USI Insurance and is exploring job opportunities in the finance industry in New York City and New Jersey. A member of the Hobart lacrosse team, Gullace has appeared in 11 games for the Statesmen, posting his first career point on an assist against Canisius in 2023. His athletic and academic accomplishments earned him consecutive appearance on the Northeast Conference Academic Honor Roll. He is a Captain for the upcoming season.
"If you asked me in my freshman year if I could play lacrosse, perform well academically and graduate early, I wouldn't have believed it," says Gullace.