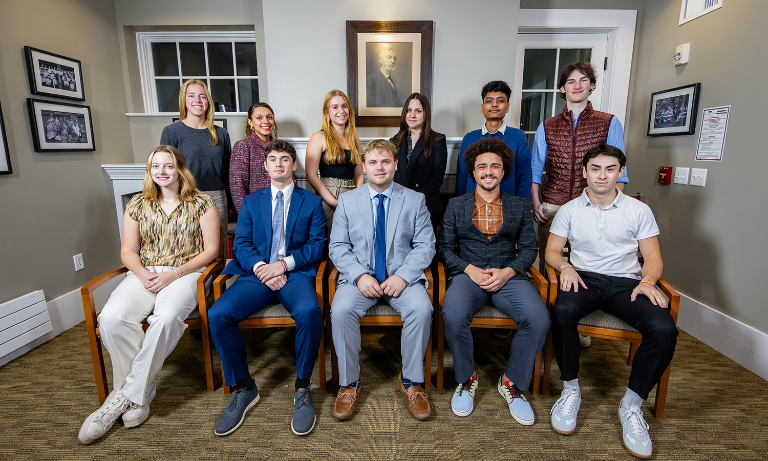 HWS News
17 November 2023 • Entrepreneurship Meet the 2024 Pitch Semifinalists
Student startups address different topics for a top prize of $10,000.
After a competitive selection process, 11 students have advanced to the semifinal round of the Todd Feldman '89 and Family Pitch Competition with a chance to win $10,000 for their startups.
Modeled after Shark Tank and hosted by the Centennial Center, the entrepreneurial leadership competition helps students launch an idea for a product, service or nonprofit. Between now and the finale Pitch event on March 7, 2024, students will work with a mentor with entrepreneurial expertise to refine their proposal.
Of the 11 semifinalists' ventures, four will be selected for the final round.
This year's startups tackle various topics, from renewable energy, sexual health, mentorship for student-athletes and fingerboard art. Other proposals focus on developing young public speakers and creating a platform for contractors.
"These semifinalists have been chosen based on their innovative ideas, dedication and strong commitment to their entrepreneurial endeavors," says Associate Provost and Director of the Centennial Center Susan Pliner. "These ventures represent the promising future of entrepreneurship at HWS and we are excited to see them take the next step in their journey."
Todd Feldman '89 and his family generously sponsor the prize money every year. Founder of The Feldman Co., Feldman has more than 30 years of experience developing and building businesses. Learn more about The Pitch and Todd Feldman.
This year's semifinalists are:
TINU
Morgan Adams MSM '24
TINU Project is a nonprofit organization that will create community and solutions for patients and family members affected by Tubulointerstitial Nephritis and Uveitis Syndrome, otherwise known as TINU. TINU Project will kickstart solving the need for people to connect while also allowing professional healthcare researchers to continue collecting data and further discoveries.
Stories We Tell
Cori Bohan '27
Stories We Tell is a nonprofit initiative created to give school aged kids a platform to find their voice and grow comfortable in public speaking. Stories We Tell will provide a firm foundation through workshops and Ted Talk style events for kids to find their passion and potential, all while recognizing the importance of each other's stories.
Future Energy
Calix Boldt '25
Future Energy is a biofuel refinery and waste collection startup seeking to help change the fossil fuel industry. Future Energy will utilize advanced refining technologies to turn restaurant waste oil into fuel that can be used by transportation companies seeking an alternative to traditional fossil fuels.
NextUp Painting
Ty Gallagher '24
Next Up Painting serves both customers and painters. Painters are given the opportunity to have access to paint jobs at their fingertips where they can bid on jobs that customers post on Next Up Painting. Customers will be able to select their budget, make a deadline and select their level of ranked painters based on their project. Next Up has built-in ratings where customers can rate the painters once they have completed a job and painters can rate customers following the completion of the project.
3Face
Lucas Johnson '24
This project is set to revolutionize the finger boarding community by bringing its creative aspects to the forefront. Collaborating with a diverse group of artists, skaters and enthusiasts, the initiative aims to redefine the boundaries of finger boarding, challenging the conventional perception of what finger boarding can be. The project seeks to address the lack of exposure as a limiting factor and pave the way for finger boarding to evolve into something even greater, with increased members, passion, artistry and a stronger sense of community.
C.I.F.E College is For Everyone
Jocelyn McKenzie '18, MHEL '24
C.I.F.E is a platform where students can search for a story that is like theirs. Through C.I.F.E, traditional and nontraditional students will find out not only how that individual got to college, but also how they can too. C.I.F.E will tell the stories of a formerly incarcerated individuals' journey to college, a mom returning to finish her college degree, or a first-generation high schooler and more.
MentorU
Alex Morse '25
MentorU is an innovative digital platform designed specifically for student-athletes seeking mentorship and guidance from those who have faced similar journeys. Our service matches current NCAA athletes with experienced, vetted mentors who have played sports at the collegiate or professional levels. These shared experiences allow for open, judgment-free support.
Quiiki
Juliette Pike '25
Getting tested is the best and only way to be aware of sexual health status. So, for college students who want to gain control over their sexual health, Quiiki is the only solution. Quiiki provides at-home STD diagnostic collection kits for convenience and confidentiality unlike in person, lengthy, stigma induced conversations with providers at the local health services clinic. For U.S. colleges, we present the opportunity to have a healthier college campus where students can gain control of their sexual health.
Eco Pak
Saugat Raj Joshi '25 and Rex Eidlin '26
Eco Pack revolutionizes the packaging industry with its eco-friendly, sprayable foam solution derived from mycelium. Our mission is to combat the environmental hazards of traditional packaging materials by offering a sustainable, biodegradable alternative that doesn't compromise on protection and convenience. Eco Pack's innovative approach allows for a custom-fit, protective foam that expands to fill any container, providing superior insulation and shock absorption. Designed for both individual consumers and businesses, Eco Pack is not just a product—it's a commitment to a healthier planet. Join us in growing a greener future, one package at a time.
Em's Threads
Emily Rourke '24
Tailored for those seeking sustainable, personalized fashion, Em's Threads stands out in both the sustainability and customizable clothing markets. Customers actively contribute to environmental conservation by repurposing clothing that would have been discarded, fostering a deep sense of pride and responsibility. Through a user-friendly platform, customers specify preferences for color, design, fit, and style, resulting in a one-of-a-kind garment crafted with love and care.