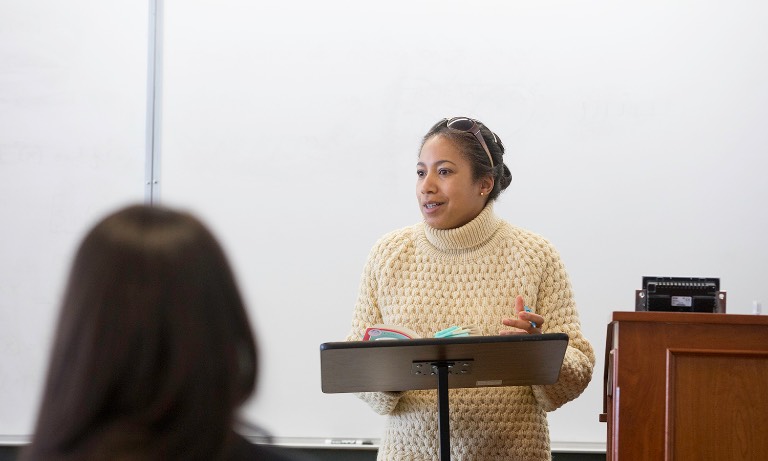 HWS News
30 March 2023 • Faculty Minott-Ahl's New Book Connects National Identities to Architecture By Colin Spencer '19
Associate Professor of English Nicola Minott-Ahl's new book explores how some of the giants of 19th century English and French literature including Dumas, Hugo and Ainsworth used architecture to shape national identities.
The Architectural Novel: The Construction of National Identities in Nineteenth-Century England and France: William Ainsworth, Victor Hugo, and Alexandre Dumas investigates how historic French and English authors used their writing to give famous buildings prominence in the national identity. This identity was in part forged by how people perceived public spaces such as landscapes, cityscapes, religious and cultural structures, museums and monuments commemorating conflict through artistic manipulation.
Minott-Ahl posits that these three writers' novels gave major ancient Gothic buildings a new and portable cultural presence well beyond their physical location.
"The Victorian period is often reduced to one or two representative writers, or presented as an age dominated by the figure who provides its name but, like our own age, it was repeatedly confronted with questions about what deserves to be remembered and why, and what aspects of our present and our past make us who we are collectively," says Minott-Ahl. "This book explores how Victorians who were influential in popular culture addressed these questions as well as the issue of cultural authority: why did three writers near the beginning of their careers think themselves qualified to answer these questions for their fellow citizens?"
During the "Victor Hugo & Notre Dame Weekend" in 2022, Minott-Ahl presented on this topic in: "Gothic architecture, narrative and mass media in Hugo's Notre Dame de Paris.'" The talk focused on Hugo's commitment to preserve the Notre Dame cathedral by focusing on its historical and cultural significance and its connection to the people who used it through the centuries. To do this, Hugo set the story in the cathedral and its surroundings. He also used the novel Notre Dame de Paris, or The Hunchback of Notre Dame, to bring the cathedral to life as a central part of Paris. The presentation was hosted by The Victor Hugo in Guernsey Society, which promotes the work of Victor Hugo and his connection to the island of Guernsey. Hugo lived on the island for 15 years.
At HWS since 2004, Minott-Ahl teaches courses on Victorian and Romantic poets, Adaptation Studies, and the nineteenth-century novel, with particular emphasis on industrial, Gothic, and architectural novels.