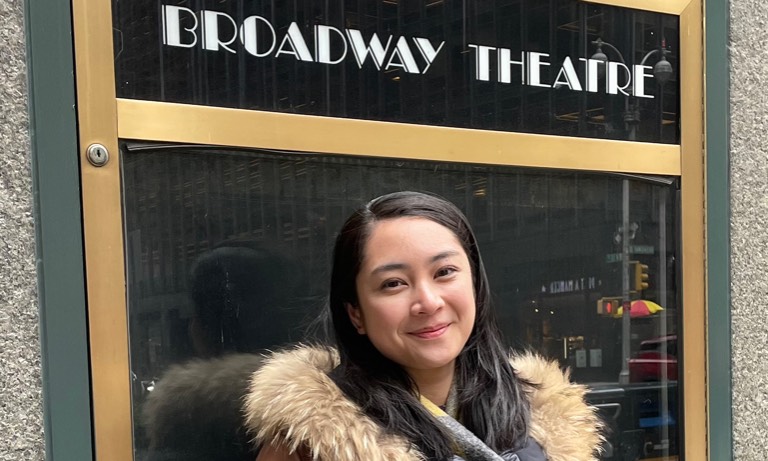 HWS News
29 March 2023 • Alums Quintos '17 Working as Casting Director on Broadway
William Smith alumna Gail Quintos '17 was recently selected as the casting director for the disco musical "Here Lies Love" based on former Philippines First Lady Imelda Marcos' rise and fall.
The Broadway production will offer preview performances on June 17, with the show's official opening night set for July 20.
"I am working my dream job. Even in the thick of it right now, it is kind of a pinch me moment," says Quintos, who graduated with a double major in theatre and media and society. "HWS gave me a lot of tools that I'm using now. Not everyone gets to apply their degree so fully to their work. I am very lucky to be doing that and to be a part of this casting team."
When Quintos arrived at HWS she wanted to be an education major, but in her sophomore year she decided to pursue another dream - to work in the entertainment industry with a focus on film and theatre. Through these disciplines, she was able to build on her acting skills and become more invested in the actors themselves. Quintos remembers being in Associate Professor of Media and Society Lisa Patti's class on stardom and how it piqued her interest in casting work and the people behind the actors and their decision-making processes for roles.
At HWS, Quintos took advantage of winter break career experiences to Los Angeles, where she met alums in the field of casting. Following her junior year, she had an internship at the Emmy Foundation. In what she describes as a life changing experience, she was able to explore different avenues of the organization and work with a Nickelodeon casting director.
In addition, the Theater Department faculty helped her to secure a fellowship with Playwright Horizons following graduation. In that position, she worked with some of the most renowned off-Broadway theatres in the nation and alongside award-winning actors and directors. The fellowship helped shift her work to casting for television and film.
"When I got the call about "Here Lies Love" it all felt a little unreal. I want to cast the kind of things that are important, and this added a new layer of pride and excitement for me," she says, recognizing the importance of the production historically and as a Filipino.
"It is really special to dive into this story that a lot of Filipino kids aren't super familiar with. I think about how much I learned the first time I saw it, and it focuses on the very important and timely theme of not letting history repeat itself."