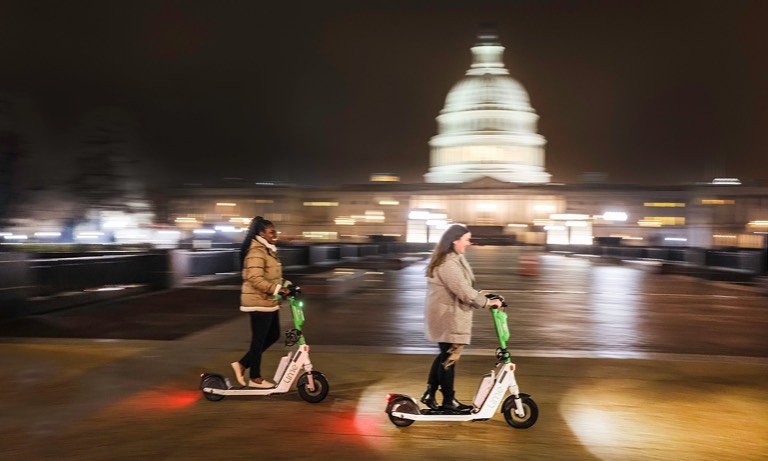 HWS News
2 February 2023 • Alums Students Explore Life on the Hill
Led by Associate Professor of Political Science DeWayne Lucas, students gained a firsthand understanding of life and work in Washington, D.C. over winter break.
For three days over winter break, students spent time exploring career opportunities in public office, advocacy, security, consulting and marketing during one of the Colleges' signature career preparation programs, Day on the Hill in Washington, D.C.
Led by the Chair of the Political Science Department DeWayne Lucas, students toured, networked with alums and explored careers at organizations including the U.S. Secret Service, Booz Allen Hamilton, the Environmental Protection Agency and EAB. The annual program hosted by the Salisbury Center for Career, Professional and Experiential Education offers students a chance to discover what it takes to get a job in the nation's capital and the day-to-day routine of D.C. life.
"Day on the Hill continues to be a great opportunity for our students to get a behind-the-scenes look at career paths and opportunities in the nation's Capital and to imagine themselves working in D.C.," says Lucas, who this year attended for the 11th time. "For many students, particularly seniors, it was a reassuring moment to see career possibilities and to develop approaches to securing jobs, while for sophomores and first-years, it provided a sense of the expectations and opportunities available to them early in their studies."
"I wanted to attend the Day on the Hill program because in my career, I want to advocate for others and make change where it counts," says Samari Brown '24, an English and sociology double major. "I can do this best through understanding our justice system and the ways that politics influence our everyday lives. This Day on the Hill program helped me to further discover my interests and provide a firsthand glimpse of what my future could look like."
Kate Equinozzi '23, an international relations major, says she attended as both foreign and environmental policy are of interest to her. "This program overall showed me how I can take these academic interests and apply them to a job in the working world. Also, being able to meet and learn about the experiences of alums will be invaluable for me as I begin my next chapter after graduating in the spring."
Executive Director of the Salisbury Center for Career, Professional and Experiential Education Brandi Ferrara is thankful for incredible alum participation. "I am so appreciative for the partnership with our faculty and for the enthusiasm of our amazing alum community in providing an inside look at careers in government, education, sustainability, politics and policy," Ferrara says.
Day on the Hill participants included:
Booz Allen Hamilton: William Bird '17, DevOps engineer; Samuel Menchel '16, associate
EAB: Kristi Augenblick '12, senior strategic leader; Partner Development; Claire Criniti '13, associate director, Partner Development Enroll360; Corey McClintock Davis '12, senior director, Partner Development, Marketing & Enrollment Solutions; Beau Schneider '15, associate director, Account Management
Emergent Strategies: Hadley Sosnoff '06, partner
Environmental/Sustainability Policy: Jennifer Park '02, associate director, environment, RTI International; Amelia Smith '21, ORISE fellow, U.S. Environmental Protection Agency; Caroline Spruill '12, director of internal communications, The Nature Conservancy;
Life on the Hill panel included: Emma Consoli '20, staff assistant and office manager, Office of Representative Chrissy Houlahan; Hannah Cooper '16, legislative director, Office of Congressman Donald Norcross; Alexander Schroder '15, Senior Legislative Assistant at U.S. House of Representatives
National Endowment for Democracy: Carling Landeche '21, grants assistant
U.S. Secret Service: Dominique Ellis '15, officer, Outreach Branch
Young Alum panel included: Elise Donovan '22, executive assistant, Environmental Integrity Project; Karlee Rockstroh '22, communications coordinator, Truman Center for National Policy