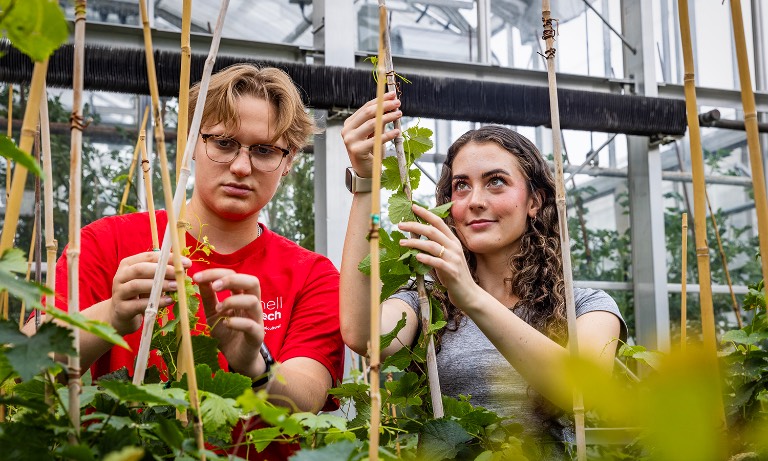 HWS News
22 August 2023 • Research Students Explore Scientific Research Working at Cornell Lab
Professional experience prepares students for science careers.
Over the summer, seven students from Hobart and William Smith gained hands-on experience in science working on research at the Cornell University AgriTech in Geneva.
Alexandra "Lexi" Miller '24, Ande Richardson '24, Olive McCall '24, Alex Davidson '24, Andrew Painton '25, Samantha Page '26 and Marcella Venettozzi '25 spent the summer conducting research that included plant microbe biology, grape disease resistance and black cherry aphids.
"Hobart and William Smith students gain valuable research experiences working at the Cornell AgriTech, no matter what their future career paths," says Professor of Biology and liaison to the Cornell AgriTech Patricia Mowery. "They have an opportunity to experience cutting edge research and be mentored by graduate students, post-doctoral fellows, and researchers from around the globe."
Biology majors Miller and Richardson worked on projects relating to grape disease resistance for powdery and downy mildew under the direction of Lance Cadle-Davidson, an adjunct associate professor at Cornell AgriTech's School of Integrative Plant Science Plant Pathology and Plant-Microbe Biology. The two worked extensively in the field and greenhouse genotyping and phenotyping different families of grapes. This included emasculating grape buds to prepare them for specific crosses. To prevent cross-pollination and contamination, these buds were bagged and then pollinated. Ultraviolet treatment was also applied to the vineyards once a week at sundown.
"I wanted to conduct this research to better understand the different biological processes of other living organisms, such as grapes," says Miller.
McCall, a biology major, focused on pest management in small fruits, such as blueberries, raspberries and grapes under the direction of Loeb. She assisted in the rearing of Ganaspis brasiliensis, a parasitoid wasp to be used as a potential bio-control for Drosophila suzukii (Spotted Wing Drosophila or SWD). She also assisted in the analysis of blueberries collected from a variety of grower sites for SWD larvae and eggs to measure the infestation levels of the fruit.
"This experience will aid me in my future career as it supplied me with good teamwork skills and opened me up to a network of people willing to help," says McCall.
Davidson, a biochemistry major, worked as a summer lab technician under Kerik Cox, an associate professor at the School of Integrative Plant Science, Plant Pathology and Plant-Microbe Biology Section at Cornell AgriTech, and helped graduate students. She worked on projects involving apple trees and looked at both bacterial diseases like fire blight and fungal diseases such as apple scab.
"This experience has been super valuable to me as I'm picking up lots of skills both in and out of the lab," says Davidson. "This will help me in my future career because it's taught me about patience when an experiment doesn't turn out the way you expected, and it's taught me the value of hard work."
Painton, a biology major, did research at the Plant Pathology and Plant Microbe Biology Department at Cornell AgriTech with assistance from second-year graduate student Isabella Yannuzz in the Coxe lab. The lab studies diseases that affect apple trees. His research project explored the impact that UV-C light has on bacteria associated with a disease known as fire blight. He spent his time collecting data on how the trees and apples are growing in a research orchard, as well as how badly the trees are being affected by various diseases.
"I really liked the balance of field work and lab work that I had, and I had a lot of fun conducting my own research project," he says.
Page, a biology major, assisted Benjamin Gutierrez, Ph.D., an apple and tart cherry curator of the U.S. Department of Agriculture's Plant Genetic Resources Unit, with a project that focuses on three specific dihydrochalcones found in apple leaves: phloridzin, sieboldin and trilobatin. These compounds regulate sugar metabolism and are used as an antioxidant/anti-cancer agents. Using chromatography, Page investigated the genetic variability of each compound in an abundance of different apple populations.
"My internship at the USDA has been an incredible experience," says Page. "I am able to get hands-on experience while also developing strong relationships with my peers and mentors."
Venettozzi, a biochemistry major, researched the affinity black cherry aphids have for sweet cherry cultivars, compared to tart and dwarf cherry varieties in the Gutierrez lab. Aphid infestation in sweet cherries causes distinctive curling of the leaf, compared to the speckled and 'puffy' pattern found in infested tart cherry leaves. To understand the aphid's attraction to sweet cherry cultivars, research is being conducted involving differences in cuticle thickness, trichome density and aroma presence among cherry species.
"My internship at Cornell Agritech has been amazing and so informative," says Venettozi. "I think learning the R programming language was one of the most impactful parts of my internship. It's a skill I know will continue to come in handy!"
Top: Alexandra "Lexi" Miller '24 and Ande Richardson '24 prune grape vines in a greenhouse at Cornell AgriTech.