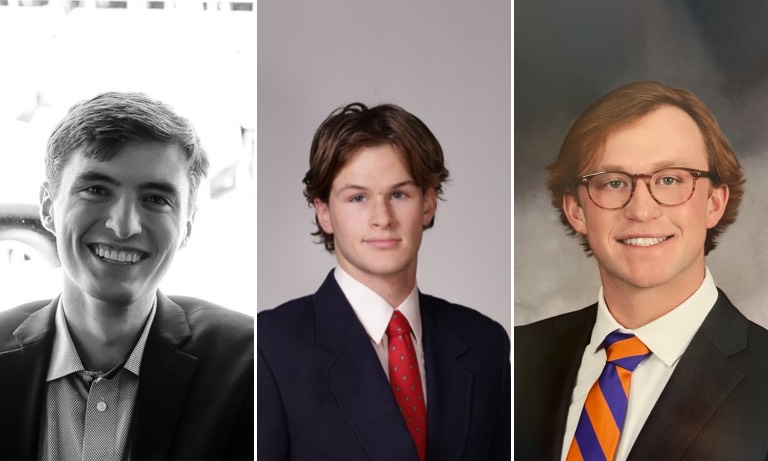 HWS News
24 July 2023

Three Students Head to Cornell Law School

Through the Law Early Admissions Program, students receive degrees from Cornell Law School and Hobart and William Smith in six years.

Rising seniors Joseph "Paul" Janes '24, Frederick Jackson '24 and Peter McGriff '24 are taking advantage of the educational and career opportunities offered at Hobart and William Smith as they pursue law degrees at an accelerated pace from Cornell University through HWS's Law Early Admissions Program.

Students participating in the program spend their first three years at HWS before attending Cornell Law School, receiving both a bachelor's degree from HWS and a Juris Doctor degree from Cornell. This allows students to receive their law degree in six years, rather than the typical seven.

"I participated in the program because of the opportunity it created for me to attend one of the top law schools in the country," says McGriff, an economics major. "I believe that the commitment between Cornell and HWS to create this program displays how a liberal arts education is valued beyond the Colleges."

McGriff originally chose HWS for his undergraduate education because of its holistic liberal arts education, allowing him to study both economics and art history. It's why he also chose Cornell.

"Right now, I am very interested in art law, but I am open to new possibilities as I continue my education at Cornell Law School," he says.

At HWS, McGriff served as an economics Teaching Fellow, a member of the Hobart and William Smith sailing team, a study mentor and the vice president and treasurer of the Delta Chi fraternity. He studied abroad in Scotland.

"I think my extracurricular experiences at the Colleges were essential to my development as a student, and ultimately helped me gain admittance to the Cornell Law Class of 2026," McGriff says.

Janes participated in the program as it allows him to attend Cornell and get a law degree one year sooner than normal.

He credits HWS Vice President and General Counsel Lou Guard '07 along with Associate Professors of Classics Leah Himmelhoch and James Capreedy with helping him achieve his goals.

"Lou's the reason I came to HWS in the first place and has been a great mentor since before I even stepped foot on campus," says Janes, a classics major. "He always gave me advice when I needed it and encouragement when things got a little hairy. Jim and Leah are just rockstars and have had my schedule planned out since my first semester to make sure I would meet all the requirements for the program."

On campus, Janes was a member of The Herald, as the design editor and Editor-in-Chief. He was also a member of the HWS Real Estate Architecture and Design Institute and studied abroad in Greece.

Janes says he plans to go into First Amendment litigation or Constitutional law.

Jackson, a media and society major, says he's looking forward to starting a new chapter in his life at Cornell.

"It's definitely a mix of emotions leaving my friends and the community I've become a part of at HWS but I'm excited for the new challenges that I'll be facing at Cornell," he says.

On campus, Jackson was a member of the Club Soccer team, Quiz Bowl team, HWS Debate, Coding Club and Sigma Chi fraternity. He studied abroad in Norwich, England.

Jackson intends on practicing corporate or finance law once he finishes at Cornell.

Students interested in learning more about the Law Early Admissions Program can contact Associate Professor of Environmental Science Beth Kinne, an adviser for the Pre-Law program.

Top: From left: Joseph "Paul" Janes '24, Frederick Jackson '24 and Peter McGriff '24 will attend Cornell Law School through the Colleges' Law Early Admissions Program.