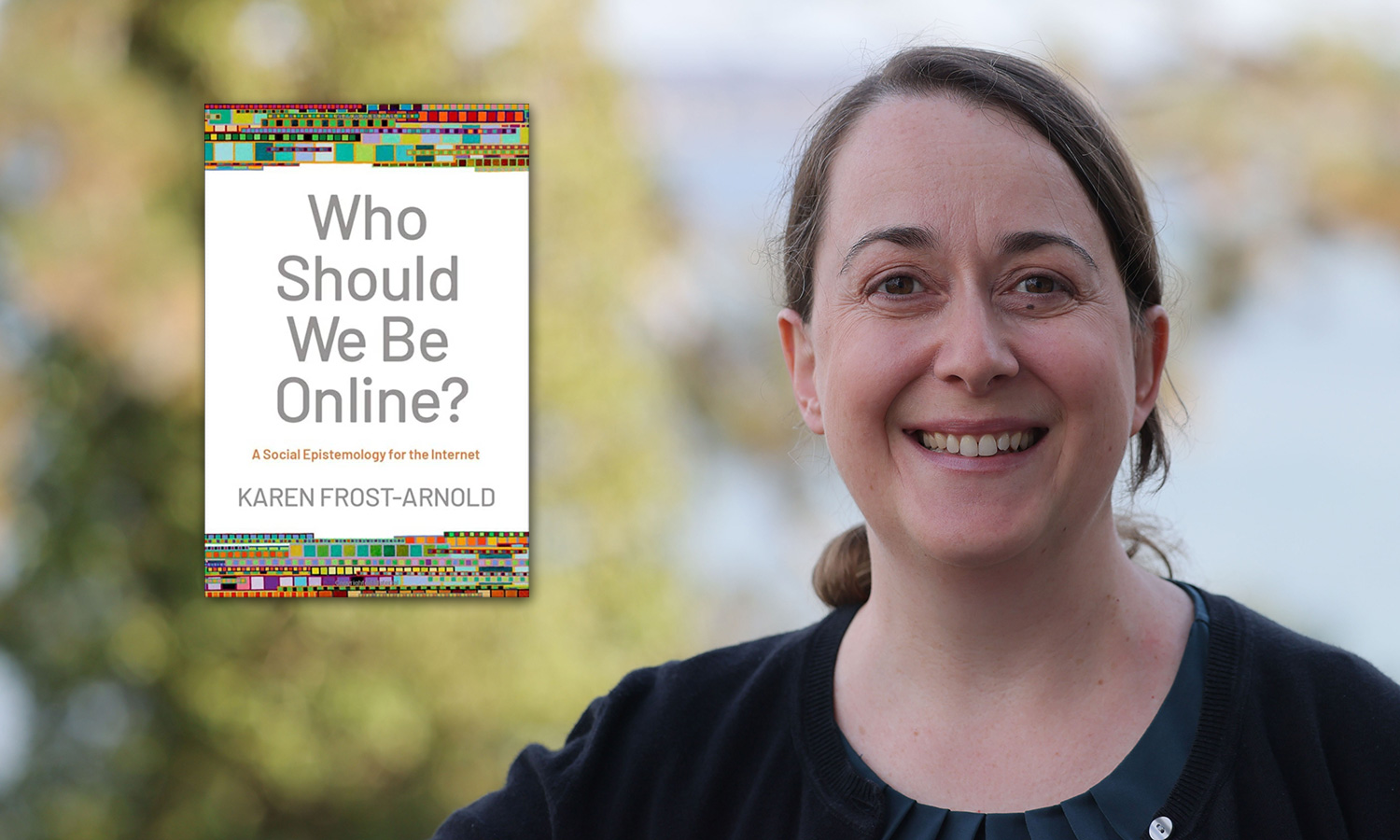 HWS News
21 April 2023 • Faculty Who Should We Be Online?
A new book by Associate Professor of Philosophy Karen Frost-Arnold probes how the internet shapes what we know and who we are.
In Who Should We Be Online? A Social Epistemology for the Internet, Associate Professor of Philosophy Karen Frost-Arnold offers a timely and interdisciplinary look at how global inequalities and social identities shape who we are, who we can be online and what we know.
From social media to search engines to Wikipedia, the internet is thoroughly embedded in how we produce, find and share knowledge around the world. Published this year by Oxford University Press, Who Should We Be Online? tackles problems of online content moderation, fake news and hoaxes, locating the role that sexism, racism and other forms of oppression play in creating and sharing knowledge online.
"Karen Frost-Arnold's clear, engaging, rigorous and broadly informed book is a vital reading for anyone who wants to understand the human condition in the digital age," says Quill R. Kukla, author of City Living: How Urban Spaces and Urban Dwellers Make One Another.
"A must-read on the perils and promise of the internet," says Kate Manne, author of Down Girl: The Logic of Misogyny and Entitled: How Male Privilege Hurts Women.
Who Should We Be Online? weaves together internet studies scholarship from across the humanities, social sciences and computer science, highlighting the ignorance and misinformation that the internet can fuel as well as the knowledge it offers to marginalized groups and activists. Presenting case studies of moderators, imposters and other internet personas, Frost-Arnold explains the problems with the current ecosystem, imagines a more just online future, and proposes suggestions and reform strategies to make the internet more conducive to knowledge production and sharing.
Frost-Arnold, who joined the faculty in 2009, holds a Ph.D. in philosophy from the University of Pittsburgh and a B.A. in philosophy and biology from Wellesley College. Her teaching and research focuses on the epistemology and ethics of trust, including the philosophy of the internet and science. In August 2022, Who Should We Be Online? was the subject of a symposium at the African Centre for Epistemology and Philosophy of Science at the University of Johannesburg, where Frost-Arnold was invited to serve a three-year term as a Visiting Associate Professor. She recently discussed her book on the New Books in Philosophy podcast. Her research for Who Should We Be Online? was supported by grants from the Office for Academic and Faculty Affairs.