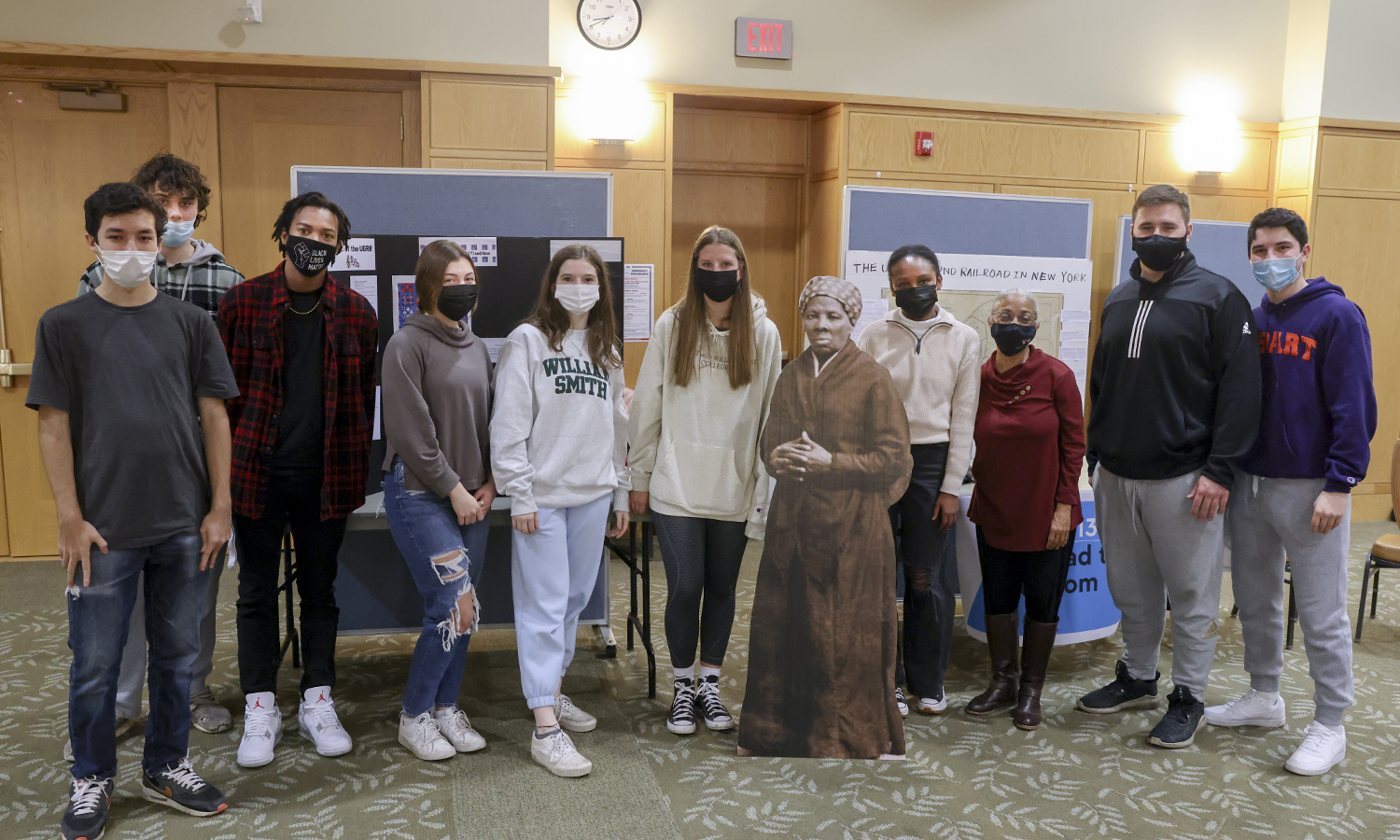 HWS News
28 January 2022

FSEM Fosters Growth and Discovery

The First Year Seminar Symposium caps students' first semester at the Colleges.

The First Year Seminar is designed to build a foundation for skills in critical thinking and communication at the Colleges. At the First Year Seminar Symposium, students showcased their academic growth by presenting the projects that have catapulted them into the world of interdisciplinary inquiry and analysis.

In "Facets of Islam" with Professor of Religious Studies Etin Anwar, students challenged Western perceptions, studying Islam in history, and Islamic influences on civilization in architecture, science, philosophy, gardens and poetry.

For their joint project, Natalie Sandoval '25 and Jackson Partilla '25 took a closer look at the Arab Spring. "We took all of this knowledge and focused on one specific aspect of Islam, ours being the Arab Spring leading up to the Syrian War. With this project, we discussed the causes, effects and consequences of the war," Sandoval says. Their research included an examination of the refuge crisis.

As part of "Running Down a Dream" with Associate Director of the Center for Teaching and Learning Ruth Shields, students examined running as a phenomenon, cultural practice and physical activity. Each student read a different book for their final project, with titles ranging from "North: Finding My Way While Running the Adirondack Trail" by Scott Jurek to "Running with the Buffaloes" by Chris Lear. In addition to a close reading of the text, students reflected on broader themes related to community, identity and goal setting.

"Running Down a Dream" students practiced personal goal setting all semester. Frank Riggio '25, who completed daily pushups, says the challenge helped him realize his potential. Alex Rosa '25, who went to the library every day, says establishing a routine around prioritizing academics set him up for success.

Students in the "Sustainable Living and Learning" seminar each selected a product or raw material, and then traced its lifecycle from source extraction to disposal. Three sections of the popular living and learning community are taught by Associate Professor of Environmental Studies Kristen Brubaker, Professor of Environmental Studies Darrin Magee and Visiting Assistant Professor of Environmental Studies Robin Murphy. Products and materials examined included a cotton tote bag, a Patagonia brand hat, lithium for electric vehicles and more.

For their final project, students in "Sewing and Social Justice" with Associate Professor of American Studies Kirin Makker created quilts, stuffed animals, clothing and other pieces. The course examined topics including climate change and fast fashion, fashion as a tool for political activism, and gender equity and labor.

Ava Dimitroff '25 created a quilt out of personal fabrics, including swatches from old family clothes. In doing so, Dimitroff made a conscious decision to opt out of fast fashion. The product had many different textures, which Dimitroff says created a playful sensory experience for children.

Students in "Railroad to Freedom: The Underground Railroad in Upstate New York, 1800-1863" with Assistant Professor of History Janette Gayle took a deep dive into local history. In addition to being the site of many stops along the Underground Railroad, historic figures such as abolitionists Harriet Tubman and Frederick Douglas lived in nearby cities of Auburn and Rochester.

For their final projects, Ryan Hinman presented, "Fugitive Slave Law of 1850: The Turning Point in the Underground Railroad in Upstate New York." Ethan Kowalski '24 presented "The Impact of Arthur and Lewis Tappan on the Anti-Slavery Movement and Ellie Pedone '24 discussed her research "Syracuseans' Beliefs about the Fugitive Slave Act of 1850 Revealed by The Jerry Rescue."

During the symposium, students in "Fields of Play: Improvisation in Life and Art" with Professor of Dance Cynthia Williams performed a bowling scene. Random participants mimed throwing a bowling ball, while the improv students gathered then scattered to mime falling pins.

Tessa Yohan '25 says through improv she learned how to "listen with her entire body." "This course gave me a new vocabulary for understanding the people around me. I think the tenets of improv can help people have a more successful and fulfilling life."

Students in "Face to Face: Interrogating Race" with Associate Professor of Africana Studies James McCorkle created an Instagram account about police reform and accountability. Students utilized social media for their awareness-building project in order to reach people beyond the HWS community. In addition to posting reform updates from local institutions and graphics designed to instruct their audience about ways to stay engaged, students interviewed community members.

"Encountering Difference" with Associate Professor of Religious Studies Shalahudin Kafrawi challenged students to develop a lens for systems thinking and analysis. Coursework included three cases studies on difference, including: Christian Spaniards' encounters with Native Americans, racial-ethnic encounters among Americans, and interfaith encounters in the post-9/11 world.

Marissa Mastracco '25, who presented "Race, Ethnicity and Religion in the College Admissions Process," is determined to become a veterinarian. While her academic future at the Colleges will focus on the natural sciences, Mastracco says she is grateful for an FSEM experience where she could engage with philosophy, sociology and anthropology.