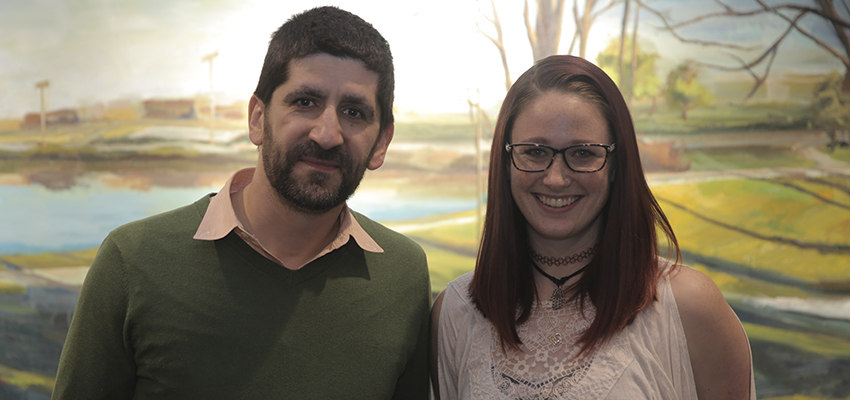 HWS News
30 September 2021 • Alums • Research Upscaling Downtown
The ethnographic Honors research conducted by Chloé Sudduth '17 at HWS has been published as a peer-reviewed article in The Journal for Undergraduate Ethnography. Sudduth has been accepted to the Rutgers University School of Criminal Justice Ph.D. program.
In the past decade, Geneva, N.Y. has emerged as a celebrated food and beverage hub with many trendy restaurants and bars popping up downtown. As a sociology major, Chloé Sudduth '17 became interested in how the "upscaling of downtown" was affecting disparate groups, and conducted her Honors thesis on how the change was altering the social fabric of the city. This year, her research was published as a peer-reviewed article titled "Upscaling Downtown: Interpersonal Dynamics of Nightlife Revelers in Geneva, New York" in The Journal for Undergraduate Ethnography.
A Curiosity About Nightlife
Sudduth's research focuses on the experiences of people enjoying nightlife including patrons, workers and bar owners. She selected three bars for her study, including a "local bar, college bar and upscale bar" and studied interactions between patrons, bartenders and bar owners for four months. As Sudduth explains in her article, she chose to examine nightlife and bar culture, because bars often serve as "important spaces for sociability, community and sense of place," she writes.
Through fieldwork and interviews, Sudduth concludes that fragmentation is occurring downtown, increasing the segregation of people in social space. Read the article here.
At the Colleges, Sudduth says her decision to pursue Honors was inspired by her "Sociology of the City" course, then her position as a research assistant for her adviser, Associate Professor of Sociology Ervin Kosta, who was studying commercial changes through Geneva's history. The experience heightened her curiosity about shifting city economies and urban change, and revealed a lack of scholarship focused on small and midsized American cities.
What Does Urban Change Look Like?
"Growing up in the mid-size, rustbelt city of Cleveland, I have a vested interest in understanding what urban change looks like in small and mid-size cities," Sudduth says. "What does urban change look like in cities that aren't facing a housing shortage or a skyrocketing cost of living? Is housing displacement the most useful measure of change in small and midsize cities? How are commercial changes experienced in cities of just a few square miles, and how is that different from large cities that are often the focus of academic research?"
Sudduth says Kosta and other faculty mentors helped her identify how her unanswered research questions could be opportunities for scholarship at the undergraduate and graduate level.
"I had not entered college with the intention of pursuing a Ph.D., but toward the end of my time at HWS, I had a few incredibly kind and thoughtful professors suggest the potential for me. I reflect regularly on this fact and how important it was for me to have mentors that opened that door in my mind," she says.
At HWS, Sudduth says independent studies and the Honors program give students insight to the realities of graduate level research. "Professor Kosta and I had many conversations about this, what it would mean, and how we could use the Honors process as an opportunity to get a feel for graduate school and independent research."
Humanitarian, Leader, Advocate
Currently, Sudduth is the Director of Advocacy at the Northeast Ohio Coalition for the Homeless. Her work is focused on organizing alongside people experiencing homelessness and advocating for housing rights and policy as well as the civil and human rights of people experiencing homelessness and housing insecurity.
"In my work and life, I am committed to community organizing, undoing oppressions and building working-class power in multi-racial movements for collective liberation," Sudduth says.
She serves on the Board of Directors of CLASH – the Cleveland Lead Advocates for Safe Housing. She is also a member of the Democratic Socialists of America chapter in Cleveland and organizes with DSA CHOP – the Cleveland Housing Organizing Project.
Sudduth has been accepted into the Ph.D. program at Rutgers University School of Criminal Justice and will begin graduate school in the fall of 2022.
In the photo above, Kosta and Sudduth gather for a photo at the 2017 Honors porch party, a celebration of students who complete Honors at the Colleges.