Interim President Patrick A. McGuire L.H.D.'12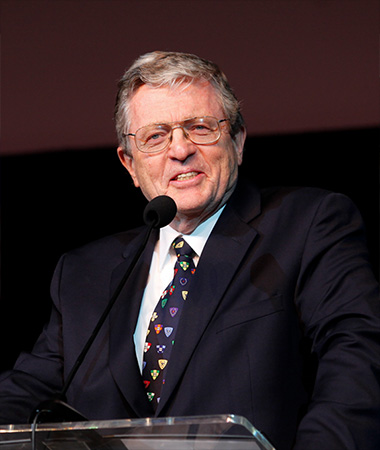 Interim President Patrick A. McGuire L.H.D. '12
Professor Emeritus of Economics of Hobart and William Smith Colleges Patrick A. McGuire L.H.D.'12 is serving as Interim President during a national search for a new president. McGuire is a respected scholar, innovative teacher and dedicated community member who has served the Colleges in a variety of leadership roles for more than 40 years, including as co-chair of the Culture of Respect initiative and interim provost and dean of faculty.
Educated at St. Peter's College before receiving his M.A. and Ph.D. from Fordham University, McGuire joined the Colleges' faculty in 1968 and in the subsequent decades has mentored generations of Hobart and William Smith students, guiding dozens of Honors projects and independent studies. McGuire co-founded the Colleges' Public Policy program in Washington, D.C., which he led as faculty director 10 times. An instrumental force in the growth of the Colleges' off-campus and global studies programming, he co-taught the "Two Cities" bi-disciplinary course for more than 20 years, and also led HWS off-campus programs in Ireland, England and Central Europe, as well as a Semester at Sea.
As interim provost and dean of faculty, McGuire oversaw the Colleges' academic programming, hiring and evaluation of faculty, and oversight of the registrar's office and library staff, along with other academic services. During his career at HWS, McGuire also chaired the Economics Department, held leadership roles on several faculty committees and was a regular participant in the annual Wall Street Experience Program, a two-day off-campus program that connects HWS students with alums and employers from global investment banks, ratings agencies and hedge funds in Manhattan. In collaboration with his students, McGuire completed an economic impact report that tracked the Colleges' effect on Geneva.
With fellow faculty and students, McGuire helped launch the Colleges' Second Chances Program, which gives inmates at Five Points Correctional Facility in Romulus, N.Y., the opportunity to take college-level courses. Since retiring from the faculty in 2013, McGuire has remained an engaged member of both the HWS and Geneva communities. He has served as co-chair of the Culture of Respect initiative that was launched in 2014. In the local community, he continues to serve on the boards of the Geneva Boys & Girls Club and Finger Lakes Credit Union, and has served on the Success for Geneva's Children board and a committee to help create a comprehensive master plan for Geneva.
McGuire is a steadfast member of the HWS community, serving as a friend and adviser to HWS graduates and, with his wife Sandy, has co-directed five alum and parent trips to Ireland. In recognition of his mentorship, the Hobart graduates of 2010 made him an honorary member of their class. When McGuire announced his 2013 retirement, dozens of HWS graduates returned to campus to attend his last class. In honor of McGuire's longtime service to the Colleges, one former student, HWS Trustee Andrew G. McMaster Jr. '74, P'09, donated the McGuire House, a residence for visiting scholars.
This spring, the Joint Executive Committee of the Hobart Alumni Association and William Smith Alumnae Association named McGuire a recipient of the Distinguished Faculty Award that will be presented during Reunion in June 2018. Established in 1990, the Distinguished Faculty Award recognizes the importance that graduates of the Colleges place on the contributions of outstanding faculty members for their impact as teachers, mentors and scholars.