Senior Staff
Members of Senior Staff include:
Vice President for Campus Life and Dean of Students
Becca B. Barile was appointed Vice President for Campus Life and Dean of Students in August 2021 after serving eleven years at the Colleges, most recently as Associate Vice President for Campus Life. Barile holds a doctorate of education in Organizational Leadership Studies with a concentration in Queer Leadership from Northeastern University. She earned a B.A. cum laude in English from Keuka College and an M.A. in Student Affairs and Diversity from Binghamton University. As the senior student affairs officer of the Colleges, she coordinates student support services, including Student Engagement (Student Activities and Residential Education), Campus Safety, Sustainability, the Hubbs Health Center, the Counseling Center, Student Conduct, WEOS/WHWS, international student success, and Alcohol and Other Drugs Treatment and Prevention. She coordinates the Colleges' response to COVID-19 and also serves as a part-time lecturer in communication studies at Keuka College. She previously held roles in student affairs at Ithaca College, SUNY Cortland, and Keuka College.
Vice President for Strategic Initiatives and Chief Information Officer
Alfred L. Damiano joined the Colleges in 2004 when he was named Chief Information Officer. A former Director of Technology Programs and Support Services for Xerox Global Services, he previously held a variety of technology and management positions with McDonnell Douglas Space Systems Co., Travelers Insurance Co. and Commercial Systems Inc. Damiano also taught graduate courses in advanced information technology for the Simon School of Business at the University of Rochester. He holds a bachelor's in computer information systems from Bentley University, and an M.B.A. from the University of Central Florida.
Vice President and General Counsel
A cum laude graduate of Hobart College and Cornell Law School, Louis H. Guard joined the Colleges in 2014. He provides legal advice and counsel across institutional areas, assists the President with all major initiatives and projects, and is responsible for the strategic direction of legal affairs for the Colleges. Guard serves as Assistant Secretary to the Board of Trustees and is the primary governance advisor to the Board. He is admitted to practice law in New York and Pennsylvania. Prior to joining the Colleges, Guard worked at leading law firms in Philadelphia, Pa., and Rochester, N.Y. He currently serves on the Advisory Board of the Journal of College and University Law and is an active member of the National Association of College and University Attorneys. He has taught and guest lectured on business law and higher education law topics at Hobart and William Smith and Boston College Law School respectively and is an Adjunct Professor of Law at Cornell Law School where he teaches the seminar on the law of higher education.
Vice President for Diversity, Equity and Inclusion
In June 2020, Khuram Hussain began serving as the Colleges' diversity strategist overseeing the Offices of Intercultural Affairs, Academic Opportunity Programs and International Student Enrollment and Success. An Associate Professor of Education, he previously served as Hobart Dean. Hussain earned a B.A. cum laude from Oswego State University of New York; an M.A. and M.A.T. from Binghamton University; and a Ph.D. from Syracuse University. He has taught classes that explore social movements for racial justice in schools and the pedagogy of democratic, multicultural classrooms. His research examines social actors who work to reinscribe schooling as a site for culturally responsive, community-oriented, democratic learning. Hussain has published numerous articles in top tier journals and for 20 years, Hussain served as a dialogue facilitator, trainer and consultant to schools, universities, government offices, non-profits and community organizations on issues of race, diversity and equity. He is the co-founder of Tools for Social Change, a dialogue-driven initiative to advance access and justice in the Finger Lakes. Prior to joining the Colleges in 2008, he was a New York City social studies teacher and has taught education courses at Syracuse University, as well as at the International Islamic Institute in Islamabad, Pakistan.
Provost and Dean of Faculty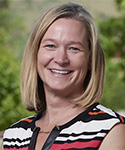 Sarah R. Kirk joined the Colleges as Provost and Dean of Faculty in June 2021, after serving as Associate Provost and Professor of Chemistry at Willamette University in Salem, Ore. An experienced administrator and scholar, Kirk recently completed a term as the Acting Dean of the College of Arts and Sciences at Willamette, following a five-year rotating term as the Senior Associate Dean for Faculty Development. At Willamette, she served as the principal investigator of an NSF ADVANCE grant and STEM Administrator on an NSF-S-STEM grant, both addressing retention and promotion of minioritized groups in STEM fields. As the chief academic officer of the Colleges, Kirk is responsible for the planning, development and delivery of the Colleges' educational programs and services. Kirk holds her Ph.D. and master's degree in organic chemistry from the University of California, San Diego, and her bachelor's in chemistry from Whitman College.
Vice President for Advancement
Robert B. O'Connor was named Vice President for Advancement in July 2007. He directs the advancement operation and oversees all alumni, alumnae and parent relations, development and advancement services as well as the career services office. Previously, he served as Chief of Staff in the Office of the President and Secretary to the Board of Trustees, and was instrumental in coordinating the HWS 2005 and HWS 2010 strategic planning initiatives and served as a member of the campaign steering committee. O'Connor successfully led and completed the second half of Campaign for the Colleges, a $205 million comprehensive capital campaign. After graduating from Gettysburg College with a bachelor's degree in political science, O'Connor earned a master's degree in sports administration from Michigan State University. He previously worked at Gettysburg College, Michigan State and E & J Gallo Winery.
Chief of Staff
Kathy Killius Regan was named Chief of Staff in 2019. As Chief of Staff, she provides strategic leadership and counsel, serves as a liaison to campus governing committees and to the Board of Trustees, manages the administrative, operational and financial affairs of the Office of the President, and represents the President among the Colleges constituencies on and off campus. Regan graduated from William Smith with a major in art history and earned her master of arts in the Florence Fellowship Program at Syracuse University. Regan joined the Colleges' staff in 1984 where she first served in admissions until 1998 when she began a 21-year stint in advancement, most recently as Associate Vice President of Advancement, Alumnae Relations.
Vice President for Finance and Administration/Chief Financial Officer
Carolee E. White was named Vice President for Finance and Administration in June 2018 after joining the Colleges in July 2015 as the Vice President for Finance. Her responsibilities include monitoring the Colleges' operating and capital budgets as well as overseeing the endowment investment portfolio, facilities management, food services, the bookstore and the research vessel. White also establishes financial internal controls, policies and procedures, and manages all financial operations and reporting. Prior to arriving at the Colleges, White spent 20 years at Colgate University, serving in several roles including Associate Vice President for Finance and Assistant Treasurer. A certified public accountant, White earned her bachelor of science in accounting from Syracuse University and worked at the professional accounting firm of Coopers and Lybrand.
Vice President for Marketing and Communications
Catherine J. Williams was named Director of Communications in 2007, Vice President for Communications in 2011 and Vice President for Marketing and Communications in 2017. Williams has responsibility for strategic marketing and brand management that includes the offices of advancement and admissions, oversees the Colleges' website, social media, publications, media relations, sports information, photography and videography. She has worked with Hobart and William Smith in several capacities since 2000, including as a Senior Editor for Development and Editor of The Pulteney Street Survey. She holds a bachelor of arts in English and religion and a master of arts in English literature from Syracuse University.
Vice President and Dean of Admissions
John W. Young was named Vice President and Dean of Admissions in June 2018 and is responsible for leading the offices of admissions and financial aid. He joined the Colleges in 2005 as the Director of Admissions. Prior to his arrival at the Colleges, Young served on the admissions staffs at Colgate University and Skidmore College. He has been involved in several admissions professional organizations, most significantly the New York State Association for College Admissions Counseling. Young presents regularly at high schools across the country on a variety of topics and is a regular speaker at the Summer Institute for new admissions officers and college counselors. He earned his Bachelor of Arts degree in history at Colgate University.