SEPTEMBER 11, 2001: 20 Years Later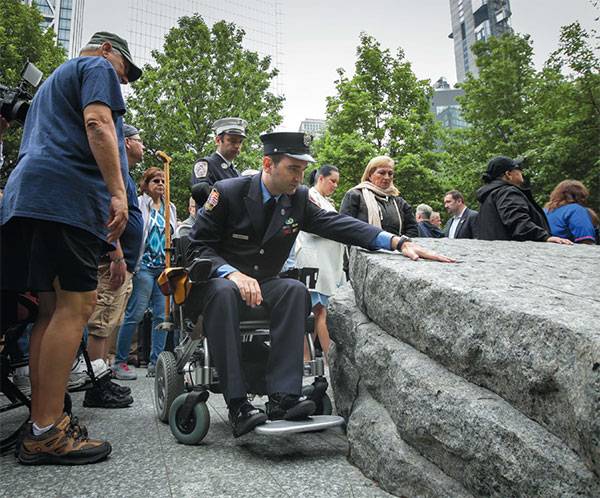 BY NATALIA ST. LAWRENCE '16
Rob Serra '01 was crossing the Verrazano Bridge, on his way to try out for the New York City firefighters' hockey team, when he saw smoke rising from the World Trade Center's twin towers. Brand new to the FDNY, Serra had completed his training less than 24 hours earlier and expected to have the day off, but he grabbed his gear and headed downtown.
Even though it was his first official day as a firefighter, Serra says "it never crossed my mind not to go." The day changed his life forever.
"Pretty much as soon as I got down there, I started to bleed from my nose," he remembers.
Like thousands of first responders, emergency workers and civilians who survived the attacks, Serra was exposed to toxic ash and debris on Sept. 11 and in the months following, when he worked at the Staten Island recovery site searching for the personal effects of victims. He has had surgery to remove nasal polyps and still faces neurological damage, including neuropathy and fibromyalgia, which cause intense bouts of shaking, nerve pain and trouble walking.
The September 11 Victim Compensation Fund was established to expand health coverage and compensation to first responders and individuals who developed health problems related to the attacks; however, after renewals in 2011 and 2015, the VCF ran out of funds to pay all filed and projected claims in 2019.
"We knew the Victim Compensation Fund was not adequately funded," says Serra, who has been an outspoken advocate for the VCF. As early as 2015, he and a coalition of first responders began making monthly visits to lawmakers on Capitol Hill. "We never stopped working. And during that time, we dealt with a lot of loss."
To bring attention to the health crisis affecting first-responders and to amplify the voices of those who need care, Serra has shared his story with major news outlets, from The New York Times to CBS, Fox News to ESPN.
"I don't necessarily feel comfortable talking about my health, but I knew it was something I needed to do," Serra says. "Fortunately, I was an English major at the Colleges and I was able to tell our story."
In 2019, as the nation watched the unfolding testimony in support of the VCF play out on television, Serra sat in the first row of the Capitol chamber. There, he says, the "two most pivotal moments came when people heard the testimonies of retired NYPD detective Luis Alvarez and [comedian and commentator] Jon Stewart." After many years of loss and frustration, the advocacy of people like Alvarez and Stewart and the attention and support of the public propelled the resolution through Congress.
On July 29, 2019, President Trump signed into law H.R. 1327, The Never Forget the Heroes: James Zadroga, Ray Pfeifer, and Luis Alvarez Permanent Authorization of the September 11th Victim Compensation Fund.
Serra, a father of three and member of the Board of Directors of the Ray Pfeifer Foundation, continues to advocate for Sept. 11 first responders — and ensure their stories are heard. In 2020, he celebrated his 40th birthday at a Pfeifer Foundation fundraiser for a wheelchair-accessible van to transport Sept. 11 survivors to their medical appointments. This year, after his 12-year-old daughter interviewed him about the 20th anniversary of the attacks for her social studies class, Serra wrote on Twitter: "The most important 9/11 interview I've done."