Calling All Dancers
Introducing Kinetic Dance Collective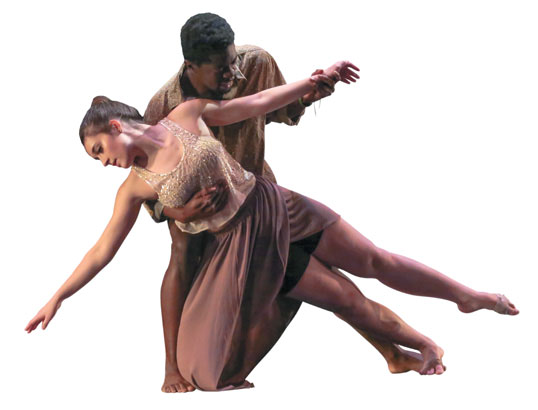 Since the first performances under the name Koshare in the 1970-71 academic year, the group (later organized as a guild, and later still a collective) has put on an annual concert, attracting dancers and choreographers of all majors and experience levels. The concert's popularity has grown beyond the bounds of the HWS campus, and since 2013, performances have been staged at the Smith Opera House, the historic venue whose 1,300 seats have sold out every year since. Almost.
Due to the pandemic, the 2020 season was the first since Koshare was founded that the annual concert didn't happen. In some ways, it was good timing. Over the past 50 years, students' recreational interest in dance has paralleled the growth of the HWS Dance Department, and the lines between the two have blurred. There came a subtle but steady shift toward academicizing and professionalizing what had been a club.
"As the number of dance majors and minors grew, and dance and step teams were formed, the choreography became more competitive and less inclusive," says Professor of Dance Donna Davenport. "Professionalism started being associated with past training, which in many cases comes down to privilege."
In response, the student group has chosen a new name, Kinetic Dance Collective, and is returning to the historical roots of student-led dance at HWS: fun performances featuring all styles and traditions, and dancers with any degree of experience (or none at all).
For the fall 2021 concert, the group restructured the processes for auditions, choreography submission and leadership selection, to ensure the focus is on the dancing and the unique culture it inspires at HWS — "the energy and support that you feel from the audience [and] the energy and dedication of our students," as Kinetic Dance Collective co-president Bryna Gage '22 says. "We dance because we love it and want to make it accessible to everyone on campus and give students a sense of belonging through dance."
DANCE DANCE REVOLUTION
Koshare dancers and choreographers look back on the group's indelible impact.
"In the fall of 1968, Sharon Tomlinson was hired by Miss Janet Seeley to teach modern dance at Hobart and William Smith. Sharon was young and had spent some time in New York City dancing with Mary Anthony among others. She brought to Geneva the ideas that were shaping modern dance at the time.
Both subconsciously and — yes — a bit consciously, we wanted to break away from Miss Seeley's ideas about technique and choreography, including her 'dance club.' That's how Koshare was born.
I remember dancing in St. John's Chapel, outside on the Quad, in the sunken gardens at Houghton House, and even in Pulteney Park at an antiwar rally; Vietnam had a huge impact on the campus in those days and there were many antiwar gatherings where artists 'spoke' along with other more traditional antiwar activists. It was this vision of dance as a source of communication, protest and celebration that cemented our dedication to Koshare and our desire to make it a permanent force in our lives and on the campus.
The dance studio was akin to a sacred space for us, a place where we worked and shared and delighted ourselves and each other with ideas and moving images. We loved to move, and we enjoyed watching others move; for me, that has not changed even 50 years later. Also, there was a sense of belonging to a group of like-minded people who planned, organized, worked, argued and produced things we were proud of — not unlike a family.
This was a refuge and a place of safety on a busy campus where we didn't always feel we belonged.
At times, it was a source of entertainment and, always, it was a place of learning."
–Nancy Malfitano Bailey '71, Professor Emerita of Teacher Education at Canisius College
"Although the Smith Opera House definitely has its perks, I loved performing in Winn-Seeley. It was such an intimate experience to be dancing within feet of your closest friends, professors and family members. You could feel their energy instantaneously and it fueled the power and passion behind the show. It was also magical to know that you were performing in the same place where decades of former dancers performed."
–Caroline Dosky Allen '12, MAT'13, Education Consultant
"Because of my time at Hobart and William Smith, I have this awareness that living a creative life is for everybody. And it comes with everything we do: whether you dance it or draw it or write it or sing it, it makes the world more tangible, more livable, more real, more accessible, more vital. It has more potential to bring about change in oneself and in the world, and I think a lot of the folks who came through Koshare were doing that in their own way. And I'm grateful for that."
–Rev. J. Bruce Stewart '73, Director of the Center for Liturgy and the Arts, and Director of Chaplaincy Services for Goodwin House
"My favorite parts of performing and choreographing for Koshare were how inclusive it was and the community it fostered. I was able to meet people in all different majors and of all different backgrounds and connect with them through the collective joy of movement…it taught me how to value building community using the powerful tools of art and movement…[and] provided me with friendships that will last a lifetime."
–Dr. Karah Charette '14, Doctor of Physical Therapy and co-founder of Bodyful Physical Therapy and Wellness
"Recently, my 15-year-old daughter stole my 1994 Koshare shirt. She wears it often — probably for its timeless design, but perhaps she also figured out how special it is to me. I'm grateful for the constant reminder of my time spent dancing at HWS and the friends I made there. Being able to perform inspiring pieces choreographed by my enormously talented classmates was a challenge, an honor and a total blast!"
–Robin Cluse '96, Teacher at East Mecklenburg High School
"The liberal arts are all about exposure to many, many platforms and experiential roads to explore. Koshare shows this — anyone can be a part of the magic. For those of us who were studying in the Dance Department, of course we had our concerts throughout the academic year. But Koshare was about the entire HWS community, and those within that community who shared a love for dance and movement. We were all one during Koshare."
–Joshua Warr '05, Licensed Real Estate Salesperson, Director, Performance Artist
"Koshare was an imperative part of HWS culture! Through dance, students and staff — across genders, races, ethnic backgrounds and ages — were able to connect and come out of their comfort zones. It pulled me out of my comfort zone and helped me to establish close connections with my professors, who encouraged and guided me through this path. I loved the process of choreographing — sleepless nights, late rehearsals in Winn-Seeley or the PAC, the tears, and the ability to become the leader I am today!"
–Shaahida Samuel '19, Lead Dance Teacher at Achievement First Brooklyn High School