Fare Questions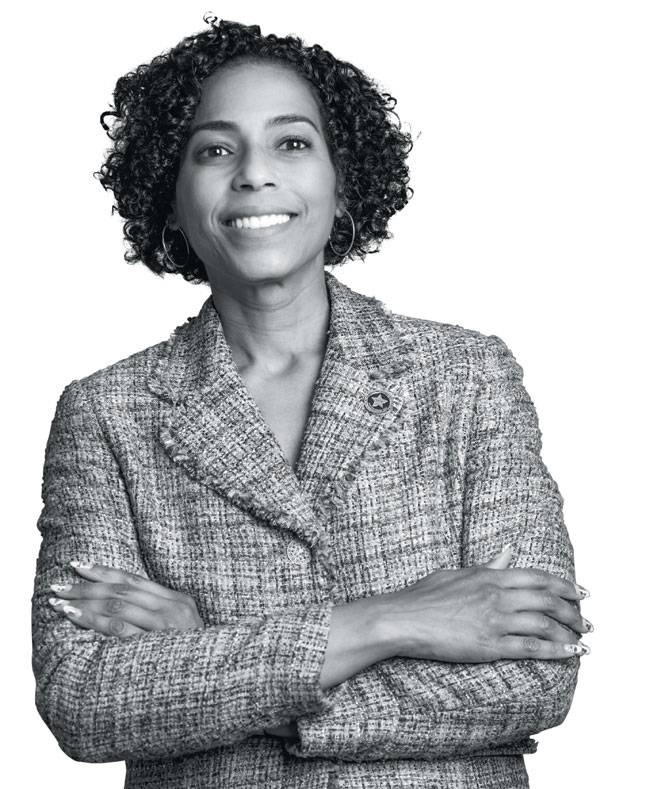 Aloysee Heredia Jarmoszuk '98 untangles the financial knots binding NYC taxi owners while mapping the future of urban transit.
BY ANDREW WICKENDEN '09
There are 13,587 licensed yellow taxis operating in New York's )ve boroughs. Licenses are tied to taxi medallions, which at the height of the market in 2014 were valued at more than $1 million apiece. Since the arrival of app-based services like Lyft and Uber, medallions' worth has dropped to levels not seen in 20 years, putting some owners who bought at the top of the market in dire financial straits.
This was the most pressing problem facing the city's Taxi and Limousine Commission when Aloysee Heredia Jarmoszuk '98 was confirmed as commissioner and chair in February of 2020. As head of the TLC, she leads the commission's board and manages the municipal agency of 600 employees responsible for licensing and regulating yellow taxis, limousines, black cars, commuter vans and vehicles that contract with apps. In total, that's more than 1,000 active businesses, 100,000 vehicles and 170,000 licensed drivers. After just a few weeks on the job, the pandemic had accelerated, the city shut down, commuting and tourism fell off, and the typical million-rides-per- day rate for New York for-hire transportation plummeted. As the streets emptied of fares, Heredia Jarmoszuk saw the mounting impact on TLC licensees. During a meeting with the mayor's office about emergency response efforts, she pointed out the opportunity to "address two problems at once."
"If the City was going to embark on meal deliveries for people who found themselves food vulnerable, I wanted to utilize our licensed drivers to get the meals out, to provide them supplemental income during the pandemic," she says. Through the $39 million food delivery program she developed, TLC-licensed drivers transported 65 million meals to more than two million families between March and October of 2020.
With New York steadily reopening, Heredia Jarmoszuk sees ridership rebuilding, and while "the city's transit systems are back to 40 percent of pre-pandemic days," she says that "taxis are seeing an increase in market share. Things are getting better slowly." She's continuing long-term planning to address the TLC's strategic goals, including improved accessibility, the electrification of the city's fleet of vehicles, a regulatory review and technological innovation. Those goals, however, are only as viable as the owners' and drivers' ability to operate, which is dictated in part by their debt.
"Some have unmanageable debt, some are insolvent," she explains, and assistance is more urgent than ever with the added burden of the pandemic. "I wake up every day thinking: how am I going to address this problem and help?" Initially, it was unclear what relief the City could provide, she says, because "generally speaking, you can't use public money to resolve private debt." There was also the question of "what we were solving for — how much money do we need? No one knows because these loans are all private transactions, and there's no central repository for that information."
Through the TLC driver resource center that opened in 2020, she and her team found indebted medallion owners "who wanted to restructure or refinance but didn't have the down payment." In response, the TLC developed a $65 million grant program that launched in September. Alongside the resource center, which offers "legal and financial assistance and representation," Heredia Jarmoszuk says the grant program is providing medallion owners "the tools they need to re)nance and reach more favorable terms."
After a month in operation, the program has helped more than 170 applicants, owing a combined $52
million, to restructure and resettle their loans. Debt forgiveness so far amounts to nearly $22 million. Though it will take time — another 850 drivers have applied — she says the program "could yield close to $500 million in debt cancellation and forgiveness."
One way or another, she says, "I'm going to fix this problem, and we're never going to find ourselves in this situation again."