On the Merits
SOMETHING IN THE ATMOSPHERE

As a recipient of a 2021 Ernest F. Hollings Undergraduate Scholarship, Alex Dwyer '23 will spend 10 weeks next summer working with researchers at the National Oceanic and Atmospheric Administration. The highly competitive national program offers undergraduate training in oceanic and atmospheric science, research, technology, outreach and education. Dwyer, an environmental studies and geoscience double-major, is the fifth HWS student to win the Hollings award since 2014.
NO DEBATING IT

Sreyan Kanungo '23 is helping lead HWS to new heights in prestigious debate and leadership competitions. This fall, Kanungo and Sarim Karim '22 finished eighth in the English as a Second Language debates at the World Universities Debating Championships, widely regarded as the premier international collegiate debate tournament.
Earlier this year, Kanungo, Reece Wilson '24 and Jack Maloney '24 took home the top prize in the business presentation category at the New York State Leadership Conference. The team represented the HWS chapter of the Future Business Leaders of America – Phi Beta Lambda, which Kanungo and Eden LaRonde '24 cofounded this spring.
ON A (N HONOR) ROLL WITH SERVICE AND VOTING HWS RANK NUMBER 3 IN TOP U.S. COLLEGES FOR PUBLIC SERVICE
For the fifth year in a row, HWS are among the top five U.S. liberal arts colleges for public service, according to Washington Monthly's 2021 College Guide and Rankings. Ranked third this year for service, the Colleges were also included on the policy magazine's annual "honor roll" for student voting.
THE BIRDS AND THE BEES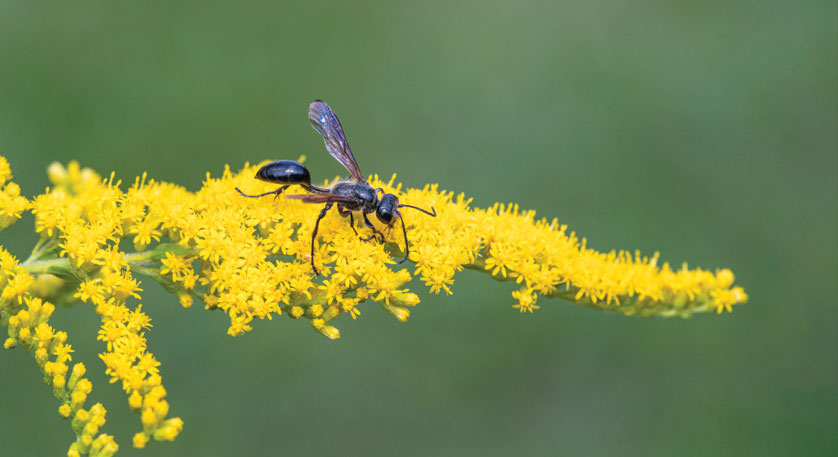 Urban and suburban sprawl takes a toll on biodiversity, but three students have an award-winning idea to restore habitats for bees, moths, butterflies and birds. James Anderson '23, Maeve Reilly '23 and Katerina Yacoub '23 teamed up with the Office of Sustainability to create "pollinator patches" across campus. Pollinator patches are packed with plants that flower throughout the year, providing food and shelter for wildlife. Supported by the Carver & DeLaney Environmental Project Endowment, the new plantings complement campus "grow zones," where grass and wildflowers are allowed to grow tall to protect and sustain insects and other animals. Together, these efforts help mitigate the stress that mown lawns and paved surfaces place on local habitats. This spring, the pollinator patches project was selected for the IMPACT Conference's Action Program of the Year, which recognizes direct, student-led action that strives to enrich campuses and communities. The IMPACT Conference is the largest annual conference focusing on college students' civic engagement and social action.
ONCE AGAIN HWS OFFERS BEST VALUE — AND PROFESSORS ARE THE "SECRET SAUCE"
In Princeton Review's 2021 rankings, the Colleges stand among the institutions with the best return on investment and professors with the biggest impact. For the sixth year in a row, HWS appeared in Best Value Colleges, which recognizes the strongest combination of academics, financial aid and career outcomes. "Of course, the real secret sauce, so to speak, comes from the faculty experience," as Princeton Review's Best 387 Colleges notes. In this year's edition, HWS faculty appeared in the "Great Professors" rankings, a best-of-the-best tribute to colleges that have earned a regular spot on the list for their "truly stellar records of student satisfaction."